2017 Infiniti Q60 FIRST LOOK
2017 Infiniti Q60 FIRST LOOK by Auto Critic Steve Hammes
What was once called the G37 Coupe is now the all-new 2017 Infiniti Q60, a premium sports coupe built upon a platform that rides lower and wider than its predecessors.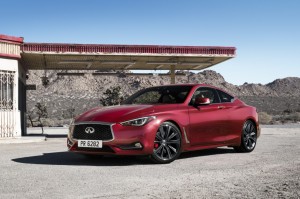 Infiniti gushes about its powerful elegance and daring proportions with taut, muscular lines.  Under the hood is an optional, all-new 3.0-liter V6 twin-turbo engine available in 2 strengths; 300- or 400-horsepower, both blending increased power and torque with high levels of efficiency.
Too much for your needs?  Then the 4-cylinder 2.0-liter turbo is where you'll turn, producing 208 horsepower.  Rear- and all-wheel drive models are offered and the new Dynamic Digital Suspension debuts.  Standard on the Q60 Sport grades, drivers can choose from a comfort-biased ride or Sport or Sport + settings.
The Q60's 7-speed automatic transmission with Sport mode has been engineered with a lateral acceleration sensor to enhance gear selection.  Coming over from the Q50 is the 2nd generation of Direct Adaptive Steering, a steer-by-wire setup, significantly re-tuned here for better feel.  Inside is the latest generation of Infiniti's InTuition central control system, upgraded with a faster processor.  And making its world debut in a production vehicle is an all-new 13-speaker Bose Performance Series sound system tailored to the acoustics of the Q60's cabin.
Available in select markets starting later in 2016, the new Q60 Coupe looks to recapture some of the 170,000 people who bought the previous coupe.