Hyundai Veloster 2019 Review
Hyundai Veloster 2019 Review By Auto Critic Steve Hammes
I like cars that you don't see everywhere. Something a little quirky with under the radar exclusivity is always cool with me. And that's how I'd characterize the Veloster. A sporty little coupe with a 3rd door, Hyundai's latest version is pure fun on the cheap.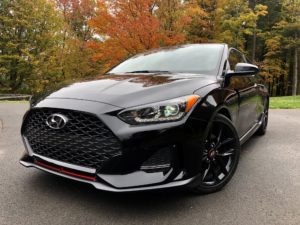 Introduced 7 years ago in Detroit, the original Veloster was targeted at the Gen Y crowd with MINI Cooper-like driving dynamics and a funky 3rd door on the passenger side.
With a starting price of around $17,000 and netting 30mpg, the Veloster was a refreshing new entry into the suddenly red-hot compact car segment.  Flash ahead to the 2019 model year and this all-new Veloster is exactly what you'd want from a next generation car.  More chiseled.  More polished.  More fun.  The Veloster remains a compelling choice for car shoppers with a youthful spirit and a desire to maximize their dollar.
This R-Spec model sits right in the middle of the 5 Veloster offerings which still starts at under $20,000. The base models get a new 2.0-liter engine but starting at R-Spec and up the familiar 1.6-liter twin-scroll turbo carries over still producing the same 201 horsepower and 195 pound-feet of torque, though the power is available earlier in the RPM range. And for the purists, the R-Spec comes only one way –  with a 6-speed manual – Hyundai's in-house designed short throw gearbox fitted exclusively with a B&M Racing Sport Shifter.  The biggest mechanical upgrade comes in moving away from the torsion beam rear suspension to an independent multi-link design for improved handling.  Unique sport-tuned steering, lighter suspension and bigger exhaust sound are all R-Spec standards as are a serious set of Michelin performance tires. R-Spec now includes more creature comforts as well such as proximity key, push button start, and excellent touchscreen infotainment.  Special cloth seating and a multitude of R-Spec design cues both inside and out flaunt this racier Veloster's attitude.   Size and weight are similar to before.
On summer tires and with the tauter sport suspension the R-Spec is a car I always look forward to driving. What the steering lacks in feeling it makes up for in its quickness so the R-Spec turns like a go cart and the clutch and shifter combo works fluidly though this aluminum ball can get really cold or hot I imagine. Torque steer in kept to a minimum, torque vectoring minimizes Understeer and the seats hold you firmly in place. Could I use more engine? Absolutely. First and 2nd gear2 are pretty gutless but once this turbo gets up to speed the fun really kicks in.
Though not radically different on paper, this Veloster feels more hooked up if you will, with excellent grip and a very willing nature. A Sport mode further energizes the engine and steering.  The body feels more solid and the fun-to-drive factor has been significantly raised.  Even with an overboost function delivering 202 pound-feet of torque under maximum acceleration It's not that fast and despite the adjustable engine sounds it doesn't make much of a visceral impression, but for $23,785 as-tested it's an appropriate package.  If you drive it and are left wanting more the new high performance Veloster N is right around the corner.  The R-Spec happily takes regular unleaded returning 26mpg city/33mpg highway so there's fun and efficiency in spades.
The most important takeaways from my Veloster experience are how well engineered it feels and how much more spacious it is than it appears. It's not only a blast to drive but with its third door and a deep cargo area this is a coupe that can handle the rigors of everyday life. And you're going to love the mileage.
Coupes can be difficult if there're more than 2 of you, but this clever 3rd door opens to a very usable rear seat for 2 more.  This isn't the cramped rear quarters of a Mustang or Camaro – the Veloster's back seats are the rear deal.  You can access them from both sides but the door is the way to go.  The cargo room is also surprisingly large with nearly 20 cubic feet behind the upright 2nd row – beating out the MINI Clubman.
LED lighting, high beam assist, 8" touchscreen with CarPlay and Android Auto, and a high quality driver display make a premium impression and on the safety front there's collision-avoidance assist, lane keep assist and driver attention warning but not the most important feature – blind spot warning. The cabin looks really cool and feels quality-driven.
As an everyday driver, you have to appreciate a ride quality with feeling and not shy away from a little noise in the cabin. You'd also have to invest in a set of winter rubber if you live where it gets cold.  Otherwise, the new Veloster R-Spec cuts a sharp appearance and is ready to impress.
Tagged with:
2019
,
auto critic
,
cheap
,
DT with SteveHammes
,
Hyundai
,
latest video
,
R-Spec
,
reviews
,
road test
,
steve hammes
,
test drive
,
Veloster