KIA Sorento 2019 Review
KIA Sorento 2019 Review By Auto Critic Steve Hammes
If there's one question I get more than any other it's "what's a really good 3-row crossover on the market I can actually afford?" Well, I've tested some really excellent models recently and now I've got another one to add to my list.  This is the updated KIA Sorento.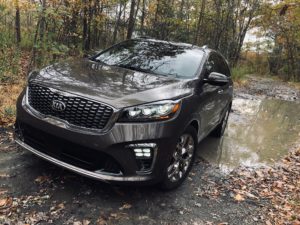 The Sorento is KIA's sales champ, on target to sell over 100,000 units this year in the U.S. alone.
It's grown and matured in remarkable fashion since its humble body-on-frame days of the early 2000s.  For example, this SX Limited trim is an image-busting vehicle for those who still perceive KIA as a less-than brand.  Now, not all Sorentos are this well stocked but even the base Sorento L comes with a touchscreen and full smartphone integration for around $27,000.  And all 6 trims now come standard in the 3-row, 7-passenger seating configuration.  But if you want the V6, all-wheel drive, chrome wheels, LED fog lights, softer leather, 2nd row heated seats, upgraded cabin materials and Around View Monitor this SX Limited is your only stop. Pricing with a few nominal extras is $48,025.
If you think that sounds excessive for a Kia think again. It possesses the full pantry of luxury convenience items, delivers a library quiet cabin, and gives the driver a little something to remember it by – a 3.3-liter V6 producing 290 horsepower and 252 pound-feet of torque.  From its hefty feeling doors to its hermetically sealed passenger compartment, the Sorento has a vault-like persona yet in actuality weighs considerably less than its Toyota rival.  In fairness, it also offers considerably less cargo volume in all possible configurations. Though it shares identical passenger volume with the Highlander the Sorento skews in favor of more 3rd row legroom which includes separate climate controls.  No puking!
It's likely not very often you'd have adults in this 3rd row and that's probably a good thing.  Even though there's plenty of headroom and ok legroom you sit pretty low to the floor and your knees are up around your chest.  I wouldn't want to spend much time back here myself however kids should be OK.
The spacious 2nd row seats slide and recline, with a trio of electronic connection points, window shades and a big panoramic roof.
These gesture-controlled tailgates are really handy when you've got your arms full. And they work in one of two ways.  Now, most manufacturers require a kicking motion under the rear bumper which I really don't like but others like KIA will have the tailgate rise up just by standing near it.
When it comes to configuring for full out cargo hauling, these remote levers are only as useful as the positioning of the front seats. If they can't flop down unencumbered what's the point?  But once down they reassuredly click into place to create a decently sized flat place to load up.  If you're using all 3 seats, well, I hope you're not taking much with you.
So what's new on the 2019 Sorento? There're new front and rear fascias elevating its style game, the cabin sees numerous small touches to enhance its premium nature and electronic features such as Driver Attention Warning, Lane Keep Assist and a QuantumLogic Surround Sound system ratchet up the offerings.  And there's the new gearbox.
Smooth and quiet are the Sorento's hallmark driving characteristics. There's really a lot of luxury baked in here for $48k. But there's something about this new 8-speed auto that's not completely copacetic. Now, it's not a headline and it doesn't happen all the time but I've experienced small skips in the transmission that annoy me. Plus, the way it's programmed makes taking off a little jerky. But by in large, the Sorento is a very pleasant place to spend time.
Really? Well, we're not going to modify this.  We're not going to disconnect the sway bar.  I didn't bring off-road tires with me nor do we have extra skid plates.  But I think we're going to take the Sorento down there anyway.
7.3" of ground clearance and Michelin crossover tires don't cry out for off-roading but the Sorento automatically routes power to the wheel with the most traction and has a locking center differential to split engine power between the front and rear drive shafts when you need more grip. So go ahead, get it muddy. The rigid unibody feels like it can handle it.
At 21mpg the Sorento is a little thirsty but the drive is confident one, configurable with various drive modes including Eco, Comfort, Sport and a Smart setting that reacts to your style. The electronics are excellent and the entire user experience flows easily and intuitively.  So you want a 3-row that packs it in without breaking the bank?  The Sorento fits the bill.
Tagged with:
2019
,
3rd-row
,
auto critic
,
AWD
,
crossover
,
DT with Steve Hammes
,
Kia
,
latest video
,
reviews
,
road test
,
small suv
,
Sorento
,
steve hammes
,
SUV
,
SXL
,
test drive