Honda Insight 2019 Review
Honda Insight 2019 Review By Auto Critic Steve Hammes
Honda's hybrid game has recently been ratcheted up with a trio of impressive offerings including this – their most affordable one – the all-new Insight.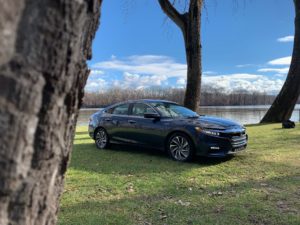 Insight, Accord, Clarity; three gasoline-electric hybrids of various sizes and types that achieve mileage that'll significantly reduce your visits to the gas station. And with a starting price of $23,725 including destination, the Insight is high efficiency that is in reach.  Better yet, this car erases the memories of previous Honda Insights – a little loved car that never quite got it right.  This one, however, is worthy of your money.  As a matter of fact, Honda's made this a bargain.  Take the brilliant foundation of the Civic and pair it with Honda's latest 2-motor hybrid system and what you get is a highly engineered, spacious sedan that feels great from the behind the wheel while returning as much as 55mpg.
If you find the Clarity's post-apocalyptic design too harsh for your eyes, the Insight is an excellent alternative. Of course, the Clarity has the benefit of a plug and a slightly more upscale interior, but the Insight's more restrained styling is pleasing and its build quality and features transcend its price.  Plus, it actually delivers a premium, fun-to-drive experience…with a small hybrid asterisk but more about that in a bit.
Perhaps better than any, Honda understands the intangibles that create a car to driver relationship. The way you enter, how the seat sits in relation to the greenhouse, the feeling of the steering wheel, the excellent visibility, the ease of use…you instantly know when you've entered a Honda because it just feels right.  The Insight possesses all of those attributes with a couple of caveats…this car sits a little lower so it's good to be young and why Honda doesn't recognize height adjustable passenger seats is a mystery.
It comes in LX, EX and like this, the high-end Touring trim elevating with leather, heated front seats, moonroof, Wi-Fi, navigation, dual zone climate control, a premium 10-speaker audio system, and LED fog lights. It presents itself as very well equipped belying its low $28,985 price.  Unfortunately, if you want all of these goodies you have to be willing to take a hit at the pump.  The Insight Touring is rated at 48mpg in combined driving as opposed to the other models' 52mpg.  Total driving range is still over 500 miles.
You can tell this is a hybrid engineered to be driven. It has the Civic's joi de vie from behind the wheel. It feels tuned and precise with a sophisticated suspension setup and just right steering. It'll get up and go in Sport mode too. But when you really get into the gas pedal the Insight shows an ugly side. The kind that makes strung out engine sounds and CVT whine. Like just about all of these types it's really unpleasant. So it feels best in more urban driving environments. And of course when it's in EV mode which is more frequent that I would've imagined – it's at its best.
It's when you're climbing hills or abruptly stabbing at the gas pedal that the Insight's powertrain is most vulnerable even though the car's handling remains stellar. The small 1.5-liter hybrid-tuned engine's role is best suited as a costar and not the lead.  The lithium-ion battery takes up residence beneath the rear seat and is recharged by the engine and through regenerative braking… of which the pedal feel is better than most though not perfect.  The engine's primary job is to power a motor generator which then produces electricity that feeds another motor connected to the front wheels. So the Insight can run without the need for an engine – at impressive speeds and longer periods of time.  And pure EV driving is when the Insight shines the brightest…quiet, torquey, and quick.  When the engine joins in during normal, everyday driving, it's unobtrusive and still satisfying though a little less so.  It's only when the engine really revs high that things get buzzy and a little off-putting.  Sport mode masks some of that by introducing more pleasing engine sounds and an added kick in the pants for improved acceleration. And watching it all go down and following the power flow is integrated nicely and in a fun way. Total system output is 151 horsepower and 197 pound-feet of torque. When my week wrapped up, I was at 45mpg – a little short of expectations but our unseasonably cold weather certainly didn't help.
The cabin is so perfectly Honda with easiness about it and a high comfort level. I love the electronics and the displays. The rear seats are large and the trunk is spacious.
It's time for Honda to move on from Lane Watch in favor of a real blind spot monitoring system and this space here is ripe for wireless charging which isn't offered, otherwise the interior design is light, airy, techy, quiet, simple and comfortable for all. Infotainment is spot on with touchscreen convenience and just enough button redundancy, Honda Sensing safety features are robust and include adaptive cruise control with lane keep assist, and smartness abounds – like a tire pressure monitoring system that reduces false positives.
With the sapience provided by decades of hybrid engineering, the Insight's 3rd act has finally hit its stride.
Tagged with:
2019
,
auto critic
,
DT with Steve Hammes
,
Honda
,
Hybrid
,
insight
,
latest video
,
reviews
,
road test
,
steve hammes
,
test drive
,
top picks
,
Touring