Honda Clarity Plug in Hybrid 2018 Review
Honda Clarity Plug in Hybrid 2018 Review By Auto Critic Steve Hammes
I've driven a number of plugin hybrids through the years and none has left me as impressed as this one. Meet the next member of Honda's growing electrified lineup. This is the all-new Clarity.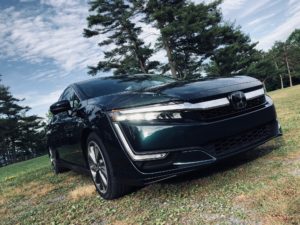 Plug-in hybrids are the bridge between traditional gas-electric hybrids and full-on electrics. They allow for initial all-electric driving of varying ranges and then when the battery no longer has a sufficient charge they become a standard hybrid.  It gives the driver peace of mind knowing they'll never be left desperately searching for a plug and typically provides a much longer range.
But the Clarity is pushing the envelope in terms of its all-electric range for a car this size by delivering nearly 50 miles on a full charge.  For me and for most people, that's plenty for a day of running errands and during my week I only tapped the gas engine for evaluation purposes.  I never really needed it.  And this quiet, quick very satisfying electric driving comes in a midsize car wrapper with lots of room and a very premium feel.  That's my biggest surprise – just how refined and well put together it is.  That is, courtesy of this top Touring trim that checks in at $30,000 after the available Federal Tax Credit. The base Clarity sells for $3,200 less.  With the Touring, Honda provides on-board navigation, soft leather trim, power front seats and memory settings.
Two electric motors, a 1.5-liter engine and no traditional transmission mean the Clarity runs primarily on its electric traction motor driving the front wheels. The 4-cylinder is there to generate electricity for the lithium-ion battery pack or directly to the electric motor itself.  Think Chevy Volt but bigger with a traditional trunk.  Connected to a 240 volt charger, its takes about 2.5 hours to get back to 100% – 12 hours on a standard outlet.
What I like most about the Clarity is it's a no-compromises machine.  From its high comfort leather seats and driver ergonomics to the silky smooth powertrain, the Clarity possesses spaciousness and a straightforward usability that's very likable.  I've been testing this at the same time as a $90,000 Cadillac CT6.  You know which one I look forward to driving more?  This one.
For whatever reason, I wasn't expecting much from the Clarity before it arrived. But man, has this week changed my mind. Honda's done an impeccable job here of creating a car that looks futuristic, gets about 50 miles of electric range, has lots of room and feels premium from every angle. It's as smooth as butter in everything it does and it's especially quiet and torquey quick. The Tron-inspired design carries over inside where this central bridge and unique material choices work beautifully in the overall scheme. I wish it had real side blind zone alert and more buttons for the infotainment system. Otherwise, I wouldn't change a thing.
And in Sport mode? The Clarity surprises with even more responsive acceleration, and benefits from its low center of gravity, fully independent suspension and the 232 pound-feet of instantaneous torque to make for one fun electric driving car with a high level of agility.  Its steering has Honda genes with a light, accurate touch and the regen brakes feel as organic as they come.  Of course, no plug-in is as gratifying when the gas engine kicks in but even then the Clarity is rattle and buzz free and drives with harmony.  Total system horsepower is 212.  From a driving perspective, you're going to love this.  And listen to these cool sounds it makes at low speeds letting pedestrians know you're there.
The Clarity's cabin is really interesting both in terms of the materials used and its design. I just wish Honda had used a rubberized material down here so that my cell phone didn't slide around.
Plant-based and recycled, the Clarity is a green space with flair. And the trunk is big…over 15 cubic feet of space accompanied by seats that fold down because the battery is under the floor.  I like the electronics too with big, bright displays, CarPlay and Android Auto, and simplified navigation.  And it's interesting to note, that this is a car you can drive with one window down without wind intrusion or pressure build up…just like the old days.  Because of the Clarity's tiny gas tank, its overall range is limited to 340 miles.
Honda Sensing comprises Adaptive Cruise Control with a lane keeping system that assists with steering, road departure mitigation and an automatic braking system designed to mitigate collisions. But the video-based passenger side-only Lane Watch system just seems antiquated at this point when real side blind zone alert would be preferred.
Understandably, the Clarity's styling isn't for everyone but I have to say I've really come around to it and there's no denying the LED front lighting is spectacular. This car definitely turns heads.  And in this Moonlit Forest paint…it's very unique.
The Clarity is a 3-headed entity with plug-in, electric and fuel cell versions. And now there's the Insight…a less expensive, non-plug-in hybrid Prius fighter not to mention the Accord Hybrid.  So Honda offers lots of electrified choices. And this one is indeed a winner.
Tagged with:
2018
,
auto critic
,
Clarity
,
Electric cars
,
Honda
,
Hybrid
,
latest video
,
plug-in
,
reviews
,
road test
,
steve hammes
,
test drive
,
top picks
,
Touring