2022 NISSAN PATHFINDER TEST DRIVE
2022 NISSAN PATHFINDER TEST DRIVE BY CAR CRITIC STEVE HAMMES
Back in 2013 when the Pathfinder was last redesigned SUVs were trending decidedly more car-like and that upset some Nissan loyalists who felt like their beloved Pathfinder had lost some of its edge.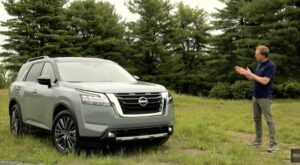 But now with this all-new 5th generation model adventure is back on the menu.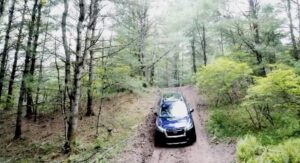 Monticello Motor Club is an automotive playground for the extremely wealthy.  A week of driving instruction for your teen costs nearly $20,000.  But beyond the 4.1 mile asphalt track are beautifully curated off-road trails and that's where I'm spending my half-day with the all-new 2022 Pathfinder.  So I'll leave my paved road impressions for another day.  Today is all about the mud and after days of rain there's plenty of that.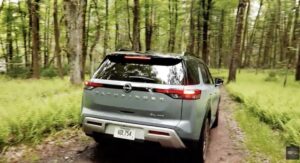 With automakers pushing their SUVs to go even farther, the time is right to return the Pathfinder to its more rugged roots and this new design lays the groundwork for a 3-row family hauler that can do more than just mall runs.  It looks amazing in this two-tone Boulder Gray/Super Black combo.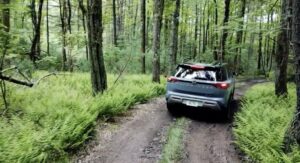 It has a wider track, slightly more ground clearance but best of all an upgraded 4-wheel drive system mated to a real 9-speed automatic that's predictive and more reactive to low traction situations.  Nissan has given up their beloved CVT here and with the Terrain Mode Selector in the Mud/Rut setting I'm powering through these trails with surprising ease.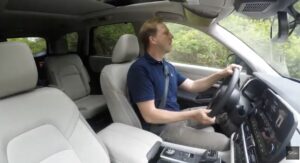 I don't think many Pathfinder owners would have taken the previous generation model out on trails like this.  But this one, with 7 different drive modes, is doing a beautiful job out here in the deep mud.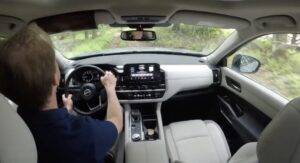 Its off-road geometry isn't any better than before so watch your approach and departure angles but from a pure tractive standpoint this Pathfinder keeps going.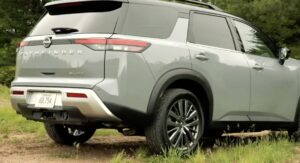 Here we go, up the hill.  This is where that 9-speed transmission really comes into play.  Ok.  Oh, nice.  It totally recovered.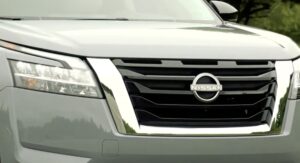 There's hill start assist and hill decent control and a limited slip.  The 3.5-liter engine is a carryover, rated at 284 horsepower and 259 pound-feet of torque and when optioned, can tow the same 6,000 pounds.  
My time behind the wheel has been limited and all of it has been spent out here but Nissan has done this cabin right and based upon everything I've seen they've got themselves a legitimate contender. 
It's more family friendly and the interior dimensions have been tweaked in all the right ways with more cargo room,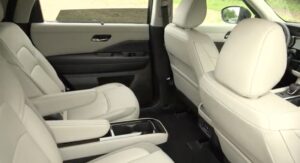 a wider 3rd row and seating for up to 8.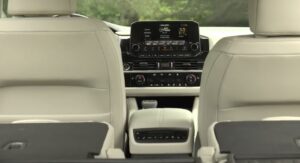 And hey, it has wireless CarPlay so you know I'm good with the tech.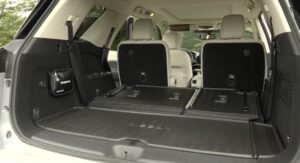 Pricing, including destination, ranges between $34,560 for a base Pathfinder S 2WD to $49,240 for a 4WD Platinum.  Telluride, Highlander and Explorer now have some tougher competition.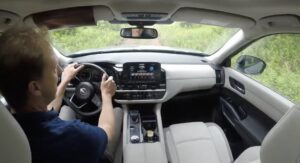 The new Pathfinder lands in showrooms early this summer.    
2022 NISSAN PATHFINDER TEST DRIVE BY CAR CRITIC STEVE HAMMES  |  TESTDRIVEN0W 2021(c)