2022 HYUNDAI KONA N TEST DRIVE
2022 HYUNDAI KONA N TEST DRIVE BY CAR CRITIC STEVE HAMMES
I love my Kona Electric; it's stealthy quick and surprisingly fun-to-drive.  But I'd be lying if I said my mind hasn't wandered from time-to-time wondering what the Kona might be like with a souped-up tempo.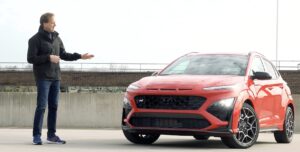 And here it is – living at the opposite end of the Kona spectrum, the new Kona N – a performance SUV within financial reach.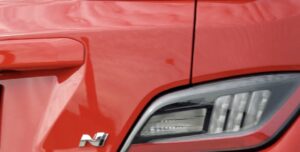 $35,445; that's the modest price of the Kona N – one of the most unique enthusiast cars on the market today…or shall I say SUV.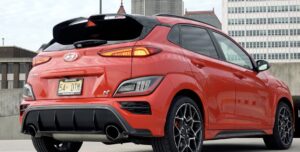 However you describe the Kona N, this is Hyundai at its nuttiest and I mean that in a good way.  The high-performance N story began with the Veloster and has since spread to the Elantra and now the Kona with more to come later this year.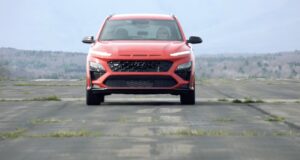 Available in white, black, blue or red with a 2.0-liter turbo, 8-speed dual-clutch transmission, a limited slip, electronically controlled shocks and summer-use Pirelli rubber, the Kona N is a front-wheel drive hooligan.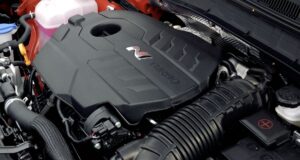 With 276 horsepower and 289 pound-feet of torque delivered more linearly via what Hyundai dubs "Flat Power" technology, this is a torque-steering, exhaust-popping, rigid ride with fun technology built-in.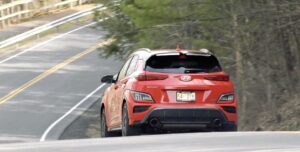 Names like Grin Shift, Grin Control and Corner Carving Differential intertwine with N Mode infotainment creating a video-game-like atmosphere.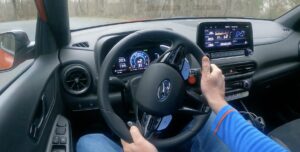 There's launch control, all sorts of ways to measure and monitor your performance and even built-in racetrack layouts with lap timers.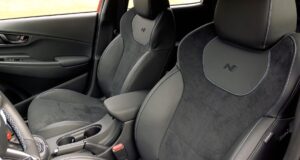 The first things you notice in here are the suede sport seats that provide the perfect amount of friction and side bolstering. They're very comfortable.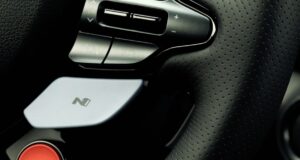 And then your eyes catch these blue N switches and this weird run button labeled NGS and that's when you realize this is going to be a lot of fun.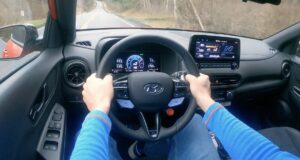 Short for N Grin Shift, when you press this button it's like inserting a sugar IV needle into a kid's arm; 20 seconds of overboosted turbo and the most aggressive shifting available when rapid acceleration is required.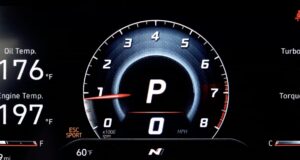 A countdown clock in the driver display keeps track of time.  But as for launch control – the procedure is a little wonky and only grabbed a 5.7 second 0-to-60mph time for me whereas low 5s are the reported norm.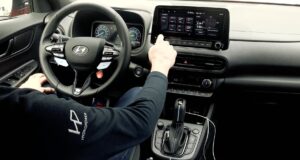 With less than favorable surface conditions perhaps that's to be expected but it actually feels faster without the electronic assist.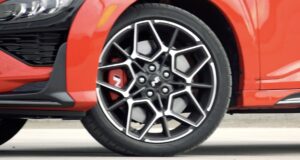 Hyundai has blessed this Kona with larger brakes, 19" wheels, and something regular front-wheel drive gas-fueled Konas don't get; a multi-link rear suspension.  And though there are adjustable shocks even the Normal setting is high-strung.  By the time you reach Sport + it's the most inflexible stock suspension tune any new car offers.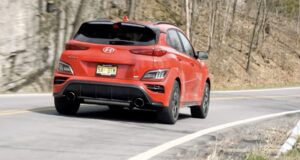 The body is constantly reacting to the road and you feel every little pebble.  You can configure your own N modes here for a number of components and then assign them to the steering wheel switches. Engine, transmission, limited slip, suspension, steering, stability control, exhaust sound…it's all there for customization.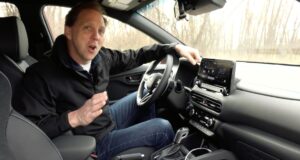 There's even a feature that uses a camera to read road signs and when an S-bend is ahead the Kona will prompt you to select N mode…unfortunately not working on my tester.  When driving in Eco or Normal it's fairly docile yet still tight.  Things ratchet up in Sport mode but remain relatively tame.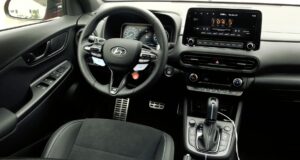 It's not until you summon N mode that things get serious.  And though the beefed-up DCT shifts quickly this is a car that benefits from using the paddle shifters – holding those gears longer and controlling the pops and bangs coming out of the pipes.  Lots of understeer in on the menu however which makes me wish for the Golf R's all-wheel drive torque vectoring rear axle.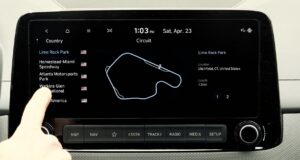 This Kona is a hoot. It's super stiff and gives you the feeling that you're driving a rally car. I just wish I had a hand brake up here.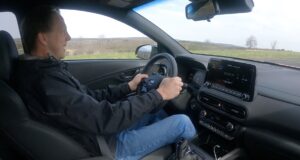 And when the turbo kicks in hold onto to the wheel because this is Saab 9-3 Viggen-level torque steer. It's not nearly as polished as the Golf R I just tested but therein lies its charm. The Kona N makes you the driver not the other way around and carving through these passes with the exhaust crackling will indeed put a grin on your face whether you hit this button or not. Just let your chiropractor know you're going to need regular appointments.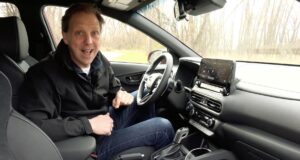 Gas mileage is rated at 20mpg city/27mpg highway and the Kona N will accept regular unleaded.  Everything you see here is standard and there are no options.  But the exterior isn't as exciting as it could be.  Without this Racing Red paint and these large bore outlets this Kona would really fly under the radar.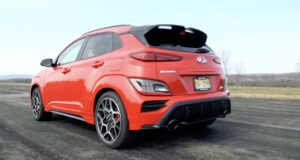 And as compared with my Kona, this one doesn't have a sunroof, head-up display, rain sensing wipers or smart cruise control with stop and go so even though this is the most expensive gas-powered Kona in the lineup it's not the most loaded.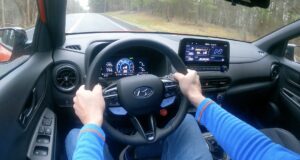 Nevertheless, Hyundai's high-end infotainment system is top notch minus the fact that you can't get wireless phone projection, there are heated seats, thoughtful N details, high beam assist, an overperforming 8-speaker Harman Kardon stereo with Clari-Fi Music Restoration Technology, a rear USB port, and tons of active safety features.  The BlueLink app is excellent too and digital key is supported as long as you have an Android device.  Living with one I can tell you the rear seats are small but the cargo area is decent with the seats folded.  So the Kona N – even though it can't tow – can eat up some stuff and supports a roof rack unlike my EV.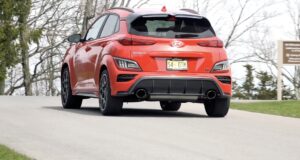 In a car this rambunctious though I wouldn't mind more styling but kudos to Hyundai for producing something this crazy that isn't so over the top that it's completely impractical.  This one's for the driver who craves automotive personality.  
2022 HYUNDAI KONA N TEST DRIVE BY CAR CRITIC STEVE HAMMES  |  TESTDRIVENOW.COM 2022(c)
Tagged with:
2022
,
2022 HYUNDAI KONA N
,
Car Critic
,
Hyundai
,
Kona
,
latest video
,
N
,
perfomance
,
reviews
,
road test
,
steve hammes
,
SUV
,
test drive