2023 MAZDA CX-50 TEST DRIVE
2023 MAZDA CX-50 TEST DRIVE BY CAR CRITIC STEVE HAMMES
Carmakers who use alphanumeric naming confuse the average shopper.  And though the Germans have cornered the market on this, Mazda is trying hard to join the club.  Do you want a CX-30 or an MX-30?  And what's the difference between their best-selling CX-5 and this new CX-50; a zero?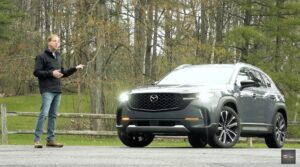 Well, this is Mazda's attempt at getting more rugged; tiptoeing into muddy waters.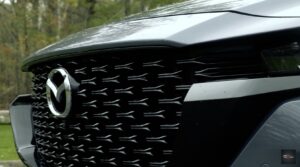 Mazda makes some of the sharpest looking vehicles on the road today, but their SUVs are too pretty to get dirty and so they've been missing out on the off-road craze.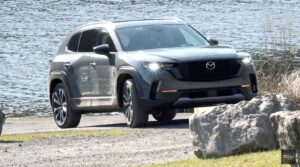 Introducing the 2023 CX-50; a longer, better looking and only slightly more expensive CX-5 with higher ground clearance and improved towing capability.  All-wheel drive now comes standard on all Mazda crossovers and SUVs and this one also includes off-road and towing modes for improved performance.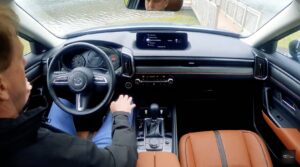 Pricing starts at $28,025 for the base S trim and tops out here at $43,320 for the top-of-the-line Turbo Premium Plus. Mazda says they've "extended this vehicle's capability to enable drivers to venture further into the outdoors and various terrains" but let's be honest; the CX-50's ruggedness is mostly about its looks, putting a new twist on Mazda's stylish Kodo design language.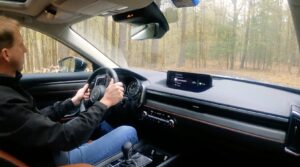 The result is a nearly 6" longer, narrower and lower roofline CX-5 with real SUV curb appeal.  It's an attention grabber, for sure. But look no further than these Goodyear Eagle Touring tires as an indicator as to how much farther this Mazda can really go.  i-ACTIV AWD uses a Front-wheel Slip-warning Detection system to proactively transfer torque to the rear wheels, up to a 50/50 split.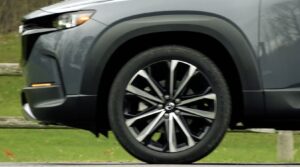 But if you're looking for off-road-tuned shocks, a true torque vectoring all-wheel drive system with a 4-wheel lock mode, hill decent control or multi-terrain drive settings you won't find them here.  You will on a comparably priced Toyota RAV4 TRD Off-Road, however.  Just some food for thought.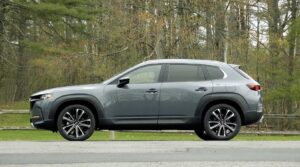 But with nearly 9" of ground clearance and decent approach and departure angles the CX-50 will confidently handle camp and lake trails and the unexpected washed out road.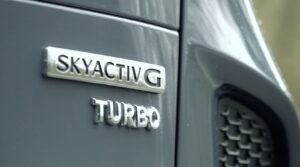 Adding the optional turbocharger to the standard 2.5-liter 4-cylinder engine produces 227 horsepower and 310 pound-feet of torque on regular unleaded and 256 horsepower and 320 pound-feet on 91 octane…quite a difference.  And with a semi-independent rear suspension and shorter final drive ratio than the CX-5 the CX-50 can tow up to 3,500 pounds as opposed to 2,000 but Mazda recommends using premium gas when towing.  When a trailer is connected a Towing Mode appears in the drive selections.  With the ability to disconnect the rear axle when all-wheel drive isn't called for and an engine start/stop system, the CX-50 nets 25mpg…a 1mpg improvement over the CX-5.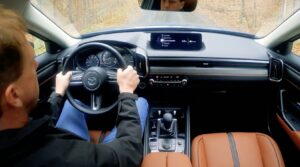 Like almost every Mazda now, the slick electronic programming called SkyActiv used to harmoniously blend driving feel and improved fuel economy misses the mark for me…though I have to say as my test week rolls on I always get used to it its uniqueness.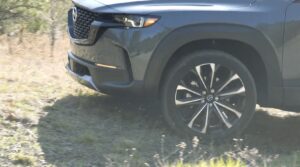 But there's an on/off nature to throttle inputs that leaves the CX-50 feeling a little sluggish…a sensation that can be ameliorated in Sport when you're on the backroads. Otherwise, the ride and handling are agreeable though not spectacular.  And if you really want more capability you'll have to wait for the Meridian Edition later this year which gives the CX-50 some proper rubber.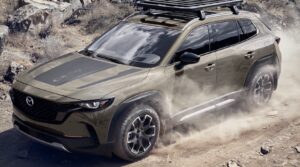 The Meridian will, most importantly, feature 18" all-terrain tires and a host of outdoor-specific accessories.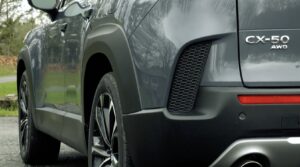 Though I love the styling and its more adventurous bent I have a couple bones to pick with the CX-50: 1) it doesn't have that commanding SUV seating position that's desirable in vehicles like this.  There's not much headroom here when I raise the seat to the height I want so you sit low like you're driving a sports model.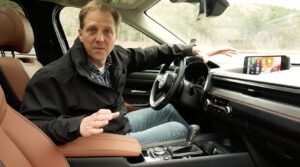 And my second complaint is an oldie but this Connect system ran its course shortly after it was introduced years ago.  The only improvement to it is that it now supports wireless CarPlay and Android Auto which is nice but interestingly enough it's the only time when this is a touchscreen.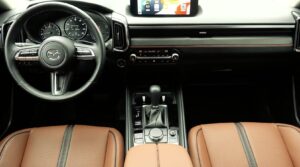 This Terracotta leather interior has the premium look and feel that is Mazda's signature these days and comes equipped with notable items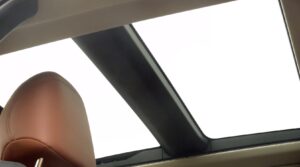 such as the company's first panoramic roof, memory settings for the driver's seat, heated and ventilated front seats and heated rear seats, a heated steering wheel, a height adjustable power passenger seat, adaptive headlights with high-beam assist, an around view monitor with external button, and smart cruise control with stop and go.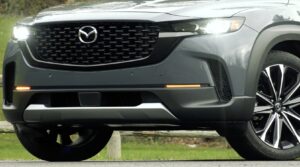 Other than the sometimes maddening infotainment system, which to its credit packs some nice features such as weather radar and a 12-speaker Bose audio system, nothing about this cabin is going to scare new users. It's simplistic bordering on outdated.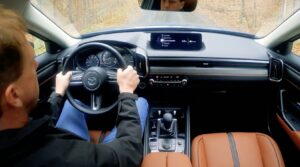 Look at the basic gauge cluster and lack of ambient cabin lighting as indicators of being a couple of steps behind.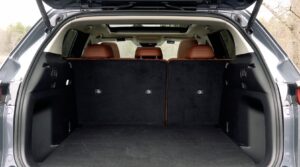 With the shorter roof comes a little less passenger and max cargo volume when compared with the CX-5, but with the seats upright you get 1 extra cubic foot of space.  No hands-free for this tailgate, though.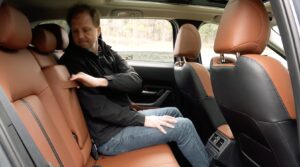 Back here are remote levers for split-folding the rear seats but with no clever outdoorsy accessories on this tester – like a mud mat or cargo organizer – it's just another place to put stuff.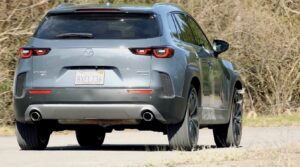 And that's pretty much my overall impression of the CX-50 – it would have been nice if Mazda jumped into the deep, or at least deeper end of the off-road swimming pool because there's not much here.  That being said I would take it any day over the updated CX-5 and I presume Mazda won't keep both models around for long, saying sayonara to the 5.   
2023 MAZDA CX-50 TEST DRIVE BY CAR CRITIC STEVE HAMMES  |  TESTDRIVENOW.COM 2022(c)