2022 BMW M240i TEST DRIVE
2022 BMW M240i TEST DRIVE BY CAR CRITIC STEVE HAMMES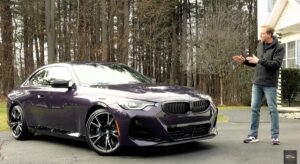 2022 BMW M240i xDrive Coupe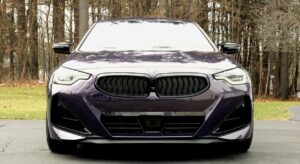 This here is a nearly $60,000 car; a small, all-wheel drive purple sports coupe just trying to make its way in an SUV-obsessed world.  But, for those in the know – and you're about to become one of them – this is the performance bargain of your sports car dreams.  It's the all-new BMW 2 Series and it's beyond good…it's addicting.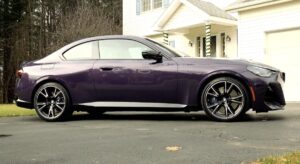 What was originally known as the 1 Series Coupe upon its arrival in 2008 became the 2 Series Coupe in 2014.  And now for its second act, this 2022 redesign introduces sexy new styling, a dash of additional horsepower, stickier handling and a modern interior…oh, and this new color Thundernight Metallic…a $550 option that gets all the stares.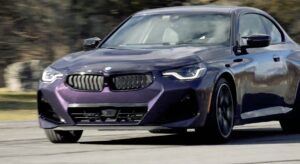 This week, I'm skipping over the base 230i model and jumping right into the current top trim; the M240i xDrive.  The former – a 4-cylinder rear-wheel setup – starts at under $40,000 making it the least expensive way to get into a BMW car while the latter- this all-wheel drive turbo-6 – starts at about $10 grand more.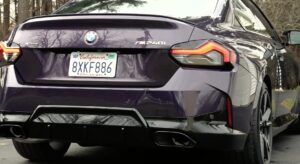 Now, my last spin in one of these came in 2017 in the small but mighty M2, a version expected to be reintroduced next year.  As for this one, it's quicker, significantly more fuel efficient and about the same price as that M2 so I can only imagine BMW has grand plans for its resurrection.  Nevertheless this here is likely enough M for most.  Though it's 3.5" longer about 2.5" wider and a little over 200 pounds heavier than before, this is undoubtedly still a driver's car with a low slung body, subcompact dimensions and a willingness to please as an Ultimate Driving Machine should.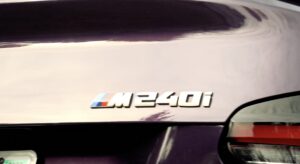 It's arguably the purest form of BMW ethos in their lineup.  Now, it is a shame you can't currently get one like this without xDrive and with a stick shift but a rear-drive M240i will follow shortly.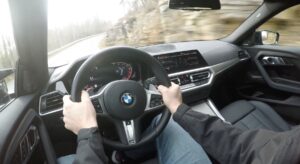 As for the manual it looks like you'll have to wait for the M2 for that.  As the 3 Series has matured beyond just a sports sedan the 2 Series has become the driver's repository for attainable German driving enjoyment.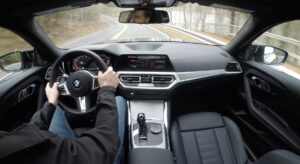 The M240i comes standard with xDrive, biased to the rear wheels, which combined with the limited slip back there not only creates gobs of traction for your performance driving pleasure but also surefootedness in snowy conditions…though with these optional, staggered width performance tires and the sub-freezing temps…I'm not experiencing the full breadth of this car's grip.  But holy smokes is this good…improved upon in all the right ways yet instantly recognizable as a 2 Series from behind the wheel.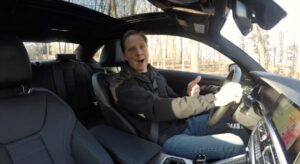 And what I mean by that is this car still possesses its soft, comfy ride and easy drivability but with more polished dynamics and more power…and that's saying something because the 1st gen car was an amazing drive in itself.  It's so darn fast yet thoroughly engaging in the best BMW way possible, they'll have to pry you from the driver's seat.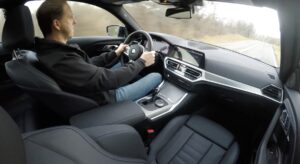 The in-line 6 is a hoot with the turbo delivering linear power in spades; 382 horsepower and 369 pound-feet of torque that acts on demand in any of the 8 gears for this always on feeling you'll love.  Its 4.1 second sprint to 60mph is a tenth faster than before and feels even faster than that, including a launch control feature.  And it's in Sport Plus where this car shines, one of the many driving modes and not too hardcore for the street.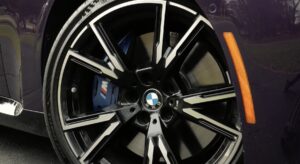 Equipped with the optional Cooling and High Performance Tire Package which drops in these staggered width 19" Michelin Pilot Sport 4 S tires, this M240i xDrive adheres itself expertly to the road while the super smart transmission blips the throttle on downshifts and always picks the right gear.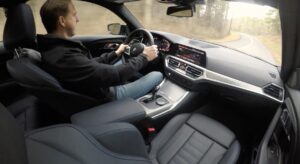 The driving position with the sport seats and adjustable side bolsters provides the perfect sports car helm and keeping your eyes on the road is easy with this very large head-up display.  Equally as important, the M Sport brakes grab hard and confidently.  With xDrive it's almost too good if you know what I mean which is why I would prefer the rear-wheel drive model for a more purist feel while attacking the corners while also shedding some of these 3,871 pounds.  It also sounds good in here.   Gas mileage is not sport car-like, rated at 26mpg in combined driving and 32mpg on the highway when fed premium.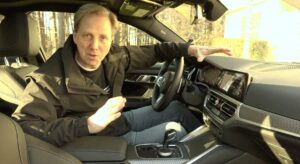 The cabin is perfectly suited to a luxury sports coupe with the optional Premium and Driver Assistance packages adding goodies such as active cruise control, a surround view camera, a heated steering wheel, heated front seats, and an awesome, comprehensive head-up display.  And except during highway driving where the wide performance tires create some noise, the cabin is very quiet.  The soft, leather steering wheel is the perfect grip, the driver's seat has adjustable side bolsters and the touchscreen offers wireless phone projection and is upgradable over the air. So while this car emphasizes the drive it definitely doesn't leave you wanting in here.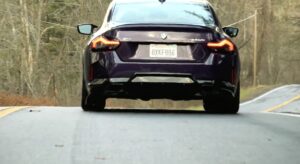 Fully modernized with the agreeable iDrive 7 touchscreen that also responds nicely to voice commands and includes fun items like the Caring Car programs, this is a relaxed, fully stocked and comfortable ride when you want it to be.  The big power moonroof, the cool ambient lighting, all of the driver assistance features and excellent electronics integration, there are no weak spots in here.  Well, perhaps the rear seats but even those are OK for a subcompact coupe…much better than a BRZ for example and there is power sliding access on both sides.    
MSRP as-tested, and this is loaded with real leather with blue stitching, all of the big packages and a great sounding Harman Kardon surround system for $59,645…a price that seems more like a bargain with every mile.    
2022 BMW M240i TEST DRIVE BY CAR CRITIC STEVE HAMMES  |  TESTDRIVENOW 2022(c)
Tagged with:
2022
,
BMW
,
Coupe
,
latest video
,
m240i
,
perfomance
,
reviews
,
road test
,
steve hammes
,
test drive
,
xDrive