2020 Range Rover Sport PHEV Review
2020 Range Rover Sport PHEV Review By Auto Critic Steve Hammes
So you've wanted a Range Rover for quite some time but you just keep thinking to yourself, darn it I really need a hybrid and preferably one with a plug. OK, that scenario is highly unlikely but that doesn't mean Land Rover isn't doing it anyway because they are. Meet the 2020 Range Rover Sport PHEV.
Plug-in hybrid technology is a bridge between a standard gasoline-electric hybrid and a fully electric vehicle.  It provides a short EV driving range, typically less than 30 miles, before a small gas engine joins the party at which point you're back to normal hybrid driving; some EV, some gas but typically a blend of the 2 which delivers vastly improved MPGs.  A PHEV's allure likely rests with how far you typically drive.  If you're an around the town, short distance kind of commuter and dutifully keep the battery charged you may use little to no gas at all. This is why the EPA's estimates for PHEVs should be used as a loose guide.  Of course, electric motors also boost performance.  They don't need time to generate their peak torque – you press the accelerator and the car just goes…quietly.  That's the coolest part.  If you've never experienced it before you'll immediately notice the difference.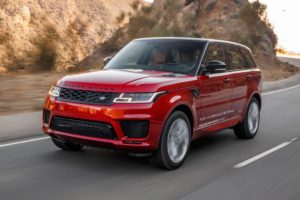 You certainly can't say Land Rover isn't providing choices here; the Range Rover Sport is offered with a diesel, 2 mild hybrids, a couple of supercharged V8s and this PHEV supported by a 2.0-liter turbo 4. The P400e as it is known falls just short of its name at 398 horsepower. But it's the 472 pound-feet of torque this powertrain produces that slots it 2ndin twisting force to only the mighty SVR in the 6 model Sport lineup. But batteries and motors are heavy so the PHEV's 0-to-60mph time of 6.3 seconds makes it the slowest Sport this side of the diesel model.  Far from plodding but a little disappointing nevertheless.
When plugged-in at home to a standard household outlet it'll take about 14 hours to fully recharge this battery which according to Range Rover will deliver 31 miles of EV power.  But I've only been getting about 21 so far this week and even then this engine has been kicking-in way more than I ever would've thought.
Ambient temperature, driving style…it all factors into the EV range you'll see but this one can't wait to get that buzzy little turbo involved even when working the gas pedal with the gentle touch of baby's hand. Though there is an EV mode that'll force the engine to stay off if there's enough charge AND an ECO driving mode I want my 20 miles or so to be gas-free and I'm rarely getting that here.
When I think of the Range Rover Sport I envision an effortlessly quick SUV with a killer supercharged engine.  This, on the other hand, feels kind of weird.  Yeah, it's quick in a hybrid sort of way but the drive feels disjointed, the organic braking is gone and there are no accompanying sounds you want to hear.  And the plug-in factor seems superfluous seeing as how the EV range is low, charge times long and pure electric driving is hard to come by.  Of course it looks great, the cabin is still vault-like and other than having no spare tire its off-road chops haven't been compromised. But at over $93,000 as-tested I don't see many Range Rover Sport buyers lusting over this model.
I will say this; the PHEV feels better the harder you drive it.  It's less at ease in city work.  In Sport mode the tall and heavy Range Rover squats and sticks to the road in physics-defying ways.  And there's truly something to the feeling of being in a Range Rover's hermetically sealed cabin…invincibility and serenity permeate the experience.
Base MSRP is $80,295 but if items like Blind Spot Assist, Adaptive Cruise Control, heated steering wheel, and head up display interest you the price goes up.  This loaded HSE example stickers for $93,200 and does pack some pretty cool stuff; The 21" wheels, black contrast roof, heated and cooled front and rear seats, center console refrigerated compartment and configurable ambient lighting are all extras but lend big-time style and grandiose accouterments.  And finally, Apple CarPlay and Android Auto have been added to Land Rover's brilliant-looking dual touchscreen setup that's still a little confusing to use but adds big-time visual pop.  And I love 360 degree cameras but with no dedicated button to access it quickly it's often too little too late.  And the PHEV doesn't scale back its 4-wheel drive capabilities…Terrain Response is here to dial in the appropriate off-road mode, the air suspension can get crazy high or low depending on your travels and its nearly 3 feet of water fording is preserved.  A New Wade Sensing system even provides real-time water depth information.  Because the battery pack is back here the PHEV does lose a little cargo room.
The Range Rover Sport is due for a complete redesign in 2021 and though there are some dated components, this model is holding up quite well near the end of its lifecycle.  The EPA has yet to rate the fuel economy of this PHEV which finally arrives stateside this summer but it will easily be the most fuel efficient Sport you can buy.  The same plug-in treatment is also coming to the big Range Rover.  The appeal will be limited.  For me, I'll take mine with the 5.0.
Tagged with:
2020
,
auto critic
,
DTwithSteve Hammes
,
Land Rover
,
latest video
,
LUXURY SUV
,
PHEV
,
Range Rover
,
reviews
,
road test
,
Sport
,
steve hammes
,
SUV