2020 Nissan Altima
2020 Nissan Altima Review By Auto Critic Steve Hammes
Looking more like a baby Maxima, Nissan's bread-and-butter midsize sedan has recaptured its mojo to once again become an alluring choice for those still not enamored with the pivot towards crossover SUVs. Improvements abound returning the Altima to your family car shopping list.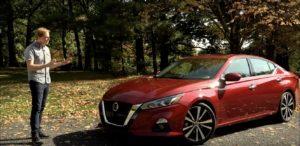 In their words, Nissan's goal with this car is to reenergize the sedan segment.  And though buyers are largely choosing to bypass traditional cars in favor of their SUV counterparts, the offerings are as impressive as ever.  
Now in its 2nd model year since the 2019 redesign, this 2020 Altima is my introduction to this 6th generation car – Nissan's best-selling model not named Rogue.  And I really like what I both see and feel.  Similar to the fresh competition from Honda and Toyota, Nissan has also taken a look-at-me approach with the Altima's styling and it works.  Family sedan no longer equals boring.  The car I have is the Platinum VC-Turbo – the most lavish and powerful trim – priced from about $36,000.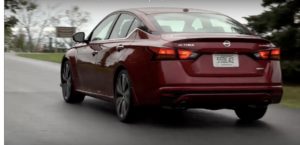 Lower, longer and wider with the wheels pushed farther to the corners, this Altima looks decidedly more athletic, especially on these 19" rims though they're fitted with some Hankook tires more interested in comfort than sport.  But that's OK because the Altima should have a more compliant ride and in fact it does.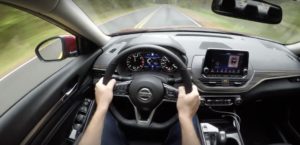 There's a light, nimble, easy-going nature to the drive that now possesses a higher degree of sophistication as to how it steers, handles and brakes.  In many ways it reminds me of the Volvo S60 I recently tested though not quite to those premium levels.        
Most of the buzz surrounding the new Altima centers on the optional VC-turbo engine.  It replaces the V6 as the top engine choice, available exclusively on front-drive models.  VC stands for variable compression and Nissan/Infiniti is the only one doing it.  It's taken 20 years to bring it to market and it's an engineering feat.  Changing the volume of each of the engine's 4 cylinders on the fly allows this 2.0 to go big for higher efficiency or shrink for higher performance.  I'm impressed by its elasticity, smoothness and fun turbo punch when pushed.  And my stellar fuel economy has been well above the EPA estimates.  Just remember – high compression engines want high octane fuel.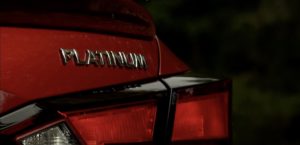 Rated at 248 horsepower and making a healthy 273 pound-feet of torque, the VC Turbo produces similar output to the Accord 2.0T, the car I consider best in class.  However, the Altima's EPA estimate of 29mpg can't be beaten by any of them in an apples-to-apples comparison and my 34mpg for the week is outstanding. Beyond the new engine technology, the Altima's CVT is a huge factor in its fuel economy advantage.  I know, I know, you don't want a CVT but this xTronic unit from Nissan is as good as they come – right up there with the new variable transmission from Hyundai/Kia.  It's smooth with gentle faux shift points yet not noisy or disengaged.  It works very well with this engine and should not discourage an Altima purchase.  And a little unmarked button here takes you to Sport mode where the Altima feels a little livelier.  Now, I've never cared for paddle shifters in a CVT car so I don't mind that they're reserved for the SR grade.  It is interesting to note though that in the multiple drive mode world in which we live, the Altima doesn't offer more than what you see here.  And that plays into the overall cabin persona – it's simple to use.  Not overdone nor does it showcase a wacky new shifter, the Altima plays it old school in its ergonomics approach and it's welcoming.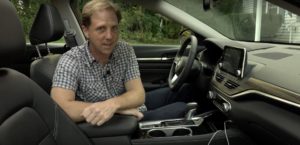 The Zero Gravity front seats are also super comfy with heating and a heated steering wheel. But the infotainment feels old right out of the box.  It's not terrible in its appearance or its ease of use – it's a touchscreen after all so it has that going for it – but it's also a little drab and not particularly well conceived.  The 9-speaker Bose stereo system is also a letdown but the around view monitor with its easy to access button is a great addition.  Quiet cabin, too.     
As for ProPILOT Assist – it's very well executed for a semi-autonomous driving system and if you spend lots of time in mind-numbing traffic you'll like it.  I found myself using it a lot this week when I was doing driving a monkey could do.  Basically it's adaptive cruise control that keeps the car in its lane while also helping you steer.  There are a handful of these systems on the market – some better than others – and Nissan's is very, very good.  Of course, I'd rather not have to grab the wheel every 12 seconds and just let the car completely drive itself but until then it's a welcome feature.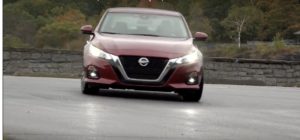 Also new on this Altima is an all-wheel drive option – an attractive choice for some of us and, other than on the Subaru Legacy, something you can't get with the aforementioned heavy hitters.  Though not with this engine – only with the base 2.5-liter motor.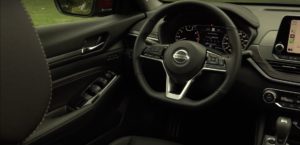 Is the Altima a better car than the Accord?  No.  The Camry?  Very close.  Either way, they're all solid selections and your decision will likely come down to intangibles and what you prioritize in a car.  MSRP of my tester is $38,840.