2019 Volvo S60 T6 AWD
2019 Volvo S60 T6 AWD Review By Auto Critic Steve Hammes
Volvo's latest generation of vehicles showcases a turning point for the Swedish automaker, highlighted by captivating design, high technology and an aspiration of electric motoring. And this all-new, American-made S60 is just another example of Volvo throwing down the hammer.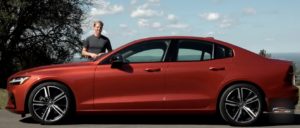 Slotted in the middle of Volvo's SUV- and wagon-heavy lineup is a pair of traditional cars – this here is the smaller of the two – the S60 priced from $37,000.  While many of their other models have come and gone through the years, the S60 has remained steadfast in delivering a sporty, luxury alternative.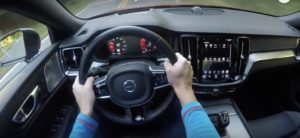 I've already driven the V60 wagon so I knew going in that this car wouldn't let me down.  First off, Volvo's current design language is spectacular – so distinguishing, fresh and best of all different from the Germans.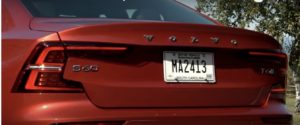 This Fusion Red S60 R-Design has the look and backs it up with a very likeable drive – one characterized by a sumptuous yet athletic suspension tune and a willingness to satisfy both the casual and enthusiast driver.      
At 316 horsepower and 295 pound-feet of torque, this all-wheel drive S60 feels lively – working through an 8-speed auto to produce a snappy 0-to-60mph time of 5.3 seconds.  And though I haven't fully embraced this mouth and nose breather in their flagship models, here in the S60 it feels more appropriately placed and adequately refined.  Furthermore, its weight and space saving transverse leaf spring rear suspension contributes to the dreamy ride quality for which Volvo's in the recent past have been known.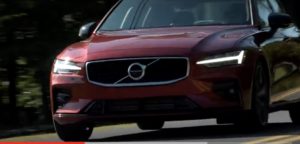 The S60 is a phenomenal sedan, blending sportiness and luxuriousness in a very Volvo kind of way. There is a specific ride quality present that is absolute perfection – old school hallmark Volvo – really soft and forgiving yet full of feeling. It's light, nimble and fun to drive. The sports seats make getting in and out a chore and – nothing new here – the infotainment system requires a steep learning curve.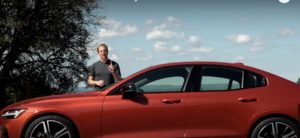 I've driven a million Volvos with this version of Sensus so I know how to get around but there's just too much distracting swiping needed to get to what you want.  Even a smattering of redundant buttons would go a long way to simplifying it.  For instance as a perfect parking nut that I am, I love surround view cameras but there needs to be a conveniently placed button to activate it…you don't bury it deep into screens.
As for Pilot Assist – like the many similar systems on the market – it's cool but it's a tease.  Having to frequently touch the steering wheel feels half-baked when Cadillac offers SuperCruise which is true hands-free driving.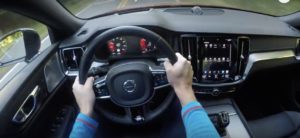 Priced from the mid $40s, this R-Design trim is the sporty S60 with a specific blacked out appearance, integrated pipes, and soft leather seats with textile inserts.  It's also nice to see a regular gear shift in here and not some contrived piece of jewelry. The seats are pretty firm with high sides so getting in and out with grace is tough, otherwise I love the cabin design and spaciousness in what is technically a compact sedan.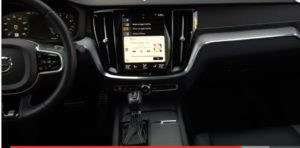 My tester has the Advanced Package with the 360 degree camera, LED headlights that swivel in the turns, the semi-autonomous Pilot Assist adaptive cruise control system, and heads-up display.  Other add-ons include heated rear seats and steering wheel, the Park Assist Pilot for parking assistance and the $3,200 Bowers and Wilkins stereo with selectable sound fields…worth every dime if you're a music lover.  The 19" wheels are $800 and the striking red paint is $645 for a total MSRP of $56,490…an easily digestible price for such a complete car that delivers the goods on multiple fronts.  25mpg on premium is more than respectable in this class considering this car's robust power output.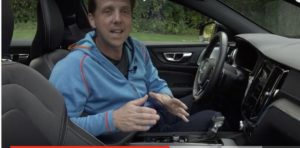 I've come away from my week with the S60 assured that Volvo's stalwart sedan still has the right stuff – in fact it's better than ever which makes me drool a little thinking about that Polestar-engineered plug-in model that makes nearly 500 pound-feet of torque.  What's missing at this price point?  There's no hands-free trunk release, as a matter of fact it's not even power operated, and there's no wireless device charging.  Otherwise Volvo has crammed all the goodies into this chic cabin and combined them with a relaxing yet spirited drive wrapped in a gorgeous Scandinavian body.           
Tagged with:
2019
,
auto critic
,
AWD
,
DTwithSteveHammes
,
latest video
,
reviews
,
S60
,
SUV
,
T6
,
top picks
,
Volvo