2019 Volkswagen Arteon Review
2019 Volkswagen Arteon Review By Auto Critic Steve Hammes
2019 Volkswagen Arteon SEL 4MOTION
Volkswagen has a new halo model and no it's not a W8 or a Phaeton.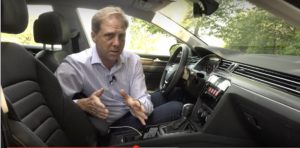 They've named it the Arteon and it picks up where the CC left off, offering VW shoppers a more stylish alternative to the Passat.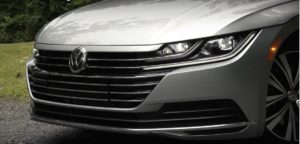 The Beetle has been squashed, the wagons sent back to the 70s and the Golf's future is as uncertain as a Tiger Wood's tee shot. Yup, VW is becoming an SUV brand.  So as Americans continue to throw shade at cars in general, the Arteon's arrival feels like a day late and a dollar short.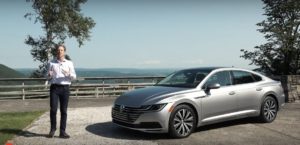 But if still you appreciate something lower and sexier, then you'll want to check this one out because it's a really solid offering.  Masking its hatchback design quite well the Arteon possesses surprising cargo volume that can easily be expanded to Atlas SUV-level proportions.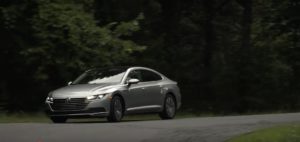 Combined with it frameless doors, beautiful wheel design, and modernist front fascia, the Arteon expresses distinction in a premium manner.  But because we've been looking at this car for a number of years now leading up to its dealership debut it's not nearly as striking as it once was. It's attractive but I wouldn't call it a head turner.
Not all that dissimilar to its corporate cousin the Audi A5 Sportback, the Arteon is available in front or all-wheel drive in SE, SEL and R-Line trims ranging in price from around $37,000 to just over $47,000.  No matter, VW's giving you a 268 horsepower 2.0-liter turbo-4 that prefers premium unleaded mated to an 8-speed automatic. Expect about 23mpg in combined driving.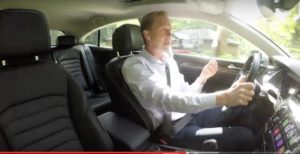 In an SUV world the Arteon is an attractive car with elevated driving dynamics. Combining big cargo volume with all-wheel drive it might just have you reconsidering that small sport utility purchase. Though technically a five-seater the big hump really relegates it to 4-passenger status but under the hatch is cavernous carrying capacity. The Nappa leather is soft, the seats are extremely comfortable and the sporty, sophisticated drive highlights the benefits of German engineering. It's not a sports sedan but a grand touring type that'll leave you impressed from behind the wheel. But having been revealed nearly 3 years ago the cutting edge styling already feels dulled and the cabin is unbecoming of a premium brand's flagship.
The standard adaptive damping system in addition to the Driving Mode Selection is what takes the Arteon from middling to moving.  The ride quality is impeccable – soft and forgiving yet agile and secure – just choose the setup that best meets your drive. It's a confident drive through the country roads in the grand touring style.  I miss having paddle shifters on this SEL trim because the chassis seems worthy.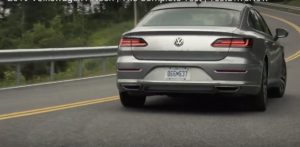 The Arteon has an Audi-level feel to its drive and the more miles I put on it the more impressed I become. Good seats can go a long way to fortifying a car to driver relationship and I could drive the Arteon all day. And even though there's no V6 here there's enough power and refinement to the drivetrain to keep you satisfied. I just wish the interior could match the luxury that oozes out from behind the wheel.
The infotainment is very solid and easy to use, the 8-speaker sound system punches above its weight, and digital cockpit puts a wealth of information at your fingertips.  The rear view camera's image is also super sharp.  Adaptive cruise control is always welcome but at nearly $43,000 there are things I can't find such as any kind of lane keeping assist, wireless device charging and a power operated hatch – which would really come in handy here because this one rises high and is quite heavy.  And at highway speeds it's also louder in here than I would have imagined. The center console is small.  But the comfort level is high, the driving position is typical VW excellence, and the rear seats are certainly spacious enough though there are no USB ports back here.  But when the Arteon is advertised as the brand's flagship I need at least 10% more wow factor when I open the door.  This simply looks like every other VW car I've stepped foot in over the past 5 years.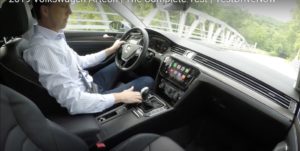 MSRP of this one with no options is $42,790.  It's a car I'd be happy to drive every day and with 4MOTION it's a perfect year-round family car with some flair. But more pizazz would be welcome and at this price the Buick Regal GS is certainly worth your consideration.
Tagged with:
2019
,
4Motion
,
DTwithSeveHammes
,
latest video
,
reviews
,
road test
,
SEL
,
steve hammes
,
test drive
,
Volkswagen
,
VW