2019 Hyundai Veloster N Review
2019 Hyundai Veloster N Review By Auto Critic Steve Hammes
With choking traffic and a growing level of ineptitude from behind the wheel, driving is usually anything but an enjoyable experience. So as Americans we try and isolate ourselves in big SUVs and I get why. But when a hot little hatchback like this shows up the driver within is exhumed. This is the new Hyundai Veloster N and it's the most new car fun you can have for under $30k.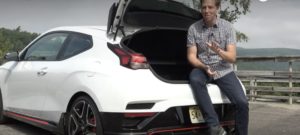 Do you drive stick?  Then you should drive this.  It's the only way it comes and with standard rev-matching and its satisfying operation, this is a 6-speed that makes the argument for those Save The Manual sycophants.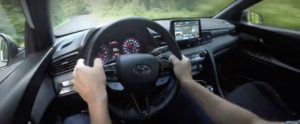 My last go around in the new Veloster was the previous autumn with a Turbo R-Spec and it quickly became evident that this car was the real deal and ripe for the N treatment.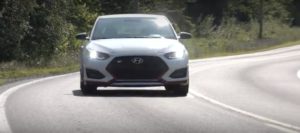 It's matured into a driver's car whereas before it was mostly all show.  Bigger engine, an electronically controlled suspension, better brakes and all kinds of N goodies, this is the Hyundai for driving enthusiasts but it's polished and practical enough to work for you on an everyday basis.  When driven in Eco or Normal modes this Veloster, with its quirky 3rddoor, cargo-friendly hatch design, wealth of convenience amenities and 25mpg on regular gas makes for a happy go lucky daily driver that can ramp things up rather quickly on demand.  And what I mean by that is in Sport and N modes the sounds get louder, the engine more eager, the steering heftier, suspension tauter, and electronic nannies dialed back.  You can customize your own driving mode through these easy to use menus.  In typical Hyundai fashion, the user interfaces are so simple to naviagte that it continues to boggle my mind why others haven't just copied their formula.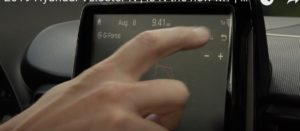 When piloting a sports model the only thing the driver really wants is to feel connected to the car and in control and the Veloster N delivers those attributes in spades.  I love how everything you touch works in concert with your desires.  And this N mode is an absolute blast.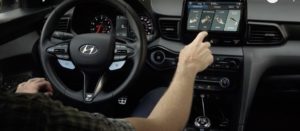 For $2,100, the Performance Package is a must. Horsepower from the 2.0-liter turbo rises from 250 to 275, you get these 19" wheels and Pirelli P Zero tires engineered specifically for the Veloster, a limited slip differential, upsized ventilated discs all around and the variable exhaust system that purrs like a cat at idle with some snap, crackle and pop when wide open.  This is a bargain price for the offering, much like the car itself which totals only $29,920.  If it wore a German badge it would cost $40,000.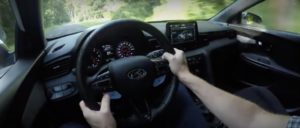 Hyundai has really worked their magic here by producing an affordable, practical, fuel efficient ball of fun with some serious performance attributes. So buckle up because this is only the beginning of the N model lineup.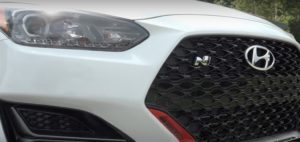 The company is on record as saying 5 N models are possible as attempt to take the brand in a sportier direction.  And if the Veloster is any indication, the N future is very bright.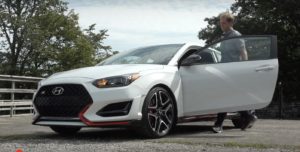 Off the line speed doesn't knock your socks off but the 260 pound-feet of torque is easy to launch and you can measure your times here.  I've been generally in the high 5s.  But that's not what this car is about.  It's a corner carver, with just a hint of torque steer and a torque vectoring system that works harmoniously with these exceptional Pirellis to keep understeer to a bare minimum.  Lots of power in the midrange makes this engine a real winner replete with shift lights letting you know you're getting close to the redline. Everything – from the ergonomics to the driver controls – has been sweated to the minutest detail.  Note though, that the suspension tune goes to back breaker in the N setting – it's extremely firm.  In ECO and Normal, no worries.  And it's quite loud in here…highway driving gets tiring really fast.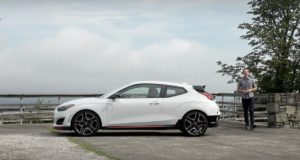 This is the most fun I've had driving anything in a long time. The Veloster N is cheap thrills with expensive engineering. Brilliantly done with everything you'd want in a hot hatch including a great shifter and clutch combo that's fluid and easy to engage, road carving handling, exceptional grip and steering and brakes that put you fully in control. And this N mode is nuts with the popping exhaust sounds and the most brittle ride you can find. Would a little more power be nice?  Of course. But this go cart is so good you won't even care. And it's less than $30k.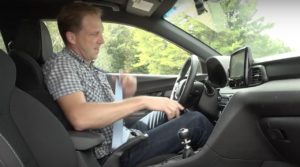 I love having the N switchgear perfectly placed on the steering wheel so switching modes is super simple.  And look at how cool these menus are for changing individual characteristics. A big bassy stereo sound is included, and connectivity is totally modern and up to speed.
Starting at $27,820 but in very limited supply, this car comes in 4 colors and looks completely bad ass in Chalk White.  Blue seat belts are standard.  If you can find one, get it.
Tagged with:
2019
,
auto critic
,
DTwithSteveHammes
,
Hatchback
,
Hyundai
,
latest video
,
N
,
reviews
,
road test
,
test drive
,
Veloster