2019 Mercedes AMG G 63 Review
2019 Mercedes AMG G 63 Review By Auto Critic Steve Hammes
Much like Jeep, the iconic G-Wagan has evolved over the past 4 decades from a utilitarian, military-spec 4-wheeler to the top rung of Mercedes' luxurious SUV lineup. And it's been redesigned this year with a more grandiose personality and of course more earth scorching power. This is the new G 63.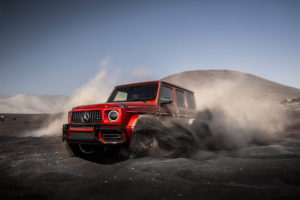 Take a heritage, body-on-frame utility vehicle, stuff it with an AMG V8, and dress it up to luxury spec and that's the G 63 in a nutshell. And more customers chose an AMG here than any other model in the Mercedes lineup with a 60% take rate, making it rarer to see a G 550 at $125,00 than it is this G 63 at $150,000.  And let's face it; the G 63 is all about street cred and style.  So even though there are 3 lockable differentials, a more aggressive low range gear and 3 off-road modes you'd be crazy to take this one on the trail as long as it's riding on 22" sport truck summer tires that cost $500 a piece.
The G-Class I have here is the ultra-exclusive Edition 1 which is essentially a G63 with the available AMG Night package, painted in this upcharge designo Night Black Magno matte finish paint with sports stripes and red accents.  The red highlights continue inside where they meld with nappa leather, diamond pattern sport seats, carbon fiber trim and a suede-wrapped, flat-bottomed steering wheel with a red 12 o'clock marking.
The Edition 1 bling including massaging front seats with rapid heating and cooling adds $23,500 to the base price bringing this example to a glorious $176,000.  Not that it isn't crazy fast because it is but still I think of this as the most pretentious off all Mercedes models. It's right up there with a Lambo in the look-at-me-I've-got-more-money than you segment.  I can just picture hundred dollar bills blithely blowing out of the owner's wallet as he stands there pumping gas to the tune of 14mpg.  Yup, the G63 is all about conspicuous consumption; you don't drive one if you're not attention-seeking.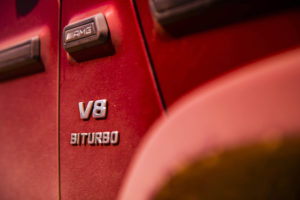 So this is what makes a G 63: it's a twin-turbo V8 that produces over 600 pound-feet of torque and it's so outrageous in every way that it totally fits this over-the-top vehicle.
The new G-class is about 2 inches longer and nearly 5 inches wider meaning everyone enjoys more leg, shoulder and elbow room. It now uses a sports car-like double wishbone suspension up front while retaining its rigid axle at the rear with coil springs at all 4s and adjustable damping shock absorbers.  So this G is not only more comfortable to ride in but it's vastly more adept at doing more than just going fast in a straight line. Sitting as tall as it does and weighing over 5,800 pounds, ride compliance and dynamic handling are quite amazing.
The 4matic all-wheel drive system has been shifted to a more rear-drive bias and when you really get into it the front end gets light as the G 63 disposes of 60 mph in 4.5 seconds, more than a second faster than the G 550.  That's because this twin turbo V8 with AMG handcrafted tuning generates 577 horsepower and 627 pound-feet of torque working through a 9-speed torque-clutch transmission that shifts faster and can perform multiple downshifts in one fell swoop for instantaneous bursts of acceleration. Various drive modes electronically tinker with all of these mechanicals to go as hard or as comfortably as you want. And perhaps the best part is the outrageous exhaust system with a crazy mode that really opens up the pipes.  The sounds are intoxicating.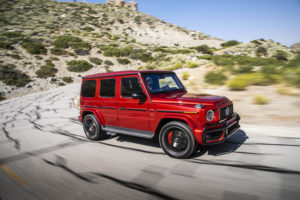 But the most tangible difference from behind the wheel is how this boxy beast handles the road with new speed sensitive steering and much improved body control…all told the G 63 simply is a more put together, complete vehicle better tailored for its real-world uses.
One of the hallmark characteristics of the G-Wagen is its very mechanical, push-button, old-fashioned doors which kind of sound like a gunshot going off from inside when they all like simultaneously. But there's not even smart-key access with these and the real problem is that every passenger I've had in this vehicle this week has failed to shut these on the first attempt because people aren't really used to slamming their doors shut anymore.
The long digital displays that dominate the cabin's landscape look amazing but disappointingly this isn't the latest touchscreen version of Mercedes' infotainment system so it's either voice commands or this rotary knob that gets you around and it can be confusing to find what you're looking for.  That being said there are a lot of neat features packed in with vivid graphics and then over here there are mini touchpads on the steering wheel to help you navigate the driver's screen. It's highly configurable with 3 preset layouts.  And at night you get the star projection and awesome ambient light ambience that makes for a spectacular spectacle.  The cabin in general perfectly complements the G's beefy design with oversized elements swathed in a meticulously high build quality.  You sit high towering above the cars and the dynamic seats flex their side bolsters while cornering to hold you firmly in place. To overcome the quiet there's a booming Burmester surround sound system that's heavy on the bass to fulfill the G's mission.  The squared off cargo area is larger than it looks and the added size permits more occupant comfort.
Rear seat legroom has improved over its predecessor and these seats sit higher up, theater style for better forward visibility. And with a relatively flat floor you can fit 3-across here quite comfortably.  Now, the seats don't slide but they do have a recline feature to them. They're also heated in the outboard positons, there's climate control and 1 USB port.
Its coolness factor is off the charts.  Its cult status decidedly secured.  But now there's a newfound pragmatism to Benz's most ludicrous vehicle that makes it even more desirable.
Tagged with:
2019
,
AMG
,
auto critic
,
DTwithSteveHammes
,
G 43
,
g-wagen
,
latest video
,
LUXURY SUV
,
MB
,
Mercedes-Benz
,
road test
,
test drive