2019 Maserati Quattroporte Review
2019 Maserati Quattroporte Review By Auto Critic Steve Hammes
2019 Maserati Quattroporte SQ4 GranLusso
When it's time for a six-figure executive sedan where will you turn? One of the German stalwarts?  Lexus, perhaps? Or maybe you want something more exotic, something Italian. Well, that's where the Maserati Quattroporte comes in with its Ferrari-born soundtrack.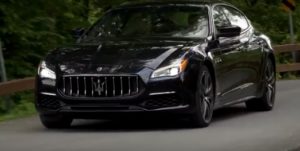 If I had a lot of money to spend on a car I'd want something exclusive…I mean special to the point where I'd likely never be in the presence of another one just like mine.  And in the large, luxury car arena the Quattroporte clearly distinguishes itself.
For one, owning a Mercedes or BMW is pretty cool.  But arriving in a Maserati?  Now that's sexy.  And because those German brands sell twice as many flagship sedans every month as Maserati sells cars in total, it's far less likely your Quattroporte will ever see one of its brethren.  And while everyone in the competitive set fits their cars with a 3.0-liter turbocharged 6-cylinder engine only this one is built by Ferrari.  And, it is this twin-turbo V6 along with its visceral sounds that could easily lure you away from Deutschland.  At 424 horsepower and 428 pound-feet of torque it is clearly the 6-pot performance leader and at 4,233 pounds it's also the lightest despite offering the most passenger volume in the class and the biggest trunk of any car on the market today.  And at only 4.8 seconds to 60mph with a top speed of 179mph, it's also the fastest…and thirstiest at a mere 18mpg.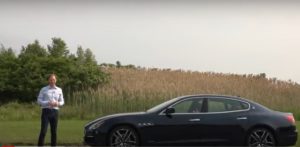 Needless to say, the Quattroporte SQ4 is the machete in a drawer full of steak knives.  But it's not all high revs and booming exhaust; the Quattro feels very relaxed with ride comfort its top priority.  Maserati's Skyhook suspension is a continuous damping system that instantly adjusts the shocks based on road conditions and driving style but with the thin-walled ultra-wide rubber it can only do so much to isolate you from the road. There's more wallow in the body motions than I recall from my 2016 test drive, even when the shocks are locked down in Sport mode…perfect for occupant comfort but less desirable during spirited driving.
The Q4 all-wheel drive system preserves this car's rear-drive nature until traction is lost, at which point the torque split can go as high as 50:50 between the wheels. And with these max performance 21" summer tires, wider in the rear than a Challenger Hellcat, grip is never in question. Within seconds, the Quattroporte can transition from subdued to excitable, with the big, fixed paddle shifters providing the most joy from the smooth 8-speed auto.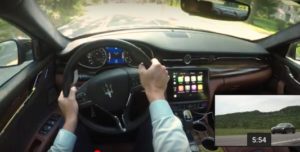 It's here in manual sport mode where you'll find the turbos' overboost function, the most aggressive exhaust tone and quickest gear changes to the redline.  Combined with responsive steering and forceful brakes, the Quattro still has that enthusiast "it" factor from behind the wheel that elevates it to a point of distinction.  And it's nice to see that one of my previous complaints has been addressed; the 2019 model receives a new gear lever for easier shifting.
But this current generation sedan debuted 6 years ago and was last updated in 2016.  That's a long time in today's automotive world where advances are happening at breakneck speed.  So despite these beautiful silk inserts and other authentic material choices, the cabin is a bit of a letdown.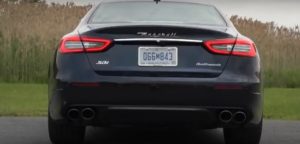 The Quattroporte suffers, like many vehicles from small automakers, simply from age; the ability or lack thereof to keep up with times. And that is especially true here. Now, the reason you may still want to consider this car in 2019 obviously comes down to the engine and it's exclusive, sporty nature – both of which are delights. But at nearly $140k the cabin just can't be this lacking in modern personality.  At about half that cost? Maybe we could talk.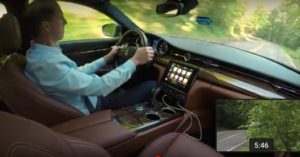 The Executive Seating Package adds about $4,000 to the cost and comes with these sculpted bucket seats.  There's also your own climate controls, heated and cooled functionality, power sunshades, lots of storage areas, only one USB port and unfortunately that's located back in there and the headroom feels a little tight.
Base price of the SQ4 is about $121,000 and is optioned here to over $137,000 with extras like a 15-speaker Bowers & Wilkins Audio system and this magnificent new tri-coat blue paint.
Its look is understated elegance; sound: high-performance.  But the MSRP is served like overcooked rigatoni. According to insiders, an all-new Quattroporte is another 3 years away.
Tagged with:
2019
,
auto critic
,
DTwithSteveHammes
,
GranLusso
,
ITALIAN
,
latest video
,
Maserati
,
Quattroporte
,
reviews
,
road test
,
SQ4
,
test drive