2019 Ford Ranger Review
2019 Ford Ranger Review By Auto Critic Steve Hammes
The Ranger has made its triumphant return to America, ready to duke it out in the suddenly hot midsize truck segment. Now, not everyone who wants a truck needs F-150-size and capability and the Ranger takes up that slack and does so brilliantly.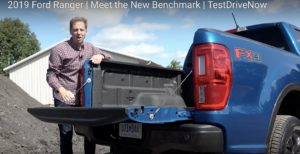 Through the first half of this year, sales of midsize pickups are up 15%. And with only a handful of them on the market competition is fierce.  Toyota dominates the segment but its newer rivals have far surpassed it in terms of desirability – case in point, the new Ranger…last seen on our shores in 2012 with sales continuing globally during its U.S. hiatus.  Unlike the F-150, the Ranger's options are simpler. Start with either the SuperCab model with its small backseat and 6' box, or like this, the SuperCrew with its 4 real doors and 5' box.  Then decide if you want 4-wheel drive and lastly a trim level; XL, XLT or like my tester, Lariat.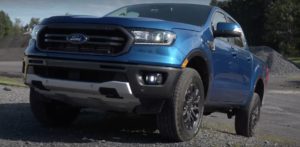 No matter, each Ranger is powered by Ford's highly desirable 2.3-liter turbo-4 and a 10-speed auto that shifts as smooth as a baby's bottom.  This 4X4 has Dana axles with a double wishbone independent setup in the front and a live axle with leaf springs in the rear.  Steel, not aluminum, is the metal of choice and the optional FX4 Off-Road Package is a must-have at only $1,295 adding an off-road-tuned suspension, all-terrain tires, a front bash plate and skid plates, rear locking differential, the very useful Terrain Management ™ and Trail Control – an off-road cruise control system, if you will.  I am super impressed with what Ford has accomplished here – bringing big truck polish and accoutrements to a vehicle that's more fun-to-drive, more manageable and more fuel efficient.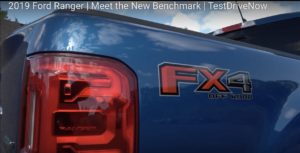 In Lightning Blue with the Sport Appearance package, the Ranger is a head-turner and the level of features in here infuse a luxury vibe.  But it's no poseur. With nearly 9" of ground clearance, wide angles for traversing the outdoors, and 7,500 pounds towing capacity, the Ranger feels equally as rugged.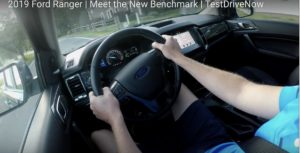 When heading off pavement, Ford makes it super easy to engage 4-wheel drive, choose a drive mode and monitor what's happening.  It's as tough as nails and feels every bit as home out here as it does on the tarmac.  The off-road shocks are exceptional at softening the blows while at the same time delivering a lovable on-road ride that's distinctly truckish with a little bit of head sway but with a higher degree of sophistication.  It's just perfectly comfortable and composed.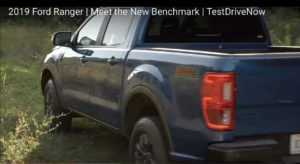 It took me all of about 2 minutes to realize that the Ranger is the best in the body-on-frame smaller truck segment and it's not even close. This powertrain is darn near perfect.  It's really quick, very smooth and relatively fuel efficient. And then with this FX4 package you get this beautiful yet rugged ride quality replete with a rear locker and terrain management. So whether you're on the road or off of it the Ranger just nails it. And this is as close as any of them get to feeling as luxurious as their bigger brother. This of course is all more bad news for Toyota which is struggling to keep the Tacoma competitive.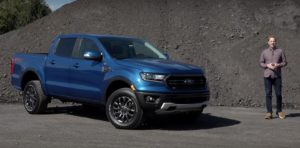 Items such as LED headlights, smart key access on ALL doors, CarPlay and Android Auto, a bumper you can step on when the tailgate is down and rear disc brakes are foreign concepts to the sales leading 2019 Tacoma. Couple that with the fact that the Ranger's 310 pound-feet of low-end torque blows it away and still manages better mileage of 22mpg and the only reason you'd go to Toyota at this point is if you didn't know any better.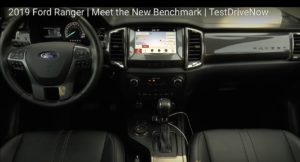 With over $5,200 in options this robustly stocked Lariat stickers for $45,000.  No doubt eye-opening, but considering high-end items like a Blind Spot Information System and Cross Traffic Alert WITH trailer coverage, a B&O Sound System, remote start, wiper-activated headlights, adaptive cruise control, auto high beams and  power folding mirrors, well, it starts to make a case for itself.  It would be absurd if the Ranger had serious faults but it doesn't.  My biggest beefs center around the absence of an auto 4-wheel drive mode to complement the existing settings, and the too familiar looking cabin.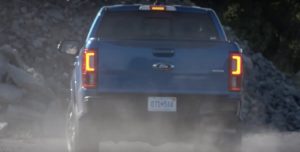 But it would be nice to see a dampened tailgate, at least on this Lariat model.
On a side note, it amazes me how long Ford has stuck with these outside keypads as a way of getting into the vehicle.  I always liked it.  My 1987 Mercury Cougar XR-7 had one of these and to this day I still remember the code: 83117.  So if you happen to see a gold one out there somewhere, give it a shot.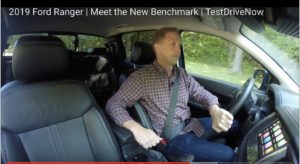 The Ranger is a one-solution truck – it fits in the garage and can play expertly wherever it finds itself.  So where does Ford go from here?  If you believe rumors, a Ranger Raptor is on its way to the U.S.
Tagged with:
2019
,
4X4
,
DTwithSteve Hammes
,
Ford
,
latest video
,
midsize truck
,
pickup
,
ranger
,
reviews
,
road test
,
test drive
,
truck