2019 FORD EDGE ST REVIEW
2019 FORD EDGE ST REVIEW BY AUTO CRITIC STEVE HAMMES
We all know that consumers are once again choosing SUVs for their new vehicle purchase but that doesn't mean they want to forgo the thrilling performance they had in their car. Well, enter the new breed of racier sport utility vehicles like this, the new Ford Edge ST.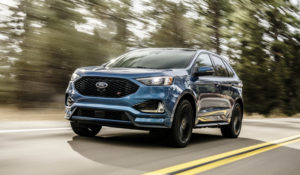 Just weeks ago, I reviewed the updated 2019 Edge Titanium Elite and discovered it was still competitive in the midsize SUV segment but that father time had eroded some of its appeal. So to keep their 5-passenger sport-ute on the cutting edge, Ford Performance has tricked-out one all of their own.
Until now the go-faster ST treatment has been reserved for the Fiesta and Focus so this is the first time Ford is infusing it into one of their SUVs and it brings with it sharper handling via a sport tuned suspension, a sport mode for the new quick-shifting 8-speed replete with a more pronounced exhaust note, standard all-wheel drive and a twin turbo V6. And inside the contoured sport seats hold you firmly in place. It's a thoughtful package that will satisfy the enthusiast driver at a reasonable price without going too far so as to water down the Edge's family use.
This 2.7-liter engine is the real deal. Making 335 horsepower and 380 pound-feet of torque it's a huge upgrade over the standard Edge's 2.0-liter engine and gives real credence to the ST badge.  You'll feel the steering wheel tug a little on full throttle, what's referred to as torque steer, before the all-wheel drive system helps rein it in.  When driving for the thrill of performance, it's all about pressing the S in the center of the rotary dial.  You can also put the traction and stability control system in a sport or full-off mode but there's seemingly little difference in the handling when you do.  The ST sticks pretty well no matter what.  Ford's  all-wheel drive utilizes a disconnect feature to save gas, letting the front wheels do the all of work without parasitic losses until more grip is needed.  You can view the torque bias right here in the gauge display.  Unlike the Raptor though, another Ford Performance truck, the Edge's sport gauges are minimal in scope, dated and small.  There's also no heads-up display which is particularly helpful in a faster drive like this.  The 8-speed auto is smart in keeping the revs where you want them but the paddle shifters are hugely disappointing…way to slow to react to your input, especially upshifts.  Another sign of age is the lack of drive modes – there's only normal or sport.
Just keep in mind that this isn't an Edge RS meaning the level of sportiness here in restrained – enjoyable but nothing crazy. I would definitely recommend the summer tires and brake package to maximize the Edge's athleticism because these Hankooks don't really compliment the sport suspension. It's ride if very smooth and quiet and in sport mode the engine and exhaust get their chance to show off – the best part of the Edge ST experience. It looks great particularly in this Ruby Red but the Edge's age is evident in here.
At $2,695 it's pricey but if you're really looking for true ST-level handling and braking performance this package is a must. It adds 21" wheels, max performance summer tires, and uprated brakes that I can only assume take better advantage of the ST's tighter suspension tune.  As is, the crisper steering and greater body control kind of get lost by the softer-sidewalled all-seasons.
And yes, the Edge ST has nailed the racier look. Beefed up body work riding on 20s with unique exhaust outlets in the rear, this SUV turns heads.  And the special sport seats, sculpted with suede-like inserts are a perfect fit for an ST.  With nearly every option, this Edge sits at $49,925.  And for that, I'd like to see even more.  Yes, there's a heated steering wheel, heated front and rear seats, also ventilated in the front, wireless device charging, all of Ford's latest infotainment including navigation and Wi-Fi hotspot, remote start and auto everything like high beams and Adaptive Cruise Control with a stop and go feature. But no all-wheel drive lock mode, no sliding rear seats, no rear USB ports or window sunshades combined with the aforementioned omissions take the ST down a notch.  And other than this splash screen there's little in the way of ST bling.  I'd like more.
When driving more leisurely, the ST plays nice with a super quiet cabin and relaxed powertrain operation. The exhaust is barely distinguishable until Sport is selected.  There's also a foot-activated liftgate, excellent cargo room, remote seat switches and some clever underfloor storage.  So its family responsibilities are firmly intact, including its gas mileage which still runs on regular at 21mpg as compared with 23 in the standard Edge.  However, its total driving range drops below 400 miles.
Though it doesn't blow my mind from behind the wheel, the Edge ST indulges the SUV driver's spicier side at a sub $50,000 price.
Tagged with:
2019
,
auto critic
,
AWD
,
DTwithSteveHammes
,
EcoBoost
,
Edge
,
Ford
,
latest video
,
reviews
,
road test
,
sporty
,
ST
,
SUV
,
test drive