2018 Subaru Impreza Sport Review
2018 Subaru Impreza Sport Review By Auto Critic Steve Hammes
Month after month, Subaru's sales continue to rise; remarkable when you consider they don't sell a traditional crossover or 3-row SUV. But Americans have bought into their all-wheel drive, dog-loving ways, attracted to their mix sedans, hatchbacks and wagons. This is the all-new, 2018 Impreza.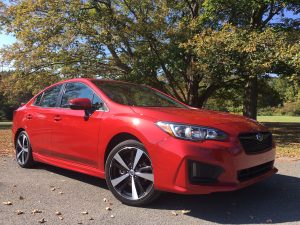 After a truncated run of 2017 models, this next generation Impreza is really hitting its stride. It's the only Subaru "car" to see sales gains this year, up over 40%.  For the first time, production has moved from Japan to the United States, riding upon a new platform designed to deliver significantly higher levels of driving pleasure, agility, crash protection and ride comfort.  The size hasn't grown that much though there's enough additional passenger volume to garner a midsize classification, maturing from its compact dimensions.  And it feels that way, too; whether from behind the wheel or from behind the front seats, there's ample room in here.  It sits lower, improving aesthetics, aerodynamics and handling.  Though with 5.1" of ground clearance, this is one Subaru you're going to want to keep primarily on-road.  It still comes in sedan and hatchback bodystyles and motors with familiar powertrains.  This here is the new Impreza Sport, with 18" wheels, a sport-tuned independent suspension with Active Torque Vectoring, LED daytime running lights, black grille, body-color rocker panels and rear spoiler.  Upgrades over the Premium trim include the 8" touchscreen multimedia system, keyless access with push button start, aluminum pedals and leather wrapped driver controls.  The look is stellar, particularly so in this Lithium Red Pearl paint, and I don't think I've ever said that before about any Subaru.  Never a Subaru strong suit, interior design also speaks to higher quality and greater visual appeal.  Touchpoints feel more premium, doors shut with a reassuring thud and overall it seems quieter.  The manually adjusted driver's seat is firm but comfortable and the low cowl provides a wide field of vision.
Now, if you REALLY want a sporty Impreza you buy a WRX, so it's important to understand the Impreza Sport's positioning. It's powered by a 152 horsepower 4-cylinder engine paired here to the optional continuously variable transmission.  You've likely heard bad things about the CVT but Subaru has gone to great lengths to assuage the criticisms.  This one is interesting in that it has a manual mode function that authentically mimics 7 shift points to provide the feeling of a traditional automatic.  And if you're looking to extract any fun from this car paddle shifting is a must.  With the gear shifter kicked to the left, gear changes occur rapidly enough to feel more like a dual clutch transmission.  Leave the CVT to its own devices and it's as smooth and quiet as any such gearbox on the market, but with tepid acceleration and a dead spot around 2,000 RPM where your foot is saying go but the engine's saying no.  90% of buyers will likely find the drive acceptable but the rest will want something with more zip.  Stellar fuel economy is virtually unchanged at 27mpg city/36mpg highway.
Driven normally, the Impreza's balance of ride and handling is impressive. The steering is quick and precise, the car dutifully goes where you point it and the suspension soaks up a rough road.  Push it harder though and there's a good deal of understeer – that's the effect you get when the front end plows through a curve. The torque vectoring helps tuck the car into a tight turn, but hampered by the lack of oomph, the Sport's happier with mild exercise.
Concerning the Starlink system, this is an easy to use interface with some very clever apps, such as the a propos eBird app, designed for birdwatchers, advising them of local sightings and locations. There's no embedded navigation but the Magellan Navi app is free for 3 years or you can just use your phone's mapping software through Apple CarPlay and Android Auto.  2 USB ports are included.  There's lots of good stuff in here and it's worth noting how great the audio system sounds, with volume, clarity and deep bass and that's without either of the 2 available upgrades.
Other relevant information can be displayed up here, controlled via a steering wheel switch. Without the EyeSight system, this car lacks the important side blind zone alert, rear cross traffic alert and the like.  MSRP is $23,755.  All-wheel drive entries in the compact segment are rare so that alone gives the Impreza a leg up and even though it can't match the Civic's excitement it's a solid effort worthy of consideration.
Tagged with:
2.0i
,
2018
,
auto critic
,
Civic
,
DT with Steve Hammes
,
Honda
,
Impreza
,
latest video
,
reviews
,
road test
,
Sport
,
steve hammes
,
Subaru
,
test drive