2017 Chrysler Pacifica Hybrid Review
2017 Chrysler Pacifica Hybrid Review By Auto Critic Steve Hammes
Look, I'm not sure what the future of motoring holds and maybe plug-in hybrids are just one step along the path. But I can tell you that having a Pacifica with a cord makes the best even better.
When the Town & Country was reborn as the Pacifica last year, it gave Chrysler a rare moment to shine. For a brand that's been whittled down to 2 vehicles, the Pacifica proves that Chrysler is still an expert at the minivan.  Continuing to pioneer, there's this Pacifica Hybrid.  And not just a regular gas-electric job but a plug-in hybrid.  So what does that mean, you ask?  Well, if it's been plugged-in and the battery fully charged, this Pacifica can drive about 33 miles without ever using a drop of gas.  That's more than the Prius Prime.  If you drive beyond that, there's a hybrid-tuned version of the Pacifica's Pentastar V6 that'll extend driving range to an impressive 570 miles.  And it's really that simple.  Level 1 charging equates to plugging into a household outlet and that takes about 14 hours.  A level 2 charger providing 240 volts, like the one your dryer is plugged into, takes as little as 2 hours.  These are the kinds of public chargers you find at the grocery store and the like.  Of course, you can also have one installed at your home for about $1,000.  And then there are those rarer Level 3 "superchargers" but the Pacifica doesn't work with those.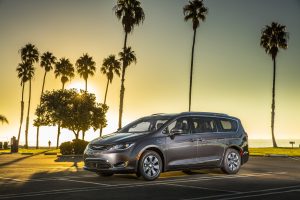 One oddity is that even when the Pacifica is locked, the cord can still be pulled out.
For times when you're away from home, say visiting a friend, the Pacifica has a neat, out of the way storage area for the charge cable. Features like the Hybrid Electric Pages, Uconnect Access smartphone app and hybrid-exclusive cluster display add the goodies owners of a plug-in will appreciate. Based upon the EPA's method of calculating fuel economy for plug-in hybrid electric vehicles, the Pacifica is rated at 84 MPG equivalent when charged, and 32mpg once the battery is emptied. Of course, based on how and how far you drive, those numbers could be quite different, for better or for worse.  Because owners could feasibly drive for months using just the battery power, the Pacifica Hybrid constantly monitors the average age of fuel in the tank and if needed, will automatically shift from electric to hybrid mode to cycle through any fuel that is more than 90 days old, Over the course of 5 years, you'd likely save $4,500 in fuel costs as compared to the regular Pacifica.
Typically, a hybrid comes with some pretty significant compromises in drivability but the Pacifica is different. When you're on electric, it is sneaky quick – shockingly so and doing it in near silence makes the experience all the better. The steering is dialed-in and the braking has none of the abruptness that's so common in these types of vehicles. You feel the road more than I remember but you also get a minivan that's more exciting to drive. And with its stellar 570 mile range, drive you can.
The 3.6-liter engine has been adapted for hybrid duty and works through what Chrysler calls the eFlite electrically variable transmission. It house 2 electric motors, both of which are capable of driving the front wheels. Total system output is 260 horsepower but it's that electric torquiness you'll love.  The Hybrid is carrying an extra 650 pounds so it seems as though the ride quality has taken a bit of hit and there's more of a tendency here for the body to rattle.  And just like any plug-in hybrid, once the battery is depleted, standard hybrid driving with the gas engine in play is much less enjoyable or noteworthy.   And hey, that big lithium-ion battery has got to go somewhere…
OK, so it turns out you can't have your cake and eat it too because Stow 'N Go is more like Stow 'N Gone.
That's no small compromise either, seeing as how that's one of the Pacifica's trump cards. You can take these seats out rather easily, but they're heavy.
The rest of the interior is pure minivan genius. It seats 7 in complete comfort with a 3rd row that bests any other.  You even get window shades, a sunroof and your own USB port.  And these seats do sill fold away into the floor for times when you want a flatter cargo area.  The deep well comes in handy, too.  Both sliding doors and the tailgate can be opened with a kick of the foot, there's remote start and even umbrella holders.  The UConnect Theater is the best rear seat entertainment system on the market – modern, touchscreen or remote controlled, fully connected, embedded games and apps and Blu-ray compatible.  It's a kid's dream.  And the driver will appreciate the super easy to use UConnect system – with Apple CarPlay, Android Auto and 4G LTE Wi-Fi new for the 2018 model year.  There's adaptive cruise control with Stop & Go, a super helpful 360 degree camera because this thing is pretty big, parallel and perpendicular assist, auto high beams, rain sensing wipers, and all of the safety features we've come to expect.  And items like the blue stitching and evolution of the minvan on the mat show an attention to detail.  I just wish the surround view camera had a button separate from the big screen for times when I want to activate it myself.  The 13 Alpine speakers and active noise cancellation make the cabin as loud or as quiet as you desire. And for parents with driving-age teens, there's a feature called Key Sense that allows you to set limits.
For 2018, the Pacifica Hybrid lineup is changing to include 3 models, the new entry-level Touring Plus, followed by the Touring L and Limited. This here is the range-topping 2017 model, the Platinum with the Tri-Pane Panoramic Sunroof.  MSRP is $47,885 before the available $7,500 federal tax credit.  Chrysler created the minivan more than 30 years ago and is still innovating today.
Tagged with:
2017
,
auto critic
,
Chrysler
,
DT with Steve Hammes
,
Hybrid
,
latest video
,
minivan
,
PACIFICA
,
Platinum
,
plug-in
,
reviews
,
road test
,
steve hammes
,
test drive