2017 Volkswagen e-Golf FIRST LOOK
2017 VOLKSWAGEN e-Golf FIRST LOOK BY AUTO CRITIC STEVE HAMMES
Volkswagen's electric hatch, the e-Golf, receives significant improvements for the 2017 model year focused around the use of a new lithium-ion battery. With its increased energy capacity, the e-Golf has lengthened its driving range from 83 to 125 miles on a single charge.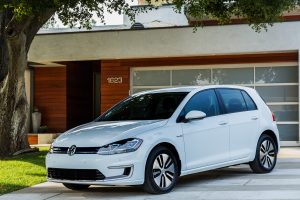 The 7.2 kW on-board charger is now standard on all trims enabling the battery to be charged in less than six hours at a 240V station.
Though DC fast chargers are still rare in this burgeoning electric infrastructure, the 2017 e-Golf can be equipped to handle it  – optional on SE and standard on SEL Premium – allowing the battery to be charged to 80% within 1 hour.  Improved battery chemistry also helps increase the overall fuel economy to 126 MPG equivalent in city driving while highway driving is rated at 111 MPGe. The electric motor has been upgraded as well. Where the 2016 e-Golf utilized an 85 kW electric motor developing 115 horsepower, this new 100 kW electric motor develops 134 horsepower. At the same time, the maximum torque of the electric motor has been boosted from 199 pound-feet to 214 allowing this e-Golf to run from zero to 60 mph faster than its predecessor—now in 9.6 seconds—and its top speed increases to 93 mph.
The EPA estimates the annual fuel cost to be $550, saving owners $4,250 over 5 years when compared to the average new vehicle.
Pricing has yet to be announced.
Tagged with:
2017
,
auto critic
,
e-Golf
,
electric vehicles
,
EV
,
first look
,
gas-electric
,
latest video
,
previews
,
steve hammes
,
Volkswagen