2017 Range Rover Evoque Convertible Review
2017 Range Rover Evoque Convertible Review by Auto Critic Steve Hammes
I love it when manufacturers go out on a limb and give us something quirky. Products such as the Pontiac Aztek, Isuzu VehiCROSS and Nissan Murano CrossCabriolet are some of my personal favorites. So when Land Rover decided to build an Evoque convertible I was all in.
This is what summertime driving is all about; a really cool convertible, top down, wind in your air. Even though all-terrain open air motoring is clearly in Land Rover's DNA, we don't typically think of SUVs as the basis for convertibles. But Land Rover has executed this topless Evoque in a highly convincing manner, maintaining its off-road chops while turning up the sizzle on its wow factor. They've braced it and tweaked the suspension to compensate for the added weight and its distribution claiming that this Convertible is actually more rigid than the Evoque Coupe. It's been put to the test in the same off-road environments as all Land Rover models so you can use the nearly 8 ½" of ground clearance, wade through 20" of water and climb a 45 degree gradient. They didn't softball this Convertible and it feels better than ever off-road. The Terrain Response system electronically adjusts the pertinent components to make 4-wheeling even easier, manipulating what they call their Active Driveline 4—wheel drive, proportioning torque from front to rear and dynamically between the rear wheels. It can also disengage to save gas under the right conditions. Going off-road in the Evoque has never been more fun. But it's more likely this model will be seen cruising beaches and resort towns and it's good for that, too. This soft top is fully automatic. Just hold the switch and you're good to go. I like how Land Rover has the windows going the right way too unlike some other European brands. It's a great top, well insulated and it even keeps the Evoque looking snazzy when it's in place. Now, you can take 2 others along for the ride , there are no room issues other than for those with big feet, or you can pop in the windscreen which does a stellar job of knocking down the breeze. And whether up or down, the trunk space remains the same – tiny. So pack accordingly.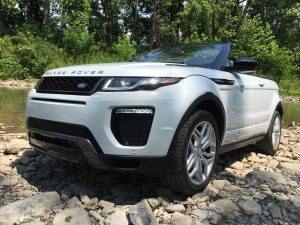 From a pure performance standpoint this Evoque unexceptional, but it's really fun to be able to drop the top in a vehicle that's still amazingly capable off-road. And unlike most convertibles it really does have seating for 4. You sit up unusually high, it is a Range Rover after all, and the cabin is quiet top up or down and turbulence-free. This would be a nice addition to your summer garage.
The 240-horsepower turbo 4 and 9-speed auto carryover, and topping the scales at well over 2 tons they have a lot of work to do so impressive off the line acceleration is not a strong suit, taking over 8 seconds. But dial over to Sport mode on the fun roads and it feels anything but slow.  The turbo hits hard and takes a while to build boost after you step on it so your passengers might give you the stink eye for the neck snapping but that's just how it is.  That's why the Terrain Response comes in handy off-road, significantly softening this surge of power.  A more refined engine would be a welcome addition.  Gas mileage drops just a bit from 24 to 23mpg on premium.  There's a likeable ride quality here, perfect for summer cruising duty but dynamic changes in direction are accompanied by a good bit of body roll.  If you're totally all about sport then this Evoque isn't going to impress.  But for the vast majority, its compliance, capability and composure are spot on for a convertible.
The cabin still looks modern with its big wide screen and symmetrical design. Though I'm not a big fan of InControl Apps simply because it doesn't work with my favorite smartphone apps, this system is fairly easy to navigate and comes packed with lots of info and connectivity features.  This is where driving it for a week as opposed to being an actual owner likely comes into play because there seems to be a good deal of personalization here that could sway opinion.  By the way, this is the top trim HSE Dynamic in Yulong White with optional 20" wheels, full Oxford Leather interior, Cold Climate Package and HD and Sat Radio for an as-tested price of $63,340.  A number of other available packages can be chosen to add more electronic safety features and convenience goodies.  As is, you get blind spot detection, a standard back-up cam, heated but not cooled seats, the base 10 speaker Meridian sound system, and non-adaptive Xenon headlights.  With all of the offerings you can easily get the price up to $70,000.  The base price is $52,995.
It gets people excited when they see it and passengers smiling when they're along for the ride. The Evoque Convertible will live its life as a rarity and that's perfect for its owners.
Tagged with:
2017
,
auto critic
,
Convertible
,
DT with Steve Hammes
,
Dynamic
,
Evoque
,
HSE
,
Land Rover
,
latest video
,
Range Rover
,
reviews
,
road test
,
steve hammes
,
SUV
,
test drive