2017 NISSAN ARMADA VIDEO REVIEW
2017 NISSAN ARMADA VIDEO REVIEW BY AUTO CRITIC STEVE HAMMES
When it first arrived well over a decade ago, the Pathfinder Armada used the Titan pickup truck as its foundation to become Nissan's rugged full-sized SUV. And now for its 2nd act, the Armada takes a page from the Infiniti playbook, clearly gleaning inspiration from the luxurious QX80.
When I first saw it in person at last year's Chicago Auto Show, I thought for a moment that Nissan had driven out the wrong vehicle…that's how similar the 2017 Armada looks to its luxury division cousin, the Infiniti QX80. The styling is toned down a bit, but moving Armada production to Japan alongside the QX80 is great news for bargain shoppers. This top-of-the-line Armada Platinum 4WD is priced at $61,585. If you can do without items such as 22" wheels, Hydraulic Body Motion Control and a little more engine, it's like getting the Infiniti for about 20 grand less. Of course it's not as fancified, but the Armada is one heck of a deal. You still get all of the size, all of the hauling capability and nearly all of the sweet V8. Both use the newly redesigned 5.6-liter Endurance motor, but this one ONLY makes 390 horsepower and not the 400 found in the QX80. But hey, you get to use regular unleaded while the other requires premium. And, returning only about 15mpg if you're lucky, that's nothing to sneeze at. Paired with a super-smart 7-speed automatic that adapts to your style and includes downshift rev matching like in a sports car, the Armada amazes with its incredibly robust power delivery, drivability and refinement. It weighs nearly 3 tons but you'd never know it…the Armada is downright fast. It also uses performance-oriented double wishbones front and rear for a fully independent suspension with twin-tube shock absorbers benefiting ride comfort. There are no other SUVs of this size with more dialed-in backroad moves. The steering is nicely weighted and connects the driver at a heightened level. So while most big 'ol body-on-frame sport-utes focus almost solely on utility, the Armada actually delivers on the drive. Of course it can go off-road too, with over 9" of ground clearance and a 4-wheel drive system equipped with Auto, 4-high and 4-low settings – sending up to 50% of the available power to the front wheels on demand.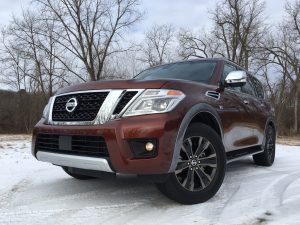 Just like in the QX80, I love the way this drives. It may look big and unwieldy but I kid you not, it drives like a gutsy full size sedan…easily the best combination of power and handling in the segment. Plus, the ride is as smooth as they come both on and off road. It's thirsty and looking tired inside, but the Armada is a formidable big SUV.
In this spectacular Forged Copper paint atop 20" tinted alloys, this Platinum trim looks the part – with the exception of the mismatched halogen fog lamps. But inside, the Armada struggles with its newness, replete with a lot of old Nissan parts.  The orange lighting, the clunky switchgear, the dot matrix displays and the aged infotainment are obvious clues that this Armada is different but not all-new.
It's quiet and comfy and spacious throughout, but it's too bad the cabin didn't receive more of a facelift. On the other hand, the safety tech is quite modern.  I love the around view monitor – a godsend when parallel parking – and the radar sensors facilitate everything from smart cruise control to forward emergency braking.  The standard rear seat entertainment system is not Blu-ray capable and the screens are small and low res.  There's one USB port in the front and none back here though 2 more can optionally be added at the factory. One aspect I truly appreciated this week is how fast the Armada heats up on a cold morning.  With remote start, Nissan engineered this big rig to get up to temperature very quickly and the heated seats and steering wheel are the hottest in the biz.  2nd row seating is very large and even the 3rd row is useful.  Accessible from both sides with lots of headroom and power recline, as long as you don't mind your knees pushed way up this is quite the capable 3rd row.  As I noted in my QX80 review, you could fall asleep waiting for the power 3rd row seats to do their thing but once folded make for a flat, big time space far greater than the homely, overpriced Toyota Land Cruiser.
A base 2-wheel drive Armada SV starts at about $46,000. The next step up is the SL and then this Platinum.  If you can overlook some of the staleness, this new Armada channels its inner QX80 to deliver an honest to goodness large SUV experience guaranteed to impress.
Tagged with:
2017
,
Armada
,
auto critic
,
DT with Steve Hammes
,
latest video
,
Nissan
,
Platinum
,
reviews
,
road test test drive
,
steve hammes
,
SUV