2018 LEXUS LC FIRST LOOK
2018 LEXUS LC FIRST LOOK BY AUTO CRITIC STEVE HAMMES
From the stunning LF-LC concept to the production 2018 LC Coupe in less than 5 years, Lexus is on the halo car fast track.
With the ultra-expensive LFA supercar now in retirement, the LC becomes the brand's flagship coupe, still aspirational but priced to be more financially attainable with an estimated starting price of about $100,000.
The LC is a performance coupe, a grand tourer focused on the road, not the track.  According to Lexus, its handling, responsiveness and comfort have been tuned to deliver a rewarding and hugely enjoyable experience. Riding atop a new front engine/rear-wheel drive platform, enabling a low center of gravity and a completely new driving position, the LC 500 is powered by the brand's latest 5.0-liter V8 fully modernized with direct fuel injection, Atkinson cycle operation and a high compression ratio to produce 471 horsepower and 398 pound-feet of torque.
For the first time, it's mated to a 10-speed direct-shift automated manual transmission with AI-SHIFT control, selecting the optimum gear according to its estimation of the driver's preferences and intentions.  This powertrain allows the LC 500 to sprint to 60mph in less than 4.5 seconds.  Lexus considers the sound of the engine to be an important contributor to delivering a multi-sensory driving experience, and the new LC has gone to great lengths to achieve a truly emotional engine sound.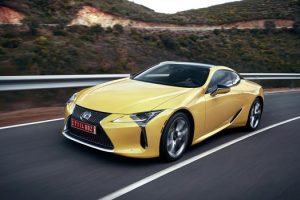 Built in the same factory that produced the LFA, each employee will spend as much as 20 minutes working on every car, combining hand and eye skills with the use of tablet devices to check and re-check the quality of each process. And for those with a green side, the LC 500h offers a 3.5-liter V6 full hybrid powertrain.