2017 JAGUAR F PACE VIDEO REVIEW
2017 JAGUAR F PACE VIDEO REVIEW BY AUTO CRITIC STEVE HAMMES
Crossover and SUV sales are smoking hot so if you're an automaker without one the truck renaissance is leaving you in the dust. And by now just about everyone is in, the game, even the automakers you'd never think would build one…case in point. The all new Jaguar F-PACE.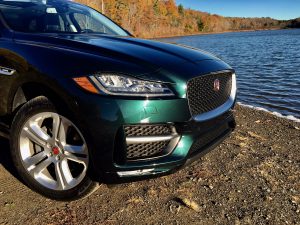 With a starting MSRP of about $42,000, the F-PACE is going to become the new face of Jaguar.
The price point is just too attractive for it to be anything but a resounding sales success. Sharing an aluminum-intensive architecture with the brand's new XE compact sedan, the F-PACE is an all-wheel drive, performance SUV sized between compact and medium dimensions.
Jaguar offers it with a 4-cylinder diesel or supercharged V6 gas engine, the latter with 2 levels of output. The gorgeous British Racing Green model you're looking at here is the 35t AWD R-Sport powered by the 340 horsepower version of the 3.0-liter engine. Key R-Sport ingredients include a more assertive body kit, 20" wheels wrapped in new Goodyear sport truck tires, adaptive LED headlamps, fog lamps and a host of driver assistance electronics.
With over 8" of ground clearance and a couple of driving features aimed at maximizing traction, the F-PACE sprinkles in a dash of Land Rover to go with the stronger flavor of F-TYPE. All Surface Progress Control acts like a low-speed cruise control for smooth, managed progress off-road while JaguarDrive Control provides a Rain/Ice/Snow mode applying more gradual traction for slippery conditions.
After all, this is a very powerful, inherently rear-wheel drive jacked-up sports car with an aggressively geared 8-speed automatic so a little help in preventing the tires from spinning is appreciated. But the overwhelming impression this vehicle makes is that of overt sportiness. From the moment you saddle up to the ultra-firm sport seats, fire it up and hear the unique V6 timbre, it's apparent this isn't your standard luxury SUV.
This model doesn't utilize the optional adaptive dampers, but there is a Dynamic Mode affecting throttle response, transmission shift strategy and steering feel for the strongest R-Sport flavor. The all-wheel drive system is aided by brake-based torque vectoring to carve through corners while preserving a very sporty rear-drive character. Push it hard and you can feel the rear tires squirm before traction is mitigated at the front wheels, all of which can be monitored on the big screen. A 0-to-60mph time of 5.4 seconds is a shove-you-into-your-seat rush.
The F-PACE is a pretty hardcore SUV. Everything about it is taut and whereas most luxury SUVs imbue a sense of serenity this one drives as if it's out to prove something. I love Jag's supercharged engines and this one is no exception, incredibly responsive with sweet sound. But the suspension setup is a conundrum, unnecessarily firm at times and too soft when it shouldn't be. I keep driving the F-PACE thinking I'll find its sweet spot but in the end we've failed to make a connection.
Unwanted body motions in the midst of a high-speed corner remind you that this is indeed a 2-ton SUV and only so much fun can be extracted. Steering is nicely weighted and direct but I find myself sliding around in these seats, detracting from the sense of handling.  But fast it is while returning 20mpg in combined driving on premium gas.  It can also tow about 5,300 pounds.
My tester includes 2 large packages; the Comfort and Convenience and Technology for an as-tested price of $61,995. Without them, you won't get this 10" touchscreen, virtual instrument cluster, Wi-Fi or a host of seating features.  Though it looks impressive, the InControl Touch Pro infotainment system is a laggy, disjointed unit that already could use an overhaul.  The satellite navigation images are most impressive, however.  And the driver information screen isn't as customizable as it appears, though again, it can display beautiful, high-res navi graphics.  The panoramic roof is huge and provides rear seat passengers with more visual freedom and while back there, the seats have power recline and are appropriately sized for adults.  Dual USB ports are a bonus.  The rear hatch opens with a kick of the foot to a surprising amount of space.  There's more cargo volume here with the seats up and folded than in the Range Rover Sport.  Those seats drop with levers in the rear.  There're also movable tie-down cleats, grocery bag hooks and a power outlet.
The F-PACE begins a new chapter at Jaguar, the evolution of a sports car brand desiring greater sales. But I don't love it as much as I expected though I doubt its demerits will sway those hypnotized by the leaping cat and its relatively attainable price.
Tagged with:
2017
,
35t
,
auto critic
,
AWD
,
DT with Steve Hammes
,
F-PACE
,
Jaguar
,
latest video
,
R-Sport
,
reviews
,
road test
,
steve hammes
,
test drive