2017 Honda Civic Si Video Review
2017 Honda Civic Si Video Review By Auto Critic Steve Hammes
Honda knows they've got a good thing going with the new Civic so they're offering it in more flavors than ever before; sedan, coupe, hatchback, stick shifts and automatics and now not 1 but 2 high-performance variants. If the mighty Type R is more than you need than this new Si could be the perfect match.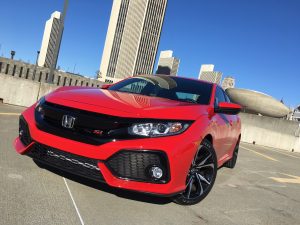 Everyone agrees; this 10th generation Civic is a big winner.  After a period of cost-cutting moves sapped the Civic of its driving pleasure and high esteem, this new one has returned with a vengeance, spawning an exciting array of choices in Honda's showroom.  And now, I've got my time with the new Civic Si – an enthusiast's variant with a history that dates back over 30 years.  Understated styling has been kicked to the curb.  A larger, high-flow turbocharger pumps up the boost.  And an advanced adaptive damper system adds premium-level sophistication to the ride and handling.  First impressions lead me to believe this was a $30,000 car but I was wrong.  As it sits, the MSRP is under $25k. Manual transmission devotees can rejoice; the Civic Si can't be had with an automatic.  And this short-throw shifter is a good one.  Compared with the regular Civic, the Si gets a revised linkage and shortened stroke for a sportier feel, though on a cold morning this aluminum ball is like grabbing an ice cube.  It's a 6-speed working through a torque sensitive limited slip differential coupling the front wheels to each other the harder you push it providing more confident traction.  The issue I had at times was getting this torquey motor's power to the pavement.  It was below freezing and my tester is fitted with the optional summer-use Goodyear Eagle F1s, so I had to warm these up before taking advantage of their more responsive handling benefits.  As the day wore on, the Si felt more connected.  And you can stop your crying about the 205 horsepower output being the same as the previous Si because with more low-end accessible earlier on pushing a lighter, nimbler car, the 1.5-liter turbo-4 is a nice fit, providing spirited enjoyment AND returning 38mpg highway.  With a reported 0-to-60mph time in the mid 6s – nearly impossible for me to replicate with this much wheelspin – the Si feels even more eager than that from the seat of your pants, where on your favorite 3rd gear kind of road the power is delivered decisively…just enough to push you back and without torque steer.  192 pound-feet starting at 2,100 RPM in a car weighing less than 3,000 pounds is plenty.  There are some fun toys in here, too like the specialized Si meter display and most of all, Sport mode.
This car really comes alive once you push into Sport. That's the moment it truly feels like a Si. Acceleration becomes more effortless, the steering firms up considerably and the suspension kills the body roll. The engine matches the car really well with an on demand sensation in most every gear, and the stick shift is topnotch with a reassuring click into gear and an easy to work clutch pedal. Dollar for dollar, the Civic Si is a tough ride to beat.
Dual personality cars typically cost much more but the Si offers a highly versatile, frugal, comfortable every day driver with the ability to reach into highly-engaging sport fun. These more supportive Si sport seats perfectly hold me in place while cosseting my lower back.  And the sounds are muted but entertaining through the freer-flowing exhaust.
Though I'd love to see more tactile buttons for the touchscreen HondaLink system, I appreciate its high-end look and inclusion of satellite and HD radio, CarPlay and Android Auto, and a controllable app. No built-in navigation but your smartphone easily rectifies that.  And the 450-watt 10-speaker sound system is quite impressive.
Like all Hondas, the cabin just feels right and not overwrought; comfortable with heated front seats and relatively quiet. And the rear seats are totally adult-friendly with lots of legroom– just don't look for any accoutrements because there aren't any.
Honda knows how to produce drivers' cars, even at the budget level, and at $24,975 this Civic Si is going to make many owners very happy.