2017 BMW X4 M40i VIDEO REVIEW
2017 BMW X4 M40i VIDEO REVIEW BY AUTO CRITIC STEVE HAMMES
So you're in the market for a new compact sport-ute, who isn't these days, but because you like to drive the thought of owning one of the mainstream models is less than appealing. Well BMW has the antidote and I'm not talking about one of their 6 figure jobs. This is the high performance variant of the X4, known as the M40i.
BMW has so many different models that only those who follow this stuff closely can keep up with all of them. Five are jacked up X models and 2 of those are designated as Sport Activity Coupes. My favorite is the mighty and sexy X6 M but that SAC carries a sticker north of a hundred grand. So, with a starting price of about $59,000, consider this X4 M40i a more attainable version. It ostensibly replaces the previously offered xDrive35i model I tested a couple of years ago. It's the first vehicle to receive this newly developed M Performance TwinPower Turbo inline 6-cylinder engine. In addition to a higher level of turbo boost and an increase in the amount of fuel injected, the engine has been fitted with an aerodynamically tuned air intake manifold as well as an exhaust system optimized both in terms of back pressure and sound characteristics in order to enhance performance.  This results in more of everything: 355 horsepower, 343 pound-feet of torque and a 0-to-60mph time of just 4.7 seconds – that's a half a second quicker than before.  Yet, gas mileage remains unchanged at 21mpg in combined driving – on premium, of course.
Besides dollar signs, the difference between true M models and M Performance Automobiles comes down to the depth of the modifications. But the M40i is no sticker and badge job. Beyond the added horsepower and incredible sounding exhaust, this X4 provides upgraded driving dynamics through the use of stronger springs and stabilizers, increased camber on the front axle, and specifically tuned adaptive dampers. The xDrive all-wheel drive system has been recalibrated with more power routed to the rear wheels during normal operation and the M-tuned steering offers more road feedback. The 8-speed auto with built in launch control has been specifically engineered to this motor and the brakes get bigger in the front with performance pads all around. You can also opt for 20" ultra-high performance tires but my tester sticks with the more pragmatic 19" all-season run-flats. Inside, there are M touches scattered about and hugging sport seats.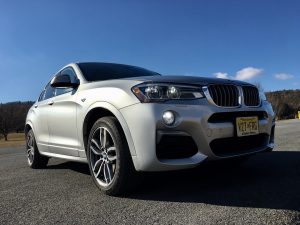 So could BMW have simply called this an X4 M?  It sure as heck sounds like it.
For a stealthy demeanor you can choose this Glacier Silver paint but for me, it would be Long Beach Blue or go home.
I fell in love with the X4 when it first arrived and this M Performance variant has done nothing but increase its allure. It just feels so tight and adhered to the road that you completely forget you're driving an SUV. This new inline 6 is a beast and the exhaust has been tuned for awesome back pressure sounds. And you can whip this thing around turns at sports car speeds. The front starts to feel a little light under hard acceleration but the expertly tuned steering and adaptive suspension quickly rein it in.
Because of its compact size, the X4 fits like a glove from behind the wheel and the heads-up display allows you to keep focused on the road ahead. You're positioned somewhere between the height of a sedan and a crossover, but the X4's low center of gravity and torque vectoring across the rear axle tricks your brain into thinking this is an M240i Coupe. It is endlessly fun to drive. And for what it's worth, 8" of ground clearance isn't anything to sneeze at.
Concerning the cabin, BMW's heritage design falls a little flat for me. I can appreciate those resisting trends but it's starting to come across as less than premium in here. My mostly loaded X4 M40i totals $66,545 and still doesn't include items such as side blind zone alert or Apple CarPlay…both optionally available.  iDrive continues to improve with version 5.0 but it's still not quite there in terms of ease of use though the Surround View camera system is a nice touch.  The rear seat bottoms are very low, almost 3rd row-like, so your knees are way up there and in terms of spaciousness and cargo versatility, the X4 can't match the dimensions of the X1.  But this model is all about style and performance and as long as you're willing to look the other way in a few areas, the X4 M40i can be the compact SUV of your dreams.
Tagged with:
2017
,
auto critic
,
BMW
,
COMPACT SUV
,
DT with Steve Hammes
,
latest video
,
M40i
,
reviews
,
road test
,
small suv
,
steve hammes
,
SUV
,
test drive
,
X4