2016 Jaguar F-TYPE R Coupe VIDEO REVIEW
2016 Jaguar F-TYPE R Coupe VIDEO REVIEW by Auto Critic Steve Hammes
Since Jaguar's brilliant F-TYPE Coupe and Convertible arrived a couple of years ago I've been privileged enough to drive every variant available, on both coasts, from autumn, top-down driving here on my home turf to hammering the car around Willow Springs in the dessert heat. It's a special vehicle that quickly won a spot on my must have list. Now in its 3rd model year, Jaguar has tweaked and improved the F-TYPE to make it an even more attractive choice to a greater number of drivers.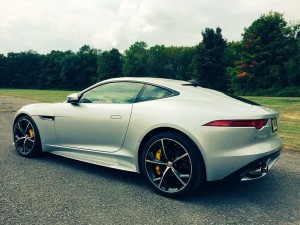 Times are exciting at Jaguar. With a number of new products on the way including their first SUV, the substantial freshening of older models, the introduction of diesel engines and the recent announcement that they're lowering prices across the board and offering a new customer care and warranty program – well, the temptation to drive a British-built piece of Ian Callum-designed art has never been stronger.
Take the 2016 F-TYPE, for example. You can now opt for a stickshift on rear-drive V6 models, all-wheel drive is a new option and an increased level of standard equipment means better value. My tester this week is the king-of-the-hill F-TYPE R Coupe, now standard with what Jaguar calls Instinctive All Wheel Drive. This is the monster of the group, stuffed with a 5.0-liter V8 550horsepower supercharged engine and 4-wheel traction, taking the F-TYPE into the sub 4-second realm from 0-to-60mph. And you can now get the R in Coupe or Convertible form. Top speed is limited to 186mph. Operating through a torque-on-demand system, this is 100% a rear drive car under normal conditions. Because of this, gas mileage remains virtually unchanged, rated at 18mpg combined while my weekly number was a comparatively frugal 20mpg. When approaching the limit of available grip, up to 50% of the torque can be shifted to the front axle. There's also torque distribution across the rear axle thanks to the Electronic Active Differential and a software feature called Intelligent Driveline Dynamics – a control system designed to maximize the benefits of AWD without any compromises to its rear-drive fluidness. All-wheel drive cars also get subtle styling differentiation like a reshaped aluminum hood with new vents. This also becomes the first Jaguar to use Electric Power Assisted Steering – a change most other automakers have long since made with mixed success.
The biggest compliment I can give to the way it turns is that I don't notice much of a difference. I wouldn't mind if the steering was a little bit quicker like in the Vantage GT that I recently tested but by replacing the hydraulic system there's been no negative impact on driver connectedness and it helps the F-TYPE maintain its luxury sports car balance. The all-wheel drive system has been carefully integrated so as not to mess with this car's fun, rear-wheel drive dynamics. Plus, it'll help you get through the turns faster and give you a viable winter car option.
Just replace these grippy, but noisy Pirelli P Zeros for some biting snows and you're good to go. A snow mode effecting the transmission and all-wheel drive system helps, too. On the other end of that spectrum is Dynamic Mode; a more rear-drive-based, hyper setting that tunes everything from the suspension to the intense sounding exhaust…the F-TYPE's signature characteristic. You can open the valves whenever you want more snap, crackle and pop, but paddle shifting the 8-speed auto in Dynamic mode is pure bliss. The suede insert seats and power side bolsters do their thing in keeping you in place as you're blazing though the curves but I still don't find them long-trip comfortable. When driven hard, the F-TYPE R feels heavier and more brutish than its Aston Martin counterpart and its steering isn't as dialed-in to your thoughts, but this car's blazing speed and more well-rounded nature make it unbeatably desirable. It feels well-planted and makes it easy to cut down your favorite roads. And the optional Carbon Ceramic Matrix Braking System reduces unsprung weight and provides exceptional, squeal-free stops, time and time again. It'll set you back $12,000 but can you do without the yellow calipers and 20" Storm wheels?
The improved infotainment system is a huge step forward with crisper graphics and quicker responses. And with InControl Apps Apple and Android users now have safer access to their smartphones while driving.
From the display ahead of you to the 8" touchscreen, a previous F-TYPE weakness has significantly gotten better. This isn't the all-new system debuting in the 2016 XJ, but it helps.
My tester comes with optional equipment like illuminated treadplates, the Suedecloth Interior Pack, the Vision Pack with adaptive front lighting, parking cam and sensors and blind spot monitor and the naughty looking Black Pack for an as-tested price of $120,745 from a base price of $104,595. The 770 watt Meridian Sound System and Glass Roof are now standard. It has dastardly good looks, lashings of power and menacing sounds. Hardcore when you want, soft when you don't.
Tagged with:
2016
,
auto critic
,
AWD
,
Coupe
,
F-Type
,
Jaguar
,
latest video
,
R
,
reviews
,
road test
,
steve hammes
,
test drive
,
top picks