2016 Honda Accord Sedan REVIEW
2016 Honda Accord Sedan REVIEW by Auto Critic Steve Hammes
A more integrated smartphone experience, the expanded availability of safety electronics, a face lifted appearance, and an upgraded chassis highlight the significant changes Honda has made to their widely acclaimed 2016 Accord Sedan.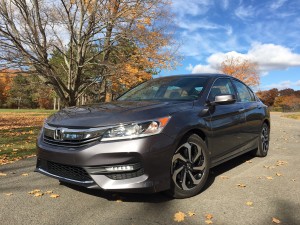 A few years ago, Honda started addressing its image problem. While its competitors were spicing up their designs, Honda realized it was time to focus on more than just bullet-proof reliability. The CR-V, the Civic and now the Accord have all been shrewdly restyled to appeal to the hearts of their customers as well as their brains. Take this facelifted 2016 Accord for example. It has graceful contours, muscular angularity, and most of all a more pronounced personality. It doesn't simply "blend in" anymore…be it the new front lighting, sculpted rear fascia or sharper wheel design, the car's entire structure has been elevated to place of sporty, yet classy harmony…well, perhaps with the exception of these 17" blade wheels which look like they came off the kid's Civic from down the street. Nevertheless, I really appreciate Honda's hotter design efforts.
But this refresh is more than skin deep. For 2016, there's a new aluminum hood, increased body rigidity, higher performing shocks and struts, and retuned steering feel. Looking inside, the audio and digital experience is much improved with an easier to use touchscreen interface, straightforward Garmin navigation, HD Radio, Honda Link Assist for emergency assistance and the introduction of Apple CarPlay and Android Auto.
Before Apple CarPlay, connecting your iPhone to your vehicle's infotainment system was somewhat limiting in its capabilities. But now in the Accord, when you plug-in, the main screen mimics your phone's screen making it safer and more intuitive to interact with your device while driving. Now, if Honda would only provide a few real buttons and knobs they'd really have something.
You've got to be plugged into this USB port, not the one in the center console. And just like that, Honda lets Apple run the show. Well, mostly. It's extremely convenient to receive and send texts without the temptation of grabbing for the phone plus if you're just more comfortable with using the map and music apps on your device you'll like Apple CarPlay. But the list of approved apps is small with MLB At Bat the most notable. So it's not going to give you the entirety of your phone's capabilities but it is a welcome next step. That said, I experienced a few glitches this week as this new technology will certainly continue to be updated and evolve.
My tester is ranked 10th out of 11 Accord Sedan trim levels.  It's the EX-L V-6 with Navigation and Honda Sensing, just below the luxurious Touring model.  Honda Sensing is the name given to their suite of advanced safety tech and it's now available on every Accord.  For 2016, it adds a collision mitigation braking system, road departure mitigation, a tire pressure monitoring system, adaptive cruise control and lane keeping assist.  Other welcome additions are factory installed remote start and a 60/40 split folding rear seat.
It's immediately evident that Honda has been up to this Accord thing for a long time. Like your favorite pair of jeans, the Accord just fits right and feels good.  It exceeds expectations in a number of key areas and the new model year changes simply sweeten the deal.  It's all of the little things like excellent all around visibility and the uncluttered cabin that crescendo into a car you just love getting into and driving.  The gutsy V6 and straightforward 6-speed make up a top-notch powertrain while the upgraded suspension further refines the Accord's next level handling and exceptional ride comfort.
This car is darn quick and fun to drive…it even makes pleasing sounds while you're having fun with the 278 horsepower in Sport mode. Who needs direct-injection and dual cams when you've got i-VTEC and Variable Cylinder Management?  I couldn't believe the mileage I was getting, with some trips netting 35 mpg.  It's rated at 21mpg city/34mpg highway on regular.  It's the powertrain the Maxima wishes it had.
The 2016 Accord sedan starts at $22,940 and you can still get a stickshift. At $33,465, this upper level model seems like a huge bargain.  The midsize sedan segment might not be as popular as it once was but the Accord is making it known that it's better than ever.
Tagged with:
2016
,
Accord
,
auto critic
,
EX-L
,
Honda
,
Honda Sensing
,
latest video
,
navigation
,
reviews
,
road test
,
Sedan
,
steve hammes
,
test drive
,
top picks
,
V-6