CADILLAC CT6 2016 VIDEO REVIEW
CADILLAC CT6 2016 VIDEO REVIEW BY AUTO CRITIC STEVE HAMMES
Cadillac's metamorphosis into a modern luxury brand continues to unfold, with the latest addition to the lineup introducing a true flagship model. This is the first ever CT6.
Though Cadillac already offers a large, turbocharged sedan with over 400 horsepower and available all-wheel drive, the CT6 evolves the premise of the XTS by introducing a new, lightweight, rear-wheel drive architecture with a significantly longer wheelbase lending to more elegant and classic big car proportions. But this isn't your grandfather's Deville – far from it. The CT6 possesses modern design, robust technology and performance attributes shaving countless gray hairs from the head of the average driver.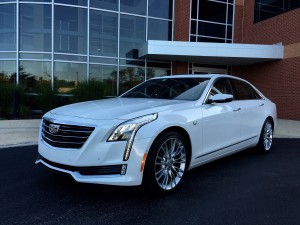 A base CT6 with rear-wheel drive and a 2.0-liter turbo carries an MSRP of about $55,000. And though it's not a top-of-the-line Platinum trim, this 2016 CT6 Premium Luxury with the twin-turbo V6 and all-wheel drive replete with key packages and various options rises to $81,840. So there's a huge price spread to satisfy varying power and feature needs not to mention checking accounts.
Cadillac makes it clear – the CT6 has been engineered to "reignite a passion for driving in large luxury vehicles." Translation: while luxurious enough, the CT6's German competitors are boring to drive. So dynamics have been emphasized with the use of advanced chassis systems such as Active Rear Steer, weight savings have been scrutinized highlighted by all-aluminum body panels and driver control is prioritized featuring a Magnetic Ride Control suspension where each wheel's dampening is adjusted by the millisecond. Sure, it measures 204" long but Cadillac still wants you to feel "the exhilaration of a true driver's car." And in lies the conundrum of the CT6.
When crossing the 80k threshold the execution should be nearly flawless and though the CT6 is a dream highway cruiser, Cadillac's desire to make this something more than an all-out luxury sedan leads to some occasional issues with ride quality and powertrain harmony.
Instead of using their fantastic 3.6-liter twin-turbo as the big dog engine, Cadillac uses an all-new 3.0-liter V6 with double boosters, presumably to keep weight down and improve efficiency all while outputting 404 horsepower and 400 pound-feet of torque. Changing gears through an 8-speed automatic with sport mode results in a relatively rambunctious 0-to-60mph run of 5.0-seconds. But the sensation of lag at times and general lack of linearity in its power delivery have me longing for a naturally aspirated engine or at least one tuned for more refinement. This one just seems ill-fitted for either performance or luxury. The optional Active Chassis Package includes Magnetic Ride Control shocks, rear steering and upsized 20" wheels. A tiny bit of turn of the back tires quickens the steering and shortens the turning radius and I've never driven a Caddy with MRC dampers that didn't impress but the CT6 transmits more road feel than I care for and the tires seem noisy. Handling is sharp for a car of this size but frankly, I take little pleasure in driving it in that manner. For me, I'd prefer a more isolating, big car experience that at the same time doesn't have to feel sloppy.
This CT6 is packed to the brim with technology but 2 features in particular rise above the rest; the rear view mirror which is really a video monitor and the immersive 34-speaker Bose Panaray sound system.
It takes a little getting used to and some prefer to switch it off, but this wide angle view is pretty darn cool. And then there's this exclusive Bose upgrade priced at $3,700; speakers, speakers everywhere for a clean, breathtaking level of music clarity and listening enjoyment. Other highlight moments include the surround vision system, a built-in video recorder, night vision, head-up display, self-parking, myriad driver safety features, and a clever design from the center console to the wireless charging station. The infotainment touchscreen is big, bright and easy to use augmented by a new touchpad control and it features Apple Car Play, OnStar and a 4G LTE Wi-Fi hotspot. The graphical displays are sharp and configurable and and though CUE as it is called is a bit busy, with time it becomes routine. Overall comfort level is high with seats sized wide for those carrying a few extra lbs.
The rear seats are long on legroom, are heated, come with sunshades all around and a glass roof overhead. But if you want even more tricks, you'll have to step up to the next trim level.
Platinum models receive massaging and reclining rear seats with ventilation and quad zone climate control. Here, you get a couple of USB ports and a power outlet.  Fifteen cubic feet of truck space is large but it can't match the 18 feet found in the XTS.
In the end, the CT6 is visually stunning and technologically stirring but emotionally aloof with a bit of an identity crisis.