2015 Cadillac Escalade VIDEO REVIEW
2015 Cadillac Escalade Platinum VIDEO REVIEW by Auto Critic Steve Hammes
You'd be hard pressed to find another vehicle more evocative of the turn of the century excesses than the Cadillac Escalade. From rap videos to Rodeo Drive, if you had money to flaunt this is what you drove. And though the fascination with large SUVs isn't what it once was, Cadillac's hottest seller is still making impressions. This is the all-new 2015 Escalade Platinum.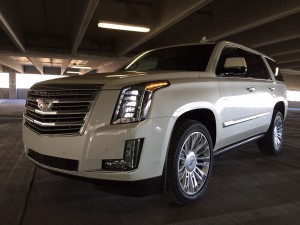 This 4th generation of Caddy's body on frame big boy is a subbrand unto itself; a piece of Cadillac's past living into the company's future.  Buyers are spending, on average, $83,000 on this latest iteration – up approximately $13,000 from the previous model, so its importance to Cadillac and its dealers cannot be understated.  Sporting the new sharp creased, squared off design seen in all of GM's recent SUV makeovers, the Escalade still carries gargantuan presence riding on 22" wheels and flaunting vertically stacked LED headlamps and taillamps.  The white diamond tricoat looks like a perfect fit and though I'm not a big fan of GM's recent SUV design direction, the Escalade is by far the best looking of the bunch.
The Escalade's cabin provides a quiet respite from the outside world. It's beautifully adorned with the highest quality materials and instantly gives you that relaxed spa feeling once you've settled in. I love the front seats for their long trip, body contouring support plus they both have excellent massage features. And the CUE system is slick and stocked with one of the best Bose sound systems I've ever heard.
I found myself lingering just to continue listening to this 16-speaker Centerpoint surround sound system – it's just that brilliant.  And GM's industry-leading infotainment tech is in full effect here, with OnStar including a 4G Wi-Fi hotspot, Siri Eyes Free, and CUE – short for Cadillac User Experience.  This touchscreen and/or voice controlled unit eschews traditional buttons in favor of touch points, like sliding your finger to adjust the volume and has plenty of nifty features such as automatically selecting Bluetooth streaming when wirelessly playing audio from your phone.
The high res driver information display is an extension of CUE with a highly customizable screen, utilizing somewhat cumbersome steering wheel switches to get from one pod to another.  And on the safety front, the driver's seat vibrates to warn of various dangers, forward collision alert and lane departure warning add additional layers of protection while full range adaptive cruise control with automatic braking contribute to the bubble effect.  I like the new surround vision too, especially in a vehicle of this size. This top of the line Platinum trim, designated by a P on the liftgate, is an affluent kid's dream with 2 DVD headrest screens replete with various electronic connections and a larger Blu-ray screen that folds down from the ceiling, accompanied by 4 pairs of high-end headphones and 2 remotes.  The captain style 2nd row seats recline for maximum comfort and tumble forward when the need arises to go into the not so comfortable 3rd row, where the foibles of truck frame construction mean your knees are up to your chin.  New fold flat 2nd and 3rd row seats do so with power operation from the rear and do it fast…a lesson other OEMs could learn.  And remember, if you need more than this, the Escalade ESV adds another 20" in length.  Other notable interior features include the chill box in the center console, the wireless charging mat for compatible phones and the head-up display.  The only option on this Escalade 4WD Platinum is the power retractable assist steps, leading to an MSRP of $94,565.
That also buys you a new 6.2-liter V8 with cylinder deactivation making 420 horsepower and no longer a 6-speed, but an 8-speed automatic.  With its brute force it'll have this beast running to 60mph in under 6-seconds and return 15mpg city/21mpg highway on regular – of which the tank can hold 26 gallons.  It's also a formidable tower capable of pulling 8,100 pounds.  2WD, Auto, 4-high and 4-low are driver selectable.
But alas not everything is ice cream and balloons here in Escaladeville. For some inexplicable reason the latest generation of GM trucks took a step backwards in ride quality and this Escalade has never met a bump in the road it didn't like. It'll turn the smallest ripple into a rollicking romp. And that's inexcusable in this rarefied air. It's lost some grace and comes across as way too trucky.
This is the first Caddy I've driven with the Magnetic Ride Control suspension that I haven't absolutely loved.  And there's a selectable sport mode for an even firmer setup.  No doubt the 22" Bridgestones with their narrow sidewalls play in role in this, but when compared to competitors like the Lincoln Navigator and Infiniti QX80, the Escalade no longer leads the way in ride comfort.
Sales have more than doubled so far in 2015 and with gas prices remaining low it seems as though the Escalade's heyday may be here again.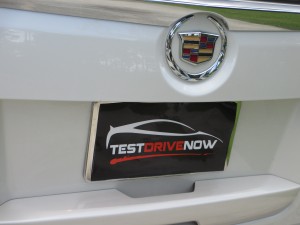 CLICK HERE TO VIEW QUICK TAKES OF THE 2015 CADILLAC ESCALADE.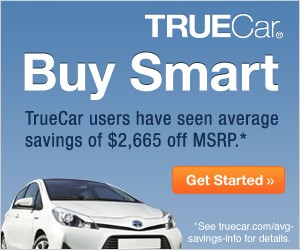 CLICK HERE to get your TRUECAR SAVINGS CERTIFICATE for your new CADILLAC. Absolutely NO OBLIGATION.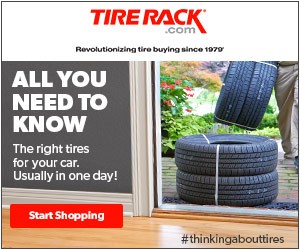 CLICK HERE TO FIND THE BEST DEAL ON TIRES FOR EVERY MAKE AND MODEL CAR, TRUCK OR SUV. SPECIAL DISCOUNTS FOR TESTDRIVENOW FANS.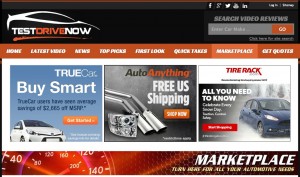 CLICK HERE TO FIND TODAY'S HOTTEST DEALS FOR ALL YOUR AUTOMOTIVE NEEDS.

CLICK HERE to LIKE TestDriveNow.com on FaceBook!

FOLLOW Steve Hammes on Twitter @DriveTimeVideos!
Tagged with:
2015
,
4WD
,
auto critic
,
Cadillac
,
escalade
,
latest video
,
luxury sub
,
Platinum
,
reviews
,
road test
,
steve hammes
,
SUV
,
test drive