Volvo XC40 2019 VIDEO REVIEW
Volvo XC40 2019 . THE PROS & THE CONS. WHAT YOU NEED TO KNOW
TDN NEWS SPECIAL REPORT BY AUTO CRITIC STEVE HAMMES
Earlier this year, I was in Texas for the media launch of the all-new XC40; Volvo's smallest SUV. And my impressions were highly favorable.  You can check out that review right here.  But now, I've got one on my turf for a full week.  And there are things you ought to know before you go and buy, lease or subscribe to one.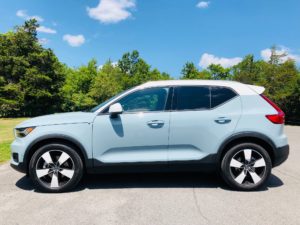 So you've looked at the BMW X1 and Lexus NX but have decided that the Scandinavian is the right one for you. Solid choice – Volvo's SUV game is stronger than ever and their design language is on point.
This here is a heavily optioned T5 AWD Momentum model with the optional Ice White roof. Now, I like the contrasting roof but if you don't you can pocket $300.  A new T4 trim is also available if front-wheel drive will suffice.  Pricing starts in the mid-$30ks.  From there, you can upgrade to an R-Design trim with its black roof and other sporty details.  And then there's the Inscription model for an added dose of luxury.
Keep in mind that if you load it up even a Momentum model can top $44,000 as this one does.
The all-wheel drive models utilize a 2.0-liter turbocharged 4-cylinder engine producing 248 horsepower paired to an 8-speed automatic transmission with a stop-start system to save fuel. It's a very energetic powerplant both gutsy and refined.  But the best part of the XC40's drive is no doubt its luxuriously smooth ride quality.  The worst part is probably the shifter.  Expect about 26mpg in combined driving on premium gas.
Having to push and pull the shifter twice for drive and reverse is something you can get used to but is far from desirable.
Volvo has gone to great lengths to equip the XC40 with "life hacks," if you will; clever ways to stow items, and in general, make your life easier…like back here in the cargo area.
There's a hands-free tailgate, a foldable, removable load floor, and bag hooks…cleverness that's very much appreciated. And then up front, there's a storage box under the driver's seat, a waste bin with net in front of the armrest, and another pop out hook from the glove box; the little things that make life easier.
Those are some pretty big door pockets you've got there Mr. XC40. How did you do it?  Well, the bass for this premium Harman Kardon sound system actually originates from a device located under the hood.
The unusual placement of the stereo system's air-ventilated woofer behind the dashboard removes the necessity for speakers in the front doors introducing even more stuff-it space.
So let's talk about this really cool looking, rectangular infotainment screen known as Sensus. It's not the worst system I've ever used but it's far from the best either.  I'd say the biggest complaint I have with this is the amount of time it can sometimes take to boot-up once you start the car. Now, I've talked to Volvo about this in the past and they argue that, well, if I was the owner of the car I would have everything here personalized just the way I want it to so that when I drove off everything would be just so.  But, I still contend that simple things like changing the radio station can take way too long after I start the car.  Plus, swiping left and right here can be confusing to find just what you're looking for.
I'd have to say the biggest knock against the XC40 is in its backseats. Now, not in terms of leg- or headroom – which are both generous – but the backrests themselves which are very upright and nonadjustable.
And see this USB charge port down here; this is USB Type-C – not the Type-A connection you're more likely accustomed to. So unless you have a really new device, it's a no-go.
This is a very early-build XC40 and it has logged quite a few journalist miles so I'd like to think some of the quality issues I've experienced in here are due to those facts. But nevertheless, I can't ignore items like this.
This rubberized, decorative Swedish flag is a really cool touch but I just can't imagine between thievery and car washes it's very long for this world.
So perhaps you've heard about the XC40's subscription option called Care By Volvo. Insurance, maintenance, road hazard protection and normal wear-and-tear are rolled into one flat-rate monthly payment: $650 for a Momentum model and $750 for an R-Design. According to a recent study by Edmunds, Volvo's subscription model is the only one currently on the market that can actually save the lessee money.  So it's something to consider.
On sale since spring, the XC40 is already a hot seller and hybridized and pure electric versions are on the way.
Tagged with:
2019
,
auto critic
,
AWD
,
Momentum
,
news
,
pros and cons
,
special report
,
steve hammes
,
T5
,
TDN NEWS
,
Volvo
,
xc40