INTRODUCING THE ALL NEW MERCEDES BENZ A CLASS SEDAN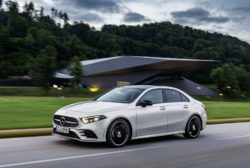 TDN NEWS: INTRODUCING THE ALL NEW MERCEDES BENZ A CLASS SEDAN
Compact entry into the world of Mercedes-Benz premium sedans
The family of compact cars from Mercedes-Benz continues to grow: the all-new A-Class Sedan will launch at the end of the year. The four-door sedan has a wheelbase of 107.4 inches and the proportions of a dynamic and simultaneously compact sedan with short front and rear overhangs and boasts impressive space in the interior. In addition, the sedan model has A-Class virtues familiar to the rest of the world. These include a new and efficient engine and high levels of safety thanks to the available state-of-the-art driving assistance systems on par with the Mercedes-Benz S-Class. The new A-Class is also the first vehicle in the Mercedes-Benz lineup to introduce the intuitively operated MBUX – Mercedes-Benz User Experience multimedia system. The all-new 2019 Mercedes-Benz A-Class Sedan will celebrate its World Premiere in Brooklyn, NY in July 2018 and will go on sale in the U.S. in late 2018.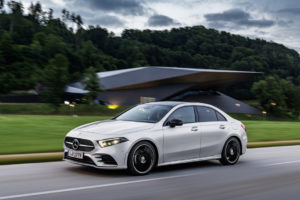 "Following the successful start of the A-Class, things at Mercedes-Benz are happening in quick succession with regard to the new family of compacts. In response to the wish of many customers, we now offer the A-Class for the first time as a sedan," says Britta Seeger, Member of the Board of Management of Daimler AG and responsible for Mercedes-Benz Cars Marketing and Sales. "Anyone looking for a compact, sporty sedan with a separate trunk now has a new, attractive alternative. It will attract new customers for Mercedes-Benz."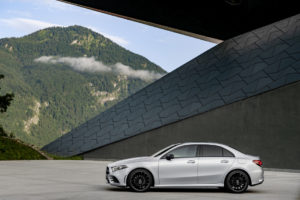 The new generation of compacts has made a key contribution to the rejuvenation and image-change of the Mercedes-Benz brand. The launch of the four-door CLA Coupe in 2013 was the first time a compact car from Mercedes-Benz was sold in the U.S. market. In 2017, nearly one in two buyers of a Mercedes-Benz compact car in the U.S. had previously driven a competitor vehicle, and more than 50-percent of the CLA custome rs were new to Mercedes-Benz (first-time buyers and conquests).
The 1997 A-Class originally established the compact car segment of Mercedes-Benz that exists today. Since then, more than six million models have been delivered worldwide. As the seventh model, the A-Class Sedan further expands the range of Mercedes-Benz compact cars. A logical addition, because with the C, E and S-Class, Mercedes-Benz continues to hold its position as a top-manufacturer of premium sedans.
The key dimensions of the new A-Class Sedan:
Length: 179.1 in
Width: 70.7 in
Height: 56.9 in
Wheelbase: 107.4 in
The A-Class Sedan offers great utility with roomy shoulder, elbow and headroom and easy access to the rear. The improvement to rear headroom space is particularly exceptional and the trunk was designed for practical usability with a large trunk opening that allows for comfortable loading and unloading of larger luggage items.