VOLVO XC40 2019 QUICK TAKES
TESTDRIVENOW OVERVIEW: VOLVO XC40 2019 QUICK TAKES
Volvo Cars introduced the XC40 SUV, setting a new benchmark for design, technology and safety in the compact SUV market. Award winning technology from the 90 and 60 series cars are standard in the XC40, including safety innovations rarely offered among competitors.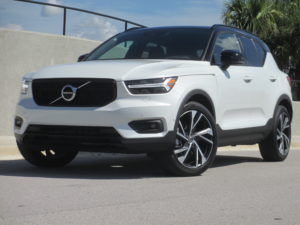 The Volvo XC40 will be among the safest, well-equipped compact SUVs available. At launch, the T5 all-wheel drive Momentum trim will start at $35,200. In summer 2018, a T4 front wheel drive will be introduced starting at $33,200.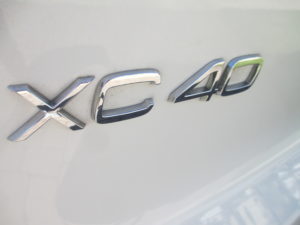 The new XC40 represents Volvo's third SUV and is focused on a new expression of Scandinavian design. The XC40 is the smallest SUV offered by Volvo, preceded by Volvo's largest SUV, the XC90, which is the most awarded luxury SUV of the century. The mid-sized XC60 is arriving at US retailers now and has been positively received. With the introduction of the XC40, Volvo completes its SUV range and offers three of the newest vehicles in their respective segments.
"The XC40 is our first entry in the small SUV segment, broadening the appeal of the Volvo brand and moving it in a new direction," said Håkan Samuelsson, president and chief executive. "It represents a fresh, creative and distinctive new member of the Volvo line-up."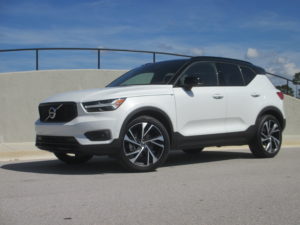 The XC40's bold exterior is available with a range of body colors and color-contrast roof, providing up to 17 combinations. In the front, Volvo's signature Thor's hammer daytime running lights compliment a new interpretation of Volvo's grill. The XC40 has a strong, structured profile for a youthful expression. Large wheels, wheel arches and an 8.3" ride height provide a true SUV feeling.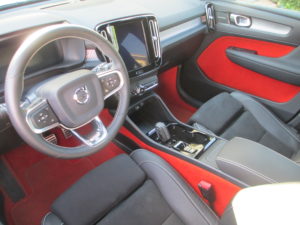 With a clever use of space and interior materials, the XC40 introduces a bold rendition of Scandinavian design and functionality. An available panoramic sunroof allows natural light into the cabin and at night, integrated LED mood lighting can be color adjusted to match the mood or temperature the driver desires. This lighting, combined with unique metal and textile materials, creates a feeling of creativity, energy and youthfulness.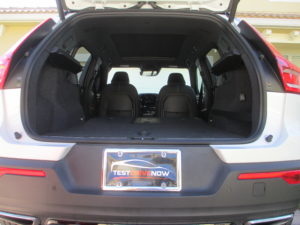 Volvo conducted extensive global research into how compact SUVs are used and discovered proper storage is essential. With ample interior space for both passengers and storage, smart daily-use features such as large door pockets, integrated bag hooks and a customizable cargo area help organize the driver's life while in the car. Wireless QI mobile phone charging and Bluetooth connectivity with the standard 9" Sensus Connect touchscreen helps reduce the clutter of charging cables and connectors. A dedicated cell phone storage space frees up cup holders and other areas commonly used by customers to store their phone. The development of a unique air-ventilated woofer located behind the dashboard allows for more storage in the door panels without sacrificing stereo sound in the cabin.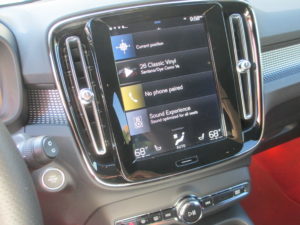 Connectivity is core to the XC40, featuring 4 years of Volvo On Call as standard and the ability to share the car with trusted friends and family via a mobile phone app. Applications such as Spotify, Pandora and Yelp are available via the center touch screen, as well as Volvo's Apple CarPlay and Android Auto integration.
With standard City Safety, which includes pedestrian, cyclist, vehicle and large animal detection with emergency autobrake, the XC40 is one of the best-equipped small premium SUVs on the market. Safety and driver assistance features on the XC40 include Pilot Assist, Run-off Road protection and mitigation, Cross Traffic alert with brake support and the 360° Camera that helps drivers maneuver their car into tight parking spaces.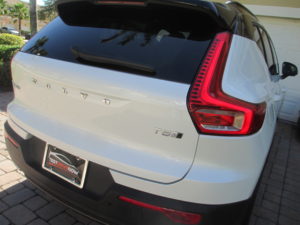 Volvo Cars is inventing a new model of car access with the launch of the new Volvo XC40 called "Care by Volvo." Care by Volvo is an all-inclusive, negotiation-free option that will be offered alongside traditional purchase and lease choices. This will make having a car as transparent, easy and hassle free as having a phone: a national, flat-rate monthly fee, combined with the opportunity to upgrade to a new car as early as 12 months. Care by Volvo in the United States includes almost everything needed to own and operate a car such as maintenance, insurance, wear and tear items and protection services.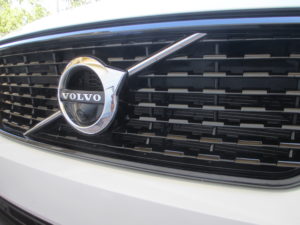 The new XC40 is the first model on Volvo Cars' new Compact Modular Architecture (CMA), which will underpin all other upcoming cars in the 40 Series including fully electrified vehicles.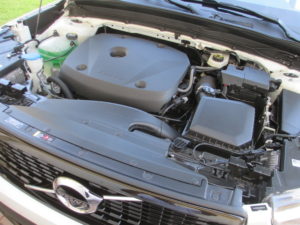 From start of production, the XC40 will be available with a T5 four-cylinder Drive-E powertrain with all-wheel drive.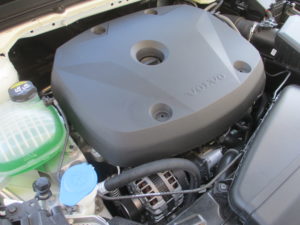 Further powertrain options, including a hybridized as well as a pure electric version, will be added later.
The highly anticipated XC40 from Volvo Cars will complete the company's SUV line-up that also features the top-of-the-range large XC90 and the mid-sized XC60.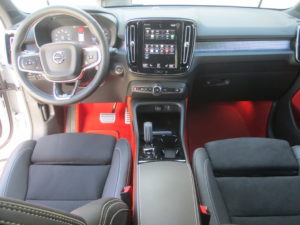 As part of the XC40's development phase, Volvo Cars' customer research team spent considerable time investigating how city dwellers around the globe use their car on a daily basis – and, more importantly, how they store their belongings in their cars. Customers were also asked how they would like to see the interiors of their cars improved.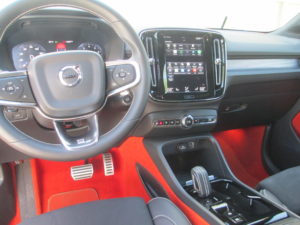 It turned out that different regions and cities produced remarkably similar results, providing valuable input as Volvo's designers got to work on the interior of the new XC40.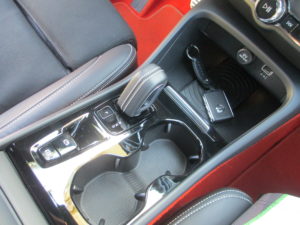 "As we spoke to people about how and where they store the things they carry with them daily, it was quite clear that most of today's cars are falling short in this area. Phones slide around in the mid-console, takeaway bags are at constant risk of falling over and people fumble behind the wheel as they try to get service cards out of their wallets. We set out to solve these and many other issues we encountered," says Louiza Atcheba, Model Brand Manager for the 40 Series at Volvo Cars.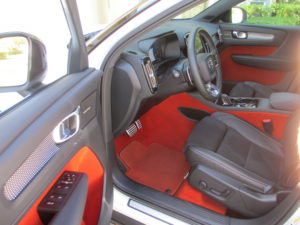 For instance, in order to provide better storage space in the doors of the new XC40, Volvo designers chose a radical new approach. By moving speakers from the door and developing a world-first, air-ventilated dashboard-mounted sub-woofer, Volvo created enough storage in the door compartment for a laptop and a tablet, or a couple of water bottles.
"When we designed the tunnel the focus was not only on creating a nice design, but also to ensure that cup-holders can be used as cup-holders and that the design itself provides areas for coins, cards or charging cables. Another focus area was to make a usable space for your phone which offers wireless charging as well as USB ports," said Conny Ewe Blommé, Senior Design Manager at Volvo Cars.
A small fold-away hook has been added to the glove compartment, allowing you to secure small shopping or take-away bags. Both front seats offer a storage space under the seat, large enough for a mini tablet or other smaller items.
The XC40 also offers slots for credit and service cards that can be neatly inserted into the dashboard, making them readily available when needed. In the tunnel console, under the armrest, there is a large storage area with room for a tissue box. A special, removable bin allows you to discard and quickly get rid of waste.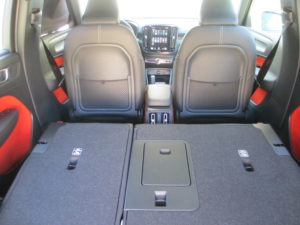 "In the trunk we have designed a smart floor system which can fold and separate your luggage and allows you to use the full luggage space without removing the floor from the car. The rear-seat electronic folding mechanism gives you a flat loading floor at the touch of a button," says Conny Ewe Blommé.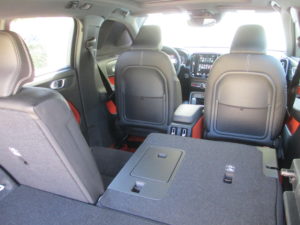 The XC40 includes a fold-up trunk divider with two hooks to help secure shopping bags or other luggage, along with four load hooks that make loading luggage a simple task. A private locking storage compartment has also been added under the load floor.
"A lot we have done with the XC40 is based on extensive consumer insight. With the XC40, we declare the end of clutter, making sure that everything is within arms-reach but also out of sight. It's about clearing the clutter so you can clear your mind," concludes Louiza Atcheba.
Developed around the challenges of modern city life, the XC40 aims to make the daily urban commute less stressful and more enjoyable, as drivers in the segment can now rely on the award-winning safety, connectivity and infotainment technologies known from Volvo's acclaimed new 90- and 60 Series cars.
"The XC40 is our first car in this rapidly growing segment and has a clear focus on navigating today's hectic city environments. Building on Volvo's heritage as the leader in safety, the new XC40 will offer the best possible safety standards combined with an easy-to-use interface and convenient connected services," said Håkan Samuelsson, president and chief executive.
The new XC40 is Volvo's first car out on its new Compact Modular Architecture (CMA) and includes a range of ground-breaking technologies first introduced in its 90- and 60 Series siblings based on Volvo's larger Scalable Product Architecture (SPA).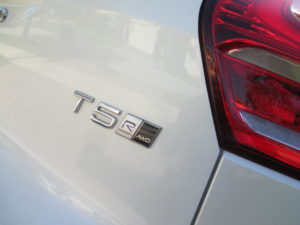 Volvo's approach to safety and user experience builds on a philosophy it calls the Circle of Life: a constant improvement of standards and technologies, based on consumer insights and real life data.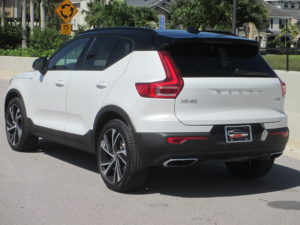 Safety and driver assistance features offered on the XC40 include Volvo's semi-autonomous Pilot Assist system, the latest generation of City Safety, Run-off Road protection and mitigation, Cross Traffic alert with auto brake and the 360° Camera that helps drivers manoeuvre their car into tight parking spaces. These and other technologies make the XC40 one of the best-equipped small premium SUVs.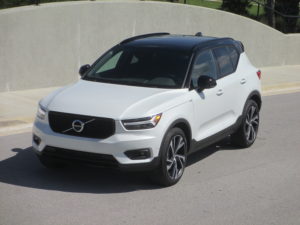 "Modern city life presents complex challenges for drivers, pedestrians, cyclists and other road users. With the XC40, we aim to reduce the so-called cognitive load on the driver. While our safety and driver assistance systems actively identify and mitigate potential conflicts, you as a driver can relax more and therefore enjoy city driving," said Malin Ekholm, Vice President Volvo Cars Safety Centre.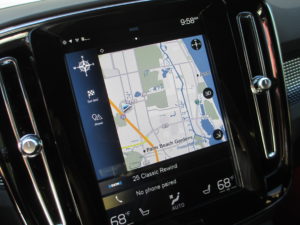 While the starting point for each new Volvo is the most advanced safety and driver assistance systems, the new XC40 also benefits from the high levels of safety and infotainment found in its larger stablemates.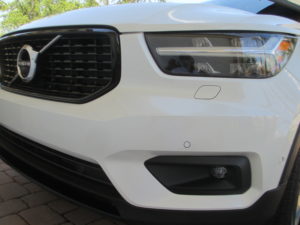 "We built a confident, easy-to-use and convenient everyday user experience based on real-life interaction and research, starting from our foundation of leading safety. The XC40 is a car for a generation of consumers that expect full connectivity. All screens have been optimised for a safe, easy and efficient interaction, to support active city driving," said Ödgärd Andersson, Vice President Vehicle Software & Electronics at Volvo Cars.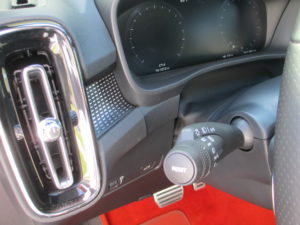 "Like the larger XC60 and XC90 SUVs, the XC40 features Volvo's connected Sensus infotainment system, centred around the now familiar large, portrait-oriented touchscreen. Easy to use and intuitive, the Sensus interface allows drivers to access a host of functions and services," concluded Ödgärd Andersson.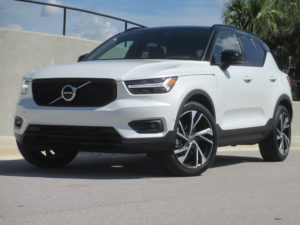 TESTDRIVENOW QUICK TAKES: VOLVO XC 40 T5 AWD R-DESIGN MSRP $ 35,200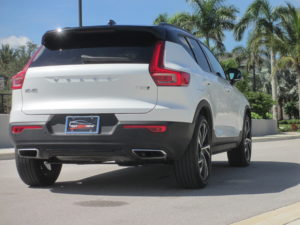 AS SHOWN WITH R DESIGN FEATURES; PREMIUM PACKAGE; VISION PACKAGE; & ADVANCED PACKAGE; PLUS HEATED FRONT SEATS, METALLIC PAINT, PANORAMIC SUNROOF, 20″ 5-DOUBLE SPOKE ALLOY WHEELS, 600W HARMAN KARDON SOUND, & DESTINATION CHARGE:  TOTAL VEHICLE PRICE $ 45,935