Toyota Corolla Hatchback 2019
Toyota Corolla Hatchback 2019 Review By Auto Critic Steve Hammes
When I drove this car's predecessor the Scion iM a couple of years ago, I was very impressed with its combination of fun and functionality. And for the 2019 model year, it's been reborn as the Toyota Corolla Hatchback making what was good even better.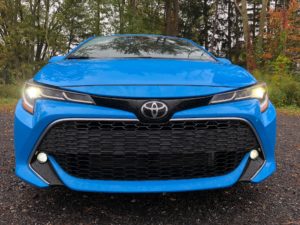 Starting with the new Camry, Toyota is back on track delivering a new breed of cars that are provocatively styled and exciting to drive. Though this little guy has been around for a while it's been shuffled about with different names in different regions and even survived the demise of the Scion brand.  But this new generation Corolla Hatchback has finally found a home in Toyota's U.S. lineup and it's a keeper.  More power, better efficiency and a sportier suspension compliment its stretched wheelbase to create a stylish car that's a real joy to drive.
The deal with the previous version of this car came down to who was rowing the gears – those who drove the manual model, like me, generally loved it and those who tested the CVT were totally turned off. Those transmission choices still exist but the CVT is all-new and no longer a deal breaker. Unlike CVTs before it, this one has a real launch gear that fixes the hesitation and moaning when taking off.  It then switches to its belts and pulleys for as favorable a CVT experience as you'll find.  It's no longer a deal breaker and delivers stellar fuel economy.
Though I'd still be interested in the 6-speed and its over $1,000 cost savings, this CVT is pretty darn good. There are paddle shifters with 10 simulated gears and a feeling of it being a normal automatic with palpable gear changes, if you will.  The sport mode affects the engine, CVT and steering to provide a more assertive drive.  The new 2.0-liter engine produces 168 horsepower, up from 137 in the iM I last tested.  151 pound-feet of torque also moves the svelte and more rigid 3,000 pound body quite nicely.  You won't go looking for drag races but once it gets moving the real fun beings.
Though it's not a sports car, it is certainly sporty. More than just efficient, affordable transportation the Corolla Hatch is something you really want to drive.  It's fun, frisky and frugal.  I'm averaging over 34mpg and that includes plenty of Sport mode time.  That European hot hatch persona shines through with a tuned driving feel and a suspension that's both supple and eager to deliver backroad handling.  The steering becomes a little light and disconnected when really pushed hard but there's an organic driving feel here that will delight enthusiasts.
The premium nature to its ride and handling is eye-opening in this class. It moves in all the right ways and delivers a silky smooth ride.  It's also surprisingly quiet in here.  The supportive driver's seat, low center of gravity and excellent forward visibility call you to drive it, always giving you more than you'd expect.
This range-topping XSE trim exudes sophistication far beyond its sticker price. Attention to detail, focused ergonomics and a high level of amenities and safety features had me guessing that this car must be priced into the low $30s. But I was wrong…all this comes for around $27,000 making it a huge value proposition.
A base model starts in the low $20s but this XSE ratchets up the premium factor by adding full LED lighting, 18" wheels, the bigger 7" driver display, these cool looking combination leather seats with power on the driver's side, heated seats, and dual zone climate control. And then add the $2,000 Preferred Package for more niceties such as adaptive headlights that swivel in the turns, wireless device charging, the big boy Entune system with navigation, a sweet sounding 8-speaker JBL audio system, HD and Sat Radio, 3 USB ports, voice control, Apple CarPlay but not Android Auto, and Wi-Fi.  Plus, the standard safety features are off the charts like full-speed dynamic radar cruise control, auto high beams, pre-collision system with pedestrian detection and new items like Lane Tracing Assist which provides steering assistance and Road Sign Assist that alerts the driver to Stop, Yield and other kinds of signs.
The cargo room has increased by 2 cubic feet and the seats still fold flat but passenger room is down as is rear seat legroom by a whopping 3". So it's a little difficult getting in and out of the rear with minimal foot room.  It's also a little cramped feeling if you're an adult.
The Corolla Hatch is a star in Toyota's lineup and should finally get the attention it deserves.
Tagged with:
2019
,
auto critic
,
corolla
,
CVT
,
drive time
,
DT with Steve Hammes
,
Hatchback
,
latest video
,
reviews
,
road test
,
steve hammes
,
test drive
,
top picks
,
Toyota
,
XSE