Toyota CHR 2018 Video Review
Toyota CHR 2018 Video Review By Auto Critic Steve Hammes
As long as everyone wants one, automakers will oblige. So here comes the all-new 2018 Toyota C-HR – another of those very affordable, fuel efficient and flexible little crossovers like the Chevy Trax and Honda HR-V.  But unlike those competing models, the CH-R – short for Coupe High-Rider – has been designed with bolder styling and a desire to exhilarate the driver.
New cars are getting crazy expensive. The average transaction price is now over $36,000 – simply too much for some to afford.  But don't fret if you're one of them.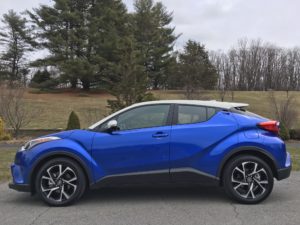 The CH-R starts at just over $23,000 including destination; a look-at-me, fun-to-drive, little do-it-all that is the antithesis of a boring economy car.
Originally destined for Scion dealerships, this is now Toyota's smallest, most affordable and most fuel efficient crossover.  Beyond its bold appearance with the optional $500 R-Code white roof, Toyota boasts about the CH-R's sporty engineering.  I know what you're thinking; with 144 horsepower and a CVT how sporty could it possibly be? But with premium SACHS dampers, a double wishbone rear suspension, low weight and a low center of gravity, the CH-R is going to open some eyes.
I wasn't expecting much from the driver's seat based on the engine output and CVT but guess what? In urban settings and on lower speed roads this is pretty fun. The cloth seats are sculpted for a hugging fit, the steering isn't dull and the engine's got some low end pep. Plus, the suspension is a plus with an uplevel balance of sport and comfort. For the price point, Toyota's concocted an enjoyable mix here for the youthful crossover buyer.
Though I wish it could be accessed outside of this driver display menu, Sport mode is invigorating with a faux 7 gear shift pattern for the CVT that removes some of the CVT-ness if you will for a more traditional transmission feel. On these 18" wheels and ultra-high-performance all seasons, the front end turns in quickly and it doesn't reject being hustled around.  Now, that being said, flooring it exposes the limitations of the 2.0-liter motor as the quick step off devolves into a whiny jog.  There's also an Eco and Normal mode.  Gas mileage of 27mpg city/31mpg highway is also a selling point.
Now, if you like lots of stuff in your car than this base XLE trim likely isn't going to do it for you. It's a pretty odd mix – there's no smart key entry or push button start, this here is really just a music player and nothing more, there's a postage stamp sized backup cam and no side blind zone alert. Then again, it has lane keep assist, adaptive cruise control, auto high beams and all of the other techy bits that come with the standard Toyota Safety Sense P. So look to the XLE Premium trim for the extras you desire; priced at not even $2,000 more.
The mix of halogen and LED lighting is never becoming and plastic cutouts where fog lights should go look cheap, but all-in-all give Toyota credit for the risky styling. Plus, there are more positive moments in the cabin.  The seats – all of them – are incredibly comfortable.  This 7" touchscreen audio system sounds really impressive with some hard hitting EQ presets that'll have the CH-R shaking.  Good thing too, as it can get noisy in here at highway speeds.  Comparing it to the Mazda CX-3, the CH-R's cargo volume skews bigger with the rear seats up but plays smaller with them down.  There's lots of room in these seats too though the cascading windows and lack of a sunroof give it a dark cave-like feel.  Plus, like the rest of the CH-R XLE quality is commendable but accoutrements are virtually non-existent.
It would be nice if Toyota could open up the goody bag a little wider for this trim and the initial lack of an all-wheel drive option is going to turn away some buyers. It is coming but it's not here yet.  As tested with the R-Code roof and a couple of other nominal options this CH-R  – imported from Turkey – sits at $24,549.  The CH-R gives younger shoppers something cool to drive that's affordable, fun and versatile.
Tagged with:
2018
,
auto critic
,
CH-R
,
CHR
,
DT with Steve Hammes
,
latest video
,
reviews
,
road test
,
Scion
,
steve hammes
,
test drive
,
Toyota
,
XLE