Toyota Avalon Touring 2019
Toyota Avalon Touring 2019 Review by Auto Critic Steve Hammes
Ah…I remember my days in Avalon. It was a time when you needed to show your AARP card in order to get one of these flagship Toyota sedans. It was likely the last car you were ever going to purchase. There were no Sport S + drive modes, sound enhancers, and adaptive variable suspensions. Nope; those days in Avalon are but a memory. This is the all-new 2019 model and it's ready to take you back to the future.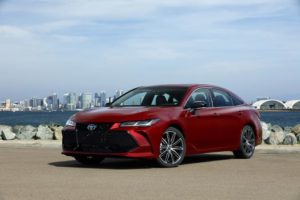 Though crossover SUVs are where it's at, there's still something uniquely special about driving a big sedan. Much in the same way that the redesigned Camry is far more emotive, the 2019 Avalon is introducing a level of pizzazz never before seen in Toyota's flagship sedan. Longer, lower and wider than before, the Avalon is a premium midsize built upon an entirely new architecture with dimensions similar to that of its Camry platform mate.
Toyota is heavily promoting the never-before-accomplished stamping methods which allowed designers to pursue their philosophy of Technical Beauty permeating the Avalon's body lines.  There's a lot of Lexus on display here, particularly with this ginormous grille, and it really works well.  This range-topping Touring trim gets the sporty look with a piano black grille with sport mesh insert, quad exhaust tips, dynamic turn signals, rear spoiler and 19" wheels. It is a very sharp-looking car.
This 5th generation Avalon is all about elevating its game.  From the way it handles a curvy road to the breadth of features it offers, this a car that's punching above its weight.  If you prefer this edgier, sporting angle, choose either the XSE or Touring trim.  It's these 2 that provide the Intake Sound Generator, Engine Sound Enhancement and sport-tuned exhaust for that all important visceral experience…and yes, it's all quite convincing from inside the cabin.
Toyota's done an excellent job here of managing and manufacturing the sounds of a racier engine so that's it's just right and completely appropriate.  But more importantly, it's the Adaptive Variable Suspension that gives the Avalon Touring it's most impressive characteristic: ride and handling.  Each shock absorber is electronically fed information to best control damping levels every 20 milliseconds to both limit unwanted body movements and absorb a rough road.  It works beautifully, providing occupants a luxuriously sophisticated ride quality while at the same time giving the driver uncanny control in the turns.
The suspension traits as well as accelerator liveliness, steering feel and engine sounds all progress as you ascend the various drive modes, all the way to Sport S+ – a Touring exclusive.  The drive is crisp and precise, quiet and abundantly comfortable; a smart choice by Toyota to expand the Avalon's appeal to a broader audience.  But don't worry – XLE and Limited grades are also available for those who desire something a little less overt.
I know you never thought you'd hear the words "fun-to-drive" and "Avalon" in the same sentence but in fact that's what Toyota has delivered here in this Touring trim. Just make sure you kick up to Sport S or Sport S + to firm up the suspension a little bit, tighten up the steering, make the throttle more responsive.  And then kick this shifter over to the left and engage the paddle shifters and I swear to you, you're going to have a good time.
The 301 horsepower, 267 pound-feet of torque 3.5-liter V6 is a captivating engine but in order to really tap its potential you've got to bypass the new 8-speed auto's lackadaisical shift programming. Even in the more aggressive drive modes, there's a tendency to upshift too early – and while that's great for getting to that 31mpg highway rating, it makes for lazy throttle responses, waiting for the transmission to kick down.  Using the paddle shifters is a fun, foolproof remedy but they're only available in the XSE and Touring trims.
The cabin is also sporty and handsome with aluminum trim and suede inserts, super comfortable and supportive front seats, a large heads-up display and stellar ergonomics. There are a lot of amenities in here – Lexus level – but the ambience is uncluttered and simple to navigate.  I like how big and close the touchscreen is to the driver, and finding what you're looking for is intuitive so Avalon's older customers won't feel alienated here.  How about this amazing bird's eye view  camera with perimeter scan from the Lexus LS?
The Entune system is so much better now, particularly for iPhone users.  Android owners must wait and see what Toyota has in store but either way this is a very easy to use system with Wi-Fi capability and a 14-speaker JBL audio system with 1,200 watts.  Heated this, cooled that, automatic everything, the Avalon Touring is the real deal.  I've also come to really appreciate the Hold function, allowing you to remove your foot from the brake pedal at a stop.
There's wireless device charging, 4 USB ports and all of today's advanced safety features including auto high beams and radar cruise control. And sitting in this upcharge Wind Chill Pearl paint, the Avalon Touring gets the looks.  Pricing for the 2019 Avalon starts in the mid-$30s while this one rests at $44,913.
A hybrid powertrain is also available.  Going places it's never been before, the Avalon is the right car to win you back from an SUV world.
Tagged with:
2019
,
auto critic
,
Avalon
,
DT with Steve Hammes
,
latest video
,
reviews
,
road test
,
steve hammes
,
test drive
,
Touring
,
Toyota