Mercedes Benz S Class 2018 Video Review
Mercedes Benz S Class 2018 Video Review By Auto Critic Steve Hammes
I'm close to wrapping up my week with this incredible new Mercedes-Benz S-Class and it occurred to me that those of us in the car biz toss around the word 'luxury' way too loosely. Because this here is the epitome of a modern day luxurious sedan; a car that treats you so well you'll never want to leave.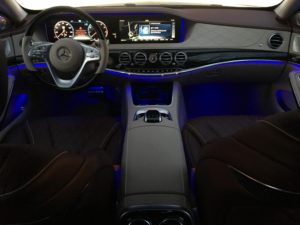 When you're ready to move into the corner office a commensurate automobile is a likely next step. While a handful of executives steer towards alternatives such as the BMW 7 Series or Audi A8, the S-Class is the crown jewel of the segment.  And for 2018, it's been re-engineered with a new grille, a new generation of engines and some spectacular new safety and convenience features.  The S-Class range now begins with the V6-powered S450.  But this here is the newly named S560 with a more fuel efficient twin-turbo 4.0-liter V8 that shares its core architecture with the AMG engine found in the S63 but with a different valvetrain.  With a completely inconspicuous cylinder deactivation feature, this model now achieves 21mpg in combined driving and despite its smaller size this hot V setup kicks up its output to 463 horsepower.  Its 516 pound-feet of torque matches that of the previous car's 4.7-liter biturbo, peaking a little later in the RPM range but spreading it out over a broader curve.  Matched to a 9-speed automatic transmission that may be the smoothest and smartest ever manufactured, the S560 hastens its 0-to-60mph time by a full half second, taking a mere 4.5 seconds in the most confident and commanding way.  To produce this remarkably compliant, yet physics-defying ride Mercedes employs a host of technological wizardry.  Its air suspension is electronically manipulated in a host of ways, being fed information from a stereo camera behind the windshield which scans the road ahead and calculates the best control strategy for overcoming unevenness.  And now for the first time, the system includes a curve tilting function leaning the car into bends in a similar manner to a biker or skier and it is amazing.  This is a large car carrying notable weight yet the S560 glides through the curves in the most satisfying and elegant way possible.  This is a machine that works as harmoniously with the driver's inputs as any I've ever driven.  Every ounce of its being is bathed in supreme smoothness on the road…this is automotive engineering taken to insane levels of comfort and handling.  The only knock I can give it is that when you hit a singular road anomaly of some sort, say a big pothole, and ROAD SURFACE SCAN didn't pick it up, the impact can be overly harsh.
To cover every cool feature of this S-Class would require a 6 hour video so I'm going to just highlight a few of my personal favorites and the ones you may not have seen before like this one called Energizing Comfort.
I love this. Choose 1 of 6 programs and watch the car transform.  Using the climate control system, fragrancing, seat settings with massage, wall heating, mood lighting and musical atmospheres this is the ultimate in-vehicle experience.  And at night?  The 64 color palette is nothing short of stunning.  The level of personalization is off the charts and if you want to wow someone this is how you do it.  Stress and road rage are no match for this level of serenity.  And for another piece of S-Class magic…
It's called MAGIC CONTROL SKY and it changed the opaqueness of this glass roof at the touch of a button.
The cabin is so stunning and so geared towards occupant comfort that I'm glad Mercedes includes ATTENTION ASSIST because I felt myself getting a little too relaxed in the driver's seat at times. Listening to the 24-speaker Burmester 3D sound system is a transformative experience.  It adds $6,400 to the price buy who cares?  It's nothing short of brilliant.  And then add in the latest semi-autonomous driving features from the E-Class and this car can steer and even change lanes on its own.  The cruise control system even factors in curves in the road and things like tollbooths to automatically slow down.  When it's dark, the night vision system highlights pedestrians, dogs and other potential obstacles automatically.  And the LED headlights with ultra-wide beam assist make quite the statement at night.  It can be a little daunting to control all of these features at first but I settled in pretty quickly, finding my way around using the workable but the less than perfect COMMAND system.  Luckily the updated voice recognition can now control more features with natural speech directives. It works well.
I don't usually get all crazy about any one car anymore but this S Class has captivated me like few others. It's the clichéd but perfectly described spa on wheels; get in here and the stress just melts away amid soothing aromas, heated massage, fantastic lighting and peaceful silence. That is unless you decide to tap this Burmester high-end stereo which is the most immersive car audio system I've ever heard. And at night – forget about it. You feel like you're in a fantasy world with the changeable ambient lighting. The drive is so perfect, the rear seats are first class – this is what we dream of when we think of a luxury car.
This S 560 4MATIC starts at $103,895 and mine with the dramatic AMG design elements, designo interior and lots of heavy hitting packages and standalone options comes in at $139,405. And considering all that is it, the price seems like a bargain.  If you've never experienced a car of this ilk, it's guaranteed to blow your mind.
Tagged with:
2018
,
4MATIC
,
auto critic
,
DT with Steve Hammes
,
Executive
,
latest video
,
Luxury
,
luxury sedan
,
Mercedes-Benz
,
reviews
,
road test
,
S-Class
,
S560
,
steve hammes
,
test drive
,
top picks