LEXUS ES 2019 REVIEW
LEXUS ES 2019 REVIEW BY AUTO CRITIC STEVE HAMMES
Whether they realize it or not, the ES is the car most people think of when they hear the name Lexus. For nearly 3 decades, it has been the go-to sedan for luxury shoppers, delivering that soft, smooth, sophisticated driving experience. But sexy has never been a part of this car's lexicon. Well, Lexus is working to change that – this is the more sensuously styled all-new ES.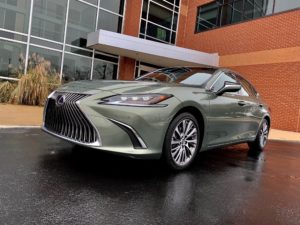 Big grilles, signature headlights, and lots of creases; the look of Lexus has morphed from ultra-conservative to look at me now and I like it! The ES has long since been their most staid sedan but those who were attracted to that trait will need to come out of their shell just a little bit.  And not only does it possess a red carpet look, but it's also more fun to drive. Parent company Toyota's duo of new mid-size, front-wheel drive sedans have all proven their mettle on the road, eager to show off their newfound driving dynamism, transforming them from middling to marvelous.  And this ES, which is longer, lower and wider with a more robust foundation, is no different.
The ES is priced from about $41,000 for the V6 model and from $42,335 for this gasoline-electric hybrid. Doubling down on old school nickel-metal hydride batteries, the electric motor's energy source has been relocated from the trunk to underneath the back seat.  This not only adds to trunk space but it also improves the car's weight distribution for better handling.  Much of the ES's new 4th generation Hybrid Drive System is familiar but with numerous enhancements to further performance and fuel economy.  With 20 additional horsepower and plus 12 pound-feet of torque, the new 2.5-liter gas engine and more power dense motor combine for 215 horsepower and 44mpg – besting the 40mpg of the previous car.  But the nearly 700 mile driving range has been significantly reduced by this car's smaller gas tank, down to 580 miles…still impressive, though.  Lexus engineers set out to make this car drive more like its V6 sibling by masking the undesirable traits of a hybrid drivetrain, mainly the continuously variable transmission.  Though it's electronically controlled, the unwanted sounds and sensations are much the same.  They have been mitigated but not eliminated.
When purchasing an ES you face a primary choice between the V6 and this hybrid. And there's only one reason you'd go the hybrid route: its stellar fuel economy.  At 44mpg, the ES300h is 70% more fuel efficient than the ES 350.  That could save you $650 per year at the pump.  So I can definitely understand the appeal.  But, it's more expensive, heavier, slower and not as satisfying to drive.  Now to some the tradeoff is worth it, but for me personally I don't' care for the hybrid powertrain – it feels like it waters down the luxury experience a little too much.  I don't' want to feel the engine turn on and off and I prefer a geared transmission.  No doubt, Lexus has done this hybrid version as well as possible – but the driver in me craves the ES 350 instead.
The ride is still Lexus smooth but with a little more of an edge to it, and there's far more driving enjoyment from a steering, handling and braking aspect. Eco and Sport modes can take the experience in either direction, but the ES hasn't forgotten its roots – this is still a luxury car just with more frolic moves. 0-to-60mph takes 8.1 seconds – not particularly fast nor satisfying but the electric torque makes sure you've got enough get up and go when you need it.  There is very little all-electric operation, however.
Because the battery pack has been relocated to under the rear seat the hybrid's trunk space no longer gets compromised. And it's big car large.
Doubling down on old school nickel-metal hydride batteries, this design change also improves the car's weight distribution for better handling.
The cabin is gorgeous and ultra-comfortable; the kind of car you could drive or ride in forever. Outside of the center screen controls, there's a welcome simplicity to its operation.  Climate-controlled seats and a heated steering wheel that automatically come on when needed, auto high beams, a panoramic view monitor – the less I have to do or think about the better and the ES delivers concierge-level service.  There's a kick sensor for the trunk, all of the latest safety features enhanced to further mitigate an accident whether with pedestrians, bicyclists, or other cars, and dynamic radar cruise control with road sign assist.  This is the middle Luxury trim, with options, priced at $52,235.
This is infotainment systems 101. First, if it's not a touchscreen it's already fighting an uphill battle. Secondly, rotary controllers trump a touchpad every time and lastly if your system makes sounds like this – you're doing it wrong. And that's my analysis of the Lexus system.
That being said, there is Apple CarPlay, a sweet sounding 10-speaker Pioneer audio system and simplified controls. I dislike it a little less than before.  But the phone connection point and storage is a little wonky.  No wireless charging on my car either.
Though the hybrid doesn't make me all warm and fuzzy, I really like the ES as a whole. It just depends on your priorities.
Tagged with:
2019
,
auto critic
,
DT with Steve Hammes
,
ES
,
es 300h
,
Hybrid
,
latest video
,
Lexus
,
reviews
,
road test
,
Sedan
,
steve hammes
,
test drive