Hyundai Kona 2018 Review
Hyundai Kona 2018 Review By Auto Critic Steve Hammes
Crossovers are hot and small ones are even hotter so Hyundai has added another to their lineup. Ostensibly replacing the Accent hatchback, this is the all-new Kona.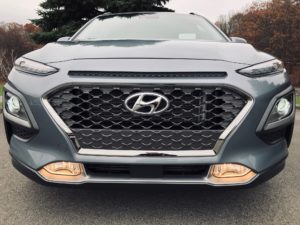 With a starting MSRP of $20,480 including destination and returning up to 30mpg in mixed driving, the Kona and its counterparts are attractive to customers in search of fun, frugal, fashionable transportation. Smart packaging means these little guys can do more than you'd think and when it comes to our overwhelmed infrastructure and crowded roadways, driving something small is definitely an advantage.
The Kona's got the look of something new and cool with an interesting front lighting scheme of triple stacked LED running lights, LED headlights and, disappointingly, yellowish fog lights. Its overall appearance looks more rugged and distinguished than most in the class.  I really like it.  There are 4 trim levels; SE, SEL, Limited and this here, the Ultimate.  All-wheel drive is available across the board.
The Kona's base engine is a 2.0-liter 4-cylinder producing 147 horsepower while paired to a 6-speed automatic but Limited and Ultimate trims like this one go for the gusto with a 1.6-liter turbo-4 producing 175 horsepower and 195 pound-feet of torque and matched to a 7-speed dual-clutch automatic transmission.
Keep in mind that 2-wheel drive Konas come with a more rudimentary torsion beam rear suspension while all-wheel drive Konas like this one come with a more sophisticated independent multi-link design. That means greater ride comfort and wheel articulation if you decide to do a little off-roading.
There's only about 7" of ground clearance so don't go crazy, but there is an all-wheel drive lock mode and hill decent control for slow speed driving when maximum traction is needed.
Now, I know it looks small from the outside but don't let that fool you. The Kona actually has really good interior space including over 19 cubic-feet of cargo volume with these rear seats up besting its stiffest competition.
When evaluating rear seat spaciousness I always position the front seats where I would have them if I were sitting up there. So this Kona obviously has no problems accommodating adults in the rear seats.
With a name like Ultimate there's an expectation of lots of stuff and that's indeed what this model offers. $29,805 scores you an all-wheel drive Kona Ultimate like this with everything but the carpeted floormats as standard.  The leather barely meets the minimum criteria to be called as such, but the content level is very high beginning with the fantastic infotainment system that should be one of the industry benchmarks regardless of price.  Even if you'd never used it before you'd be able to get around this system with ease.  Apple CarPlay and Android Auto are here, there're lots of embedded high-end features like Doppler Radar and the subscription-based Bluelink services encompassing both safety and convenience attributes, plus there's wireless device charging.  There's a pop-up heads-up display, heated seats, auto climate control and a nice suite of safety features including high beam assist and blind spot warning which cleverly projects its alerts onto the heads-up display.
All told, the Kona Ultimate uses Hyundai's playbook of bringing lots of features to the table at an attractive price point. Now from a driving perspective, this little turbo is a great fit here full of energy and capable of delivering the power you need at any time all the while producing excellent fuel economy.  Now, the 7-speed dual-clutch transmission may turn off some drivers if they're expecting a typical automatic feel – it doesn't bother me.  And in Sport mode this powertrain really comes alive producing the most organic driving experience.  Now, the steering is pretty lackluster, the ride quality is fairly unforgiving, and it is definitely loud in here.  There is far too much road noise infiltrating the cabin.
With better connected steering, the Kona could be more fun to drive but by-in-large it doesn't leave much of an impression. Gas mileage checks in at 27mpg in combined driving.  Though not the Big Island experience I was hoping for, the Kona has enough going for it to warrant a trip.
Tagged with:
2018
,
AWD
,
compact crossover
,
DT with Steve Hammes
,
Hyundai
,
Kona
,
latest video
,
reviews
,
road test
,
steve hammes
,
test drive
,
Ultimate