Hyundai Elantra GT 2018 Video Review
Hyundai Elantra GT 2018 Video Review By Auto Critic Steve Hammes
Lower, wider, and longer, the all-new 2018 Hyundai
Elantra GT adds a more aggressive stance and interior volume to its complement its clean European styling and upgraded driving dynamics.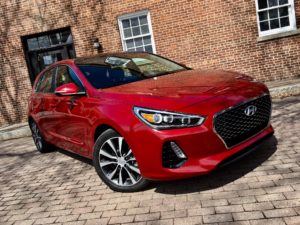 Complementing the Veloster in Hyundai's hatchback lineup is this Elantra GT. Based upon the i30 sold across the pond and originally introduced here about a decade ago as the Elantra Touring, Hyundai markets it as the hot hatch alternative to the more staid sedan.  It comes in 2 flavors: base and Sport.  I've got the standard issue GT priced from $20,235.  That includes a 162 horsepower 2.0-liter engine and 6-speed manual.  My car picks up the optional 6-speed automatic for an additional $1,000 as well as both available packages – the Style and Tech – for an as-tested price of $27,335.
With 96.5 cubic feet of passenger volume and nearly 25 cubic feet of cargo volume, Hyundai anticipates the EPA actually classifies the Elantra GT as a large car, unusual for this class. And with the rear seats folded, it offers bigtime hauling capacity.
Americans who like to drive are warming to hatchbacks as viable crossover alternatives and Hyundai developed and tested this GT on Germany's most grueling road circuit. So what you've got here is a real go-getter; an energetic driver's car with its vitals tuned for some spirited driving. I can only imagine the GT Sport, with its turbocharged engine, optional dual-clutch gearbox, multi-link suspension, and upsized tires and brakes is where the real fun is at but nevertheless, this entry model willingly joins in the shenanigans.
The GT is geared aggressively giving this 2.0-liter engine more life than it would otherwise have, so stepping off this Elantra feels really quick. It's immediately more entertaining to drive than the sedan with nicely weighted steering, taut suspension and a willingness to hustle through turns – to a surprising degree, actually.  It can be very fun to drive with that on demand responsiveness you're looking for and a chassis that scrubs out understeer…the 17" Nexens are a nice fit, too.  But that firmness isn't as much fun when you're driving the family around and the cabin is really noisy with a junky sound system that struggles to overcome it.  It also feels a little cheap.
I could have used some paddle shifters, too. Hyundai's MO of over-delivering for the money feels like it falls a little short here.  Sure, it's still feature-heavy with items like the panoramic roof, heated and cooled front seats, dual zone climate control, an automatic vehicle hold feature for use in stop and go traffic, and a sport mode, but the GT's cabin design and feel doesn't communicate as though its evolved beyond what Hyundai was already doing 5 years ago.  Plus other than side blind zone alert, you can't get the big boy driver assistance features until you step up to the Sport.   But this…this is really good…
The Elantra GT also debuts the brand's next generation infotainment system with an upgraded processor for greater responsiveness. And for added convenience, the Elantra GT integrates Amazon Alexa.
A bigger touchscreen. Chock full of immersive features and high on telematics and connectivity, plus wireless charging – if only other manufacturers would look here for guidance more of them would get it right.  This optional 7-speaker Infinity audio system with subwoofer however is too weak to overtake the copious road and tire noise.  That gets tired really fast.
But there is good space in here…a little tight on rear legroom but tons of headroom and the cargo room bests just about anything comparable – Civic, Cruze, Mazda3, Focus and even the Golf. Too bad Hyundai is weak in the accessory offerings for this car because I imagine roof racks and other kinds of adventurer gear would sell well at the dealership.
I don't love the new cascading grille but the Scarlet Red Pearl paint is a big plus. Gas mileage is also an advantage, returning nearly 30mpg for the week. So if you find yourself shopping the Elantra and are bored by it like I was, this GT might just be the antidote.
Tagged with:
2018
,
auto critic
,
DT with Steve Hammes
,
elantra
,
GT
,
Hatchback
,
Hyundai
,
i30
,
latest video
,
reviews
,
road test
,
steve hammes
,
test drive