Honda Clarity Plug In Hybrid 2018 First Look
Honda Clarity Plug In Hybrid 2018 First Look By Auto Critic Steve Hammes
Honda's new Clarity Series of electrified cars include the limitedly available, lease-only Clarity Fuel Cell and Clarity Electric. But this one here you can own and it's for sale nationwide.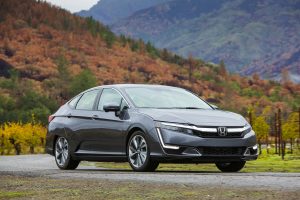 It's the 2018 Clarity Plug-in Hybrid sedan, priced from less than $35,000 before an available $7,500 federal income tax credit.
Boasting the highest all-electric range rating of any plug-in hybrid sedan of 47 miles, this Clarity also includes a 1.5-liter 4-cylinder engine for longer trips extending its driving range to 340 miles.  The car's momentum stems from a 181-horsepower electric motor producing 232 lb.-ft. of torque and draws power from both the gasoline engine and a 17-kilowatt hour battery pack with a recharge time of just 2.5 hours at 240 volts. It's earned a 110 MPG equivalent rating from the EPA.  The Clarity Plug-in features Honda's two-motor hybrid powertrain that has a total system output of 212 horsepower.
It features three selectable drive modes – Normal, Econ and Sport – allowing drivers to customize their experience, maximizing efficiency or driving performance. A fourth mode, called HV, is provided to maintain the battery's state of charge and can be selected at any time.
Honda says the Clarity Plug-in Hybrid has a spacious interior with comfortable seating for five adults, outfitted with premium, environmentally responsible materials. It also features advanced technologies including Android Auto and Apple CarPlay integration and the full suite of Honda Sensing Safety and driver-assistive technologies.
Tagged with:
2018
,
auto critic
,
Clarity
,
DT with Steve Hammes
,
electric vehicles
,
EV
,
first look
,
Honda
,
Hybrid
,
plug-in
,
previews
,
steve hammes