BMW X2 2018 VIDEO REVIEW
BMW X2 2018 VIDEO REVIEW BY AUTO CRITIC STEVE HAMMES
The undisputed champion of body style offerings has readied an even numbered X model to make their SAV lineup complete. Joining its bigger brothers the X4 and X6 in BMW's sportier, coupe-like styled class of utility vehicles – this is the all-new X2.
BMW says this design "combines the fast-moving body language and low-slung proportions of a coupe with the robust construction of an X model." Paint it gold metallic and the X2 is undeniably a head-turner; far more visually engaging than its traditionally-styled stablemate the X1 not to mention the dowdy entries from its German counterparts.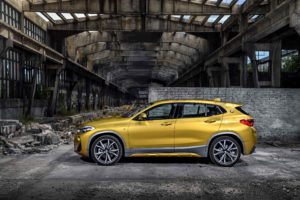 It's shorter and lower than the X1 yet preserves its notable 7.2" of ground clearance.  Starting at $37,395 for a front-wheel drive model and 2 grand more for all-wheel drive, shoppers can stick with the more demure Standard Design X2 or pump up the adrenaline with this M Sport X Design.  This $4,650 grouping adds more pop with these 19" bi-color wheels, rally car-inspired design elements and this aluminum hexagon cabin trim finisher.  A quicker shifting 8-speed auto with paddle shifters is the sole mechanical upgrade while huggier sport seats, M steering wheel, smart key access and panoramic moonroof highlight the package's interior components.  An additional $400 scores you the lowered, tauter M Sport suspension for sportier handling.
My initial impressions of the X2 changed from the beginning to the end of my 1-week loan, originally feeling a bit underwhelmed by the 2.0-liter turbo's 228 horsepower and the occasional hard-edged ride quality but a change in perspective as to the role this model will likely play in most owner's lives brought me around to its stronger attributes.  Not only does it look cool, but its small footprint/big interior combination makes it a handy, everyday errand runner that has a refreshing get-in-and-go experience not often found in German vehicles, including this sight for sore eyes – a throw-back gear shifter that actually works.  It's easy to feel comfortable in here and stand-out features like wireless Apple CarPlay and wireless device charging are just 2 less things you have to think about each time you drive.  The fact that the infotainment system can be controlled via natural voice, knob with handwriting recognition or touchscreen is also super convenient.  And BMW is the only brand I've driven that integrates my Napster music streaming app for even greater listening convenience.  There's a Wi-Fi hotspot in here too but I have noticed that things get a little jumbled up at times between the Bluetooth and other over the air connections sometimes leading them to cut out.  The X2 is one of those little crossover-types that simply feels good from behind the wheel – its step in height, seating position, visibility and quick on its feet agility make you both comfortable and confident.  But how on earth did BMW neglect Active Blind Spot detection?  I'd trade in all of the features of the optional Driver Assistance Package to have just this one safety point.  Mindboggling.
Though it's not going to raise your heartbeat, the X2 is a sufficiently sporty take on the mini SUV. And despite its diminutive appearance it has midsize car interior dimensions. With the elevated seating position and all-wheel drive, shoppers can't get enough of these types so you can't blame BMW for producing as many variations as they do. It has an edgier design and more entertaining drive than the X1 but I'd likely opt for the $600 Dynamic Handling Package with its adjustable suspension to further elevate the X2's dynamics and even out its ride quality. With this optional M Sport Suspension neither area is particularly noteworthy. The drive gets a little lazy in the default comfort setting but Sport really injects some fun giving the X2 confident backroad maneuverability. Generally soft and quiet not to mention easy to park with get in and drive ergonomics, the X2 is a likable everyday companion.
And don't worry about rear seat passengers – there're comfortable accommodations back here, too. Just don't go searching for a USB port…there isn't one.  The cargo room is clever with lots of underfloor storage and capable of expanding via tri-fold rear seats that can be dropped flat from the 2nd row.  And it's far bigger in here than its rivals, not to mention faster.  0-to-60mph here takes only 6.3 seconds.  With 258 pound-feet of torque, switch it into Sport to keep things lively. A head-up display allows you to keep your eyes on the road.  Changeable cabin lighting is a nice touch after dark and even though the seats are trimmed in faux leather the cabin is pleasing to the eye and touch.
So even though its drive isn't as outgoing as its appearance, the X2 is a winning cocktail of inspired design, versatility and proper driving dynamics. Optioned with all of the aforementioned goodies and a few others like the M Rear Spoiler, premium sound system and park distance control this X2 checks in at just about $51,000. Gas mileage on premium is rated at 22mpg city/31mpg highway.  Definitely worth the added cost over the passionless X1.
Tagged with:
2018
,
auto critic
,
BMW
,
crossover
,
DT with Steve Hammes
,
latest video
,
reviews
,
road test
,
SAV
,
steve hammes
,
SUV
,
test drive
,
X2
,
XDRIVE28I