Audi S5 Sportback 2018 Video Review
Audi S5 Sportback 2018 Video Review By Auto Critic Steve Hammes
Audi calls it the Sportback bodystyle but you likely know it as a liftback or hatchback. It's a design that Audi first brought to market with the A7 model line and now they've made it available as an A5 or S5 variant.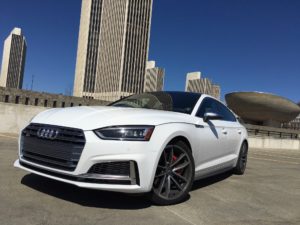 It's been over a decade since Audi reentered the coupe segment with the A5. But there's been one version of this A4-based car Americans haven't had access to; the Sportback.  And this week I've got the sportier version, the S5.
While the Coupe and Cabriolet feature 2 doors and a traditional trunk, this high-performance S5 Sportback is a 5-door design with considerably more passenger and luggage volume, moving it from the subcompact to midsize realm.
With seating for up to 5, the S5 Sportback offers 35 cubic feet of cargo capacity with the rear seats folded down, nearly tripling the trunk volume of the standard Coupe.
So you're probably thinking more doors and more space costs more money but in fact the S5 Sportback's starting price of $55,375 including destination is $200 less than that of an S5 Coupe. Or for another perspective, it's priced at $4,000 more than an S4 Sedan.  Either way, the car is amazing and its added versatility simply makes sense.
All of the driving goodness I failed to find in the SQ5 is right here, despite the fact that this too arrived with winter tires. The S5 is such an excellent car – incredibly nimble with Audi's hallmark light to the touch steering; it is a blast to drive for fun. The transmission is so quick that it feels like a dual clutch and the engine feels especially playful here. So firm up the side bolsters and set the Drive Select to Dynamic and I guarantee you a good driving day.
Low to the ground with the planted stance of quattro all-wheel drive, not only does the Sportback look incredibly sensuous, but it moves with a combination of power and grace that makes it addicting to drive. S models run with the re-engineered 3.0-liter V6 producing 354 horsepower and a quick-hitting, turbocharged 369 pound-feet of torque, scrubbing 1.2 seconds off of the A5's 0-to-60mph time, hitting it here in only 4.5 seconds.  It's mated to a perfectly matched 8-speed automatic with paddle shifters.  It sounds really good, too.
Meanwhile, it's rated at an impressive 24mpg in combined driving with 30mpg on the highway.  Unlike the SQ5 I recently tested with the same drivetrain, this car eschews the variable ratio steering and it's remarkably organic and direct…I prefer it actually.  And I can only imagine with the 19" summer tires originally fitted to this car that it would be even more impressive.  This does have the optional S sport package with key ingredients such as the adaptive damping suspension and sport rear differential – a $2,500 grouping I wouldn't leave unchecked.  Tied to the Drive Select system, it affords the S5 greater driving dynamics.  Ride quality is also expertly tailored, with quickly damped body motions without any harshness.  With a rear-biased all-wheel drive setup with torque vectoring the S5 Sportback always responds appropriately while allowing for high levels of fun.
If you've watched my SQ5 review, this Magma Red interior looks familiar as does the jaw dropping Audi virtual cockpit and MMI system with Google maps. The key difference is that this one doesn't get the touchpad, rather sticking with the rotary knob with handwriting recognition.  And better yet, these seats include power side bolsters and massage – pure heaven.  If you're into tech this is a showcase of coolness even if it's not touchscreen controlled and far from the easiest to use.  It's highly customizable, too.  Your passengers will be in awe.
Speaking of which there's real space in here with a hands-free liftgate and rear seats that are completely adult-friendly.  No USB ports back here, however.  The red stitching, the carbon atlas inlays – it's just brilliant.  I must say though that this optional $950 B&O 3D sound system is 0-for-2 – it's just not impressive.  And unlike the SQ5 I had, this entry Premium Plus trim does not offer the Driver assistance package so no adaptive cruise, lane assist, auto high beams or traffic sign recognition here.  There's also no head-up display – even as an option – something that would make good sense.  With a half a dozen extras, this car stickers for $63,975 – a price that seems very reasonable for such a complete and enticing offering.
Tagged with:
2018
,
Audi
,
auto critic
,
DT with Steve Hammes
,
latest video
,
reviews
,
road test
,
S5 Sportback
,
steve hammes
,
test drive
,
top pick