2020 Subaru Outback Touring XT
2020 Subaru Outback Touring XT Review By Auto Critic Steve Hammes
The Outback and Crosstrek are Subaru's all-stars; a pair of all-wheel drive wagons that have carved out a niche among granolas and those living in the sticks. And this week I'm testing their all-new Paul Hogan mobile – updated but very familiar.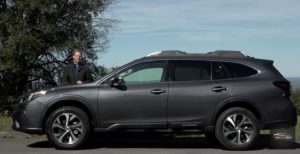 Ok, so I'm dating myself with the Crocodile Dundee reference.  But I still think of throwing a shrimp on the barbie whenever I see an Outback; an image I much prefer to drooling dogs and dancing barefoot around a tree.  But let's talk about what's new here.  The Outback's built upon a new platform that's stiffer than before so it communicates a tighter overall package.  It's longer and a little wider and feels so from behind the wheel.  A turbo engine option is back on the menu and my tester has it; a more powerful 2.4-liter Boxer that replaces the 3.6R model.  A CVT remains the only transmission regardless of motor. And lastly, Subaru has gone all fancy with a tablet-style touchscreen that's vivid and very simple to use.  Those are the major items for this 2020 model but of course there are a lot of nuances to discuss.  
Subaru rarely provides their top-of-the-line trim for evaluation but in fact that's what I have here: the Touring XT priced at $40,705. So if you want these satin finish power folding mirrors, chrome inserts on the door handles, ventilated front seats, and softer nappa leather the XT is where you'll land.  And if you want none of those things and far less of everything including the turbo, a base Outback starts at under $28,000.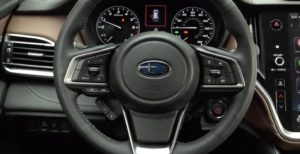 Let's be real – no one buys an Outback for the way it drives. That being said this new turbo is definitely punchy – it's got real kick but in a juvenile kind of way that's mismatched with this Touring's $40,000 persona. NVH levels aren't simpatico with the price tag. The Outback feels taller and bigger now from behind the wheel like you're driving an SUV and no longer just a tall wagon. And because this car will see a lot of twisty back roads I wish it had even a modicum of handling ability. These tires don't do it any justice as they resist turning. All that being said, with its world class all-wheel drive system and versatility I can understand the appeal.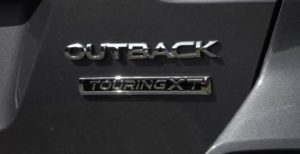 Because 90% of Outback drivers don't give a damn about such things I too have put myself in that frame of mind while testing and as long as you're not perseverating on it the drive is good enough.  No the CVT isn't as natural feeling or as quiet as the one I just tested in the Nissan Altima but it is smooth and locked in while the Outback's lighter suspension provides an agreeable, supple ride quality.  Around the town, the Outback's quieter cabin, auto hold feature and torquey 260 horsepower engine provide a stress-free respite though the Auto Start-Stop system is the most violent I've ever tested: the car literally shudders when it restarts. 277 pound-feet of torque is a substantial upgrade though my gas mileage didn't come close to the 26mpg EPA estimate.  Towing has increased to 3,500 pounds.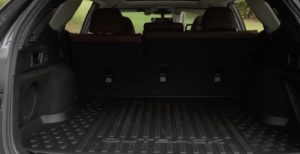 Though the Outback's drive is largely inoffensive I don't like how Subaru has integrated their EyeSight features. It is safety tech overload and instead of gracefully incorporating the system it's front and center, always in your face with blinking lights of different colors, buzzers, scolding and a dizzying array of warning signs; far too intrusive when it should be in the background.
For those of you who either hate new age tech or simply don't trust it, bad news.  EyeSight is standard on every model. You can individually kill some components through the touchscreen but it becomes tedious because, for certain features, your selections don't carry over from one drive to the next.  The Outback wants to do the driving – and it can for short periods without your hands on the wheel – but it's all just too meddlesome and not as confidence inspiring as some competing semi-autonomous systems.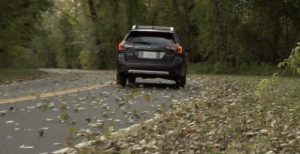 But where the Outback continues to excel is on that dirt path, gravel road or snowy driveway.   With X-MODE locking all 4 wheels while tweaking the CVT and other drive systems for off-road, trickier low speed driving the Outback and it's nearly 9" of ground clearance feel right at home on the trail.  Subaru's  AWD system is better and it's palpable though real underbody protection is not included.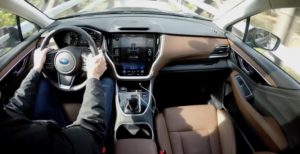 All Touring XT's receive this attractive Java Brown interior with slightly more passenger volume and 2.4 cubic feet more cargo room than before.  Remote levers help with folding the rear seats which themselves possess a recline feature, heating and a pair of USB ports.  There's in-car WiFi , a strong Harman Kardon stereo system and a 180 degree front view camera that's helpful but why not just go full circle?  Steering responsive adaptive headlights with auto high beams are also a nice get.  Out back, the cargo area comes with a mud mat and multi-mode cargo cover but no foot activated opening of the hatch.  The cabin finally has a much higher quality look and feel and the Outback is a car in which you can quickly get very comfortable.  I'm amazed at how quickly the HVAC system heats up on a cold day.  A couple of annoyances – the start button is hidden behind the steering wheel and the phone holder – without wireless charging on my car – isn't big enough and is cumbersome to access.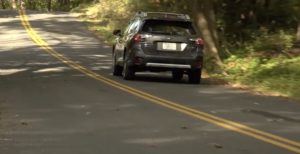 All told I like the new Outback – its larger, sharpened appearance catches my eye and I appreciate its adventuresome spirit despite some of its shortcomings.      
Tagged with:
2020
,
auto critic
,
AWD
,
Crosstrek
,
DTwithSteveHammes
,
latest video
,
outback
,
reviews
,
Subaru
,
Touring
,
XT