FORD GEARING UP TO UNVEIL ALL ELECTRIC MUSTANG INSPIRED SUV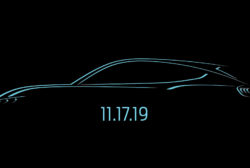 TDN NEWS: FORD GEARING UP TO UNVEIL ALL ELECTRIC MUSTANG INSPIRED SUV
We've busted the myth that electric vehicles have to be boring. And we've got our customers covered with North America's largest electric vehicle public charging network.1
Now Ford is gearing up to unveil its all-electric, Mustang-inspired SUV across the globe on November 17, 2019.
Watch as the electric era takes shape – and stay tuned for more information at our Electric Learning Zone.
Mark it down. You won't want to miss this.
1Based on automotive manufacturers that sell all-electric vehicles and have publicly announced charging networks. Department of Energy data used.