2020 MINI Cooper SE First Look
2020 MINI Cooper SE First Look By Auto Critic Steve Hammes
Foreshadowing the future of MINI, the brand's first fully-electric car is almost ready to hit dealerships.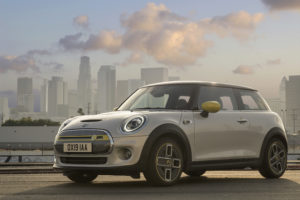 The 2020 Cooper SE is a MINI 2-door hardtop at its core with its drive technology from parent company BMW.  Under the hood is an electric motor fed by a high-voltage lithium-ion battery positioned in the vehicle floor.  This setup lowers the center of gravity as compared with the gas-powered version contributing to this model's even more agile handling, according to MINI. Luggage volume hasn't been compromised. As a matter of fact, the only measurable difference is that the body rides less than an inch higher to accommodate the battery.  Weight gain stands at 319 pounds.  Rated at 181 horsepower and 199 pound-feet of instantaneous torque, the electric MINI can accelerate to 60mph in just over 7 seconds with a driving range of 114 miles.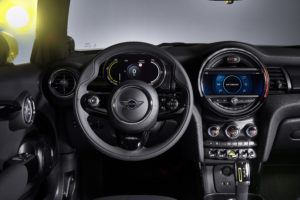 The charging unit allows an 80 % charge to be achieved in 35 minutes via a DC fast charger while, of course, Level 1 and Level 2 charging is also permitted.  For efficiency purposes, the interior is heated by means of a heat pump which collects waste heat from the motor, drive control, high-voltage battery and outside air before feeding it into the air conditioning system using 75% less energy.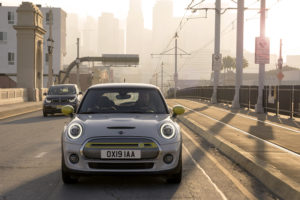 The eDrive screen provides information on the current flow of energy and the range as well as offering ways of increasing the vehicle range by deactivating comfort functions or boosting recuperation. On the navigation map it is possible to display a range circle that indicates the action radius of the MINI Cooper SE depending on charge level.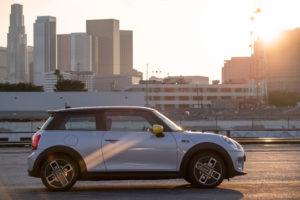 When the route guidance starts, it displays the fastest and shortest route and also suggests a GREEN route involving the lowest level of power consumption.
The Cooper SE is available with three distinct trim levels; Signature, Signature Plus, and Iconic, each including a specific combination of exterior finish, light alloy wheels, seat upholstery and interior fittings.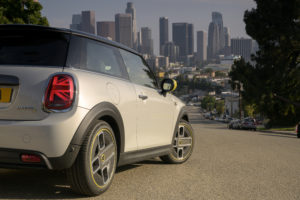 Pricing will be announced closer to launch.