2019 Volkswagen Golf SportWagen
2019 Volkswagen Golf SportWagen Review By Auto Critic Steve Hammes
There is a surprisingly large faction of car buyers who don't want "stuff." I see it in my comments section all the time: "I don't need…just more to go wrong, more I'll have to fix, too complicated." Well, this review is for those people: the VW Golf SportWagen. There's no smart key, no push button start, no power liftgate, no full-power seats, no leather, no sat radio, no navi, no LED headlights, no sunroof, no USB ports in the rear, no adaptive cruise control. So those who prefer basic can rejoice because this VW offers up a whole lot of no for about $27k.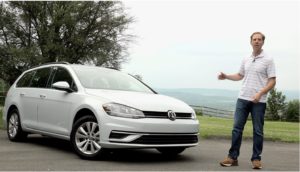 There isn't a ton of them on the market but the station wagon still has a heartbeat and their advantages over an SUV are all evident right here; you can get this SportWagen with a manual transmission, all-wheel drive, an easy to load roofline, and over 30mpg for about $25,000.  Good luck finding all of that in a traditional sport-utility. This here is the no-frills 4Motion model targeted at the budget conscious and those who live in fear of their things breaking.  VW sells a more adventurous version of the SportWagen known as the Golf Alltrack for $5,000 more.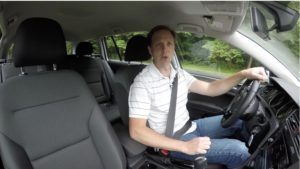 Now in its 5thmodel year and on the verge of a complete redesign my initial 2015 test drive earned a Top Picks honor from me.  But that was of a higher trim level that no longer exists, and in a rapidly changing industry, it was a long time ago. In 2019, this SportWagen 1.8T S with 4Motion feels like a throwback…from its '70s era design language with 16" wheels to its real ignition key this VW goes against the modern car grain.  Now, you can get a front-wheel drive version in a higher equipped SE spec with a new 1.4-liter turbo but if you want one with all-wheel drive it's going to be a more primitive experience.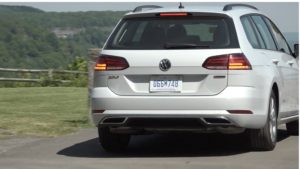 My tester has the optional 6-speed automatic transmission adding $1,100 to the price and it's equipped with the only available option package – the new for 2019 Driver Assistance package including Forward Collision Warning and Autonomous Emergency Braking with Pedestrian Monitoring, Blind Spot Monitor and Rear Traffic Alert.  Total MSRP as it sits is $26,840.  The 1.8-liter turbo-4 produces 168 horsepower and nearly 200 pound-feet of torque providing that spirited momentum the Golf is known for.  Gas mileage is actually a little better with the stick…here it checks in at 24mpg in combined driving.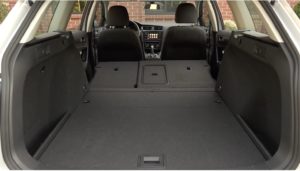 The wagon is an underappreciated bodystyle in this country but once you live with a lower liftover height for loading your stuff and those easily accessible roof rails you'll get the utility benefits.  Plus, it drives with the verve of a car due to its lower center of gravity.  The cargo area is cleverly conceptualized too.  First, it's nice and deep with straight sides.  There are cubbies for small stuff, hooks for grocery bags and a multi-stage cargo cover.  There's dividable underfloor storage and levers to fold the rear seats.  This Golf's versatility and the awesome White Silver Metallic paint are my favorite aspects of the car.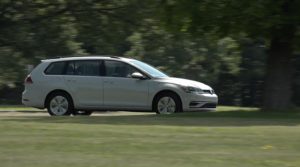 The SportWagen does have an agreeable drive with VW's hallmark characteristics baked in, like excellent forward visibility, frisky handling, dialed-in steering a smooth transmission and some turbo go. And this one benefits from 4Motion making it a nice all-wheel drive get with plenty of utility. And though it is basic there's just enough going on here to keep the cabin from feeling completely sparse.
The ride is accurately described by the clichéd descriptor "European-tuned" with a nice balance of road feel and occupant comfort. From inside, the fabric seats provide a perfect perch and are sculpted in the rear to hold passengers in place. They are manually operated with the exception of power recline.  Working through the electronics displays is easy with steering wheel switches for the driver info center and the small touchscreen is within close reach. There's not much in here but it works with your smartphone to integrate the things it lacks, mainly navigation. The 6-speaker sound system is completely underwhelming, particularly because this cabin isn't the quietest. And storage space is at a premium.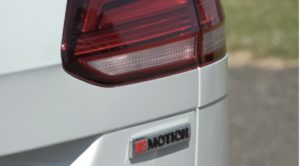 My favorite reasonably priced wagon is the Buick Regal TourX which starts at about $30,000.  As for the SportWagen 4Motion, I'd wait to see what VW has in store for 2020 before signing.