2020 Jeep Gladiator Overland Review
2020 Jeep Gladiator Overland Review By Auto Critic Steve Hammes
What will it look like? Will it be called the Scrambler? The buzz has been building for years. But the real question in my mind is why are people going so crazy about the new Jeep pickup truck?  I suppose the timing is right seeing as how off-road trucks are suddenly hot.  But I suspect that it's our insatiable appetite for things we can no longer have that is driving this frenzy. After all, Jeep hasn't produced a truck in over a quarter century.  So here we are with a revival of the Gladiator, harkening back to a Jeep truck of the same name produced until 1972.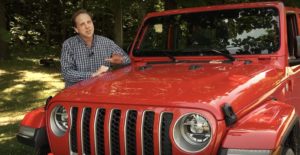 When I was a kid my neighbor owned a Comanche and even then I thought the idea was cool; take a rugged Jeep and give it some payload capability.  But other than various one-off concept vehicles, Jeep abandoned the pickup idea in 1992.  But with Ram's cupboard empty, the timing was right to resurrect a mid-size truck and brand it as a Jeep.  And of course, use the Wrangler as its foundation.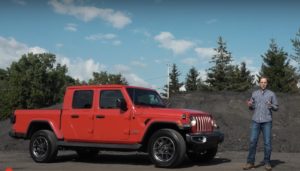 There are a lot of highly capable pickup trucks on the market right now but the Gladiator distinguishes itself with its boxy, iconic Jeep design and the unique ability to do things like remove the roof, drop the windshield and even take off all the doors for a highly personalized, very fun off-road experience.
Pricing for a base Gladiator Sport starts at just over $35,000.  But if you prefer yours with a more finished feel then it's this Overland trim you'll want costing about $7k more.  And then for the true adventurer seeker, the mighty Rubicon model resides at the top starting at about $45k.
Now, if this had been the Rubicon model it would have come with some real off-road tires but this Overland trim comes with these rather wimpy Bridgestones so I'm not sure how far we're really going to take this off-road.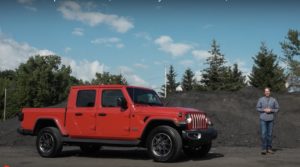 I find the combination of these highway tires and the Trail Rated badge to be an oxymoron, but with heavy duty axles front and rear, 10" of ground clearance and a 4-low gear a little rock and mud is in order. Once inside, it's easy to forget you're not in a Wrangler Unlimited with one major exception – this one rides smoother. Hit a bump and the rear axle hops around like truck, but otherwise the Gladiator is surprisingly quiet, softly sprung and very around the town friendly with a powerful V6 and an 8-speed auto that shifts as serenely as they come. In terms of a car-like driving experience it's no Honda Ridgeline but the Gladiator's everyday friendliness, 285 horsepower output and19mpg solidly hits the mark both on and off-road.  A diesel V6 is also on the way.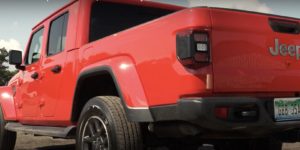 Its chops out here are solidified.  Body-on-frame construction.  Dana 44 axles.  Skid plates for the fuel tank and transfer case.  Tow hooks front and rear.  A limited slip differential.  An over 40 degree approach angle.  A wash-out interior with removable carpet and drain plugs.  It's a Jeep alright and with the roof off it's like you've gone on a safari.
This body colored three-piece hardtop is an over $2000 option but it's one I'd want and it's really easy to remove for that cool, open air experience for all passengers. Jeep provides the tools and there's even a nifty storage space to store the fasteners. I heard a lot of whining though from my rear seat passengers concerning turbulence.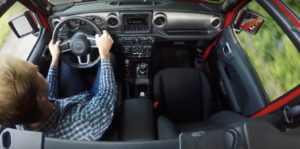 I've left the doors on but the roof has come off…just make sure you've got a buddy to help you lift it. The Freedom panels come off in 2 pieces at the front without the need for any tools but when you want to remove the whole shebang you'll need the supplied ratcheting wrench and the Torx bit.
More so than any other, FCA brings cleverness to their vehicles.  Just check out the rear seats.  They can fold up or down, there's underfloor lockable storage bins and a quality, removable Bluetooth speaker.  2 USB and 2 USB-C ports, and a 9-speaker Alpine stereo system with an all-weather subwoofer keep things very modern and smart back here.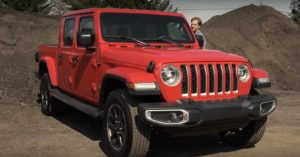 The Gladiator is essentially a Wrangler stretched by 2 ½ feet.  It only comes in a 4-door, crew cab, short-box configuration.  Now, I live with a Tacoma with a small box and it can definitely be frustrating at times but this one at least has some cleverness about it.
The damped tailgate, cargo lights, spray-in bedliner, a power outlet and an adjustable tie down system help overcome its 5' size.  With the optional Trailer Tow package this 8-speed Overland model is capable of 6,000 pounds…2,000 more than with the 6-speed manual.  If towing is of the utmost importance, the Gladiator Sport with the auto and shorter gearing can handle 7,650 pounds.  Payload capacity is 1,120 pounds.
Even on these highway tires the Gladiator feels remarkably capable on the trail and having the roof off gives you that closer to nature experience. On road, the ride is definitely softer and more refined than the Wrangler's though the steering gets a zero for feel…it requires constant corrections. And hey – on this non-Rubicon model why not include an auto 4 wheel drive mode in addition to the locked settings.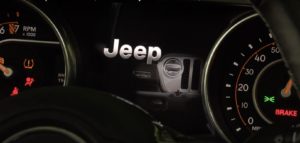 This Overland model has been loaded with options, totaling $55,485.  From things you might not expect, like Adaptive Cruise Control and Smart Key entry to things you probably would such as LED lighting and FCA's brilliantly easy to use UConnect System, this one has it all with the exception of leather.  Heavy on creature comforts with excellent electronics integration this midsized truck carries an MSRP close to that of a Ram 1500 Limited.  And the other caveat is this: if you don't ever intend to explore the Gladiator's distinguishing traits there are better choices out there for less…the Chevy Colorado ZR2 immediately comes to mind.
But I do like this Gladiator…it would make for a fun 2nd vehicle, just make mine a Rubicon.
Tagged with:
2020
,
auto critic
,
DTwithSteve Hammes
,
Gladiator
,
Jeep
,
latest video
,
Overland
,
reviews
,
road test
,
steve hammes
,
test drive