2020 Cadillac CT4 V Series
2020 Cadillac CT4 V Series Review By Car Critic Steve Hammes
While the auto industry as a whole remains fixated on pumping out more and more SUVs, Cadillac's showing some love to their car lineup. New names, new engines and a new definition of the letter V, this here is the all-new CT4 V-Series.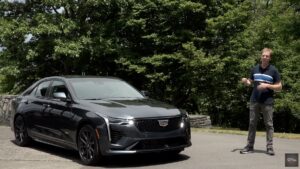 With the untimely demise of Cadillac's flagship sedan earlier this year, their renamed car lineup has been reduced to 2 models: the midsize CT5 which used to be called the CTS and this compact CT4 which went by the name ATS.  And both are offered in higher performing V variants but not the capital V you might recall from mighty Cadillacs of the past.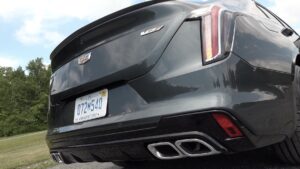 Think more Vsport here at least until the new Blackwing models come along which will represent the new performance pinnacle of the V subbrand.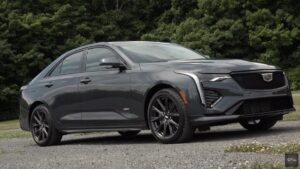 Much like the AMG-lite models at Mercedes and the midrange M versions at BMW, these new V-Series sedans come with increased output and a host of performance mods to give owners the V look and some V zip without the big V price tag.  This CT4-V starts at $45,500 and checks in here with AWD and a plethora of options for $54,260; considerably less than the previous ATS-V.  But there's no V6 here…instead you'll find a motor whose cylinders are all in a row.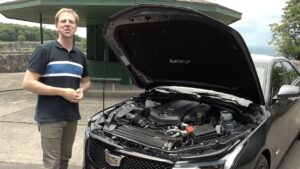 If I only had a dime for each time I wished for a second volute. But seriously, this 2.7-liter turbo-4 which you may recall recently became an option on the Silverado pickup, uses a different approach to quickly build lots of torque.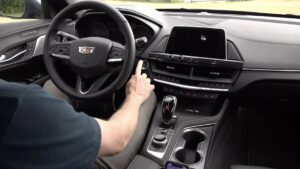 In place of a twin-scroll turbo is a dual volute – 2 spiral chambers sending air to both sides of the turbine spinning it more quickly and with greater efficiency.  So power is impressive with tons of boost; 325 horsepower and 380 pound-feet of torque working through an engine-specific 10-speed auto.  The CT4's base 2.0-liter engine utilizes an 8-speed.  There are no stickshifts to be found.
My time with this Shadow Metallic beauty is short, however. COVID-19 has turned this press junket into an overnight stay at my home so this is speed dating automotive style.  But I really do like the look.  Its wheelbase is identical to the old ATS but this car is about 4" longer – space that shows up in the larger trunk.  Passenger volume is by-in-large unchanged.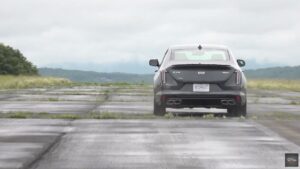 V treatments include a limited slip rear differential, drive modes with a customizable V setting that can triggered from the steering wheel, summer-use tires with Brembo front brakes, and numerous V-Series design cues such as the rear spoiler and quad exhaust tips.  And if it's the rear-wheel drive model, it comes with Cadillac's brilliant Magnetic Ride Control suspension but this AWD car makes due with the CT4's standard passive dampers.  Performance Traction Management is onboard too – a feature we've seen in other sporty GM cars – that tweaks the traction and stability control systems in stages based upon the driving conditions.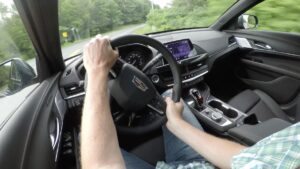 I've played with it in its most unrestricted settings while also in Track mode and you can get this perfectly balanced, 4-wheel grip car to slide a little bit but always under complete control.  And indeed it's been out here in a private, controlled environment that I've started to form a stronger bond with the CT4.  And regardless of what drive mode you're in, the car is smart enough to realize when you're ready to go and will activate Performance Drive Mode automatically.  Though Cadillac tells me this car can run a sub 5-second 0-to-60mph time I've repeated 5.4-seconds over a trio of runs without using the Launch Control feature…why?  Because I couldn't get it to work.  But that's still 8/10ths faster than the 6.2-second claimed time of the 2.0-liter turbo.  And once these brakes heat up, they get very serious about shutting it down.  Gas mileage checks in at 23mpg on premium.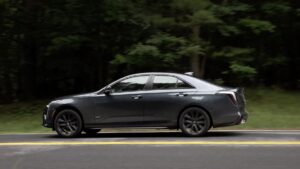 Here's the deal. This engine is an overachiever, and the dual volute approach pays dividends with that robust torque curve making it feel like it's always ready to pounce. The CT4-V is also a car that is glued to the road with an effortless finesse about its handling. The sport seats with adjustable side bolsters are a perfect fit and the car looks freaking amazing. But it wasn't love at first drive. I had to dial back my V-level expectations because on day 1 the CT4 just felt soulless. But here on my final day I've started to better understand what this car is: it's a luxury sedan bred with some up level performance and not the other way around. I'm starting to have more fun from behind the wheel though it desperately needs a better soundtrack. Also, the steering is heavy handed and the paddle shifters are slow to work the 10 speed. And so I have a feeling d be a better candidate for the RWD version.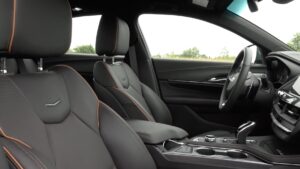 The Active Noise Cancellation does a superb job of keeping things quiet inside and the ride is very soft for a sports model.  It's really unfortunate though that there's not a way to make this car sound better because it's truly lacking that visceral component.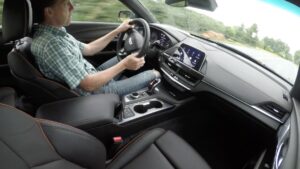 The look and feel of the cabin doesn't blow me away but it's fine, long-trip comfortable and replete with excellent GM electronics.  Infotainment comes courtesy of their typical well-stocked, easy to use setup with a crazy amount of redundant controls here for the touchscreen which is very much in reach of the driver anyway.  There's a head-up display, limited performance pages in front of the driver, automatic cooled seats which have been a godsend this sweaty week, a crisp sounding Bose audio system and a heaping dose of driver assistance features. Even SuperCruise will be available during the next model year.  But I'm a little disappointed with the lack of performance gauges and their graphical depictions – something Dodge does so well.  A little more show in here would be nice.  There's a neatly placed wireless charge pad in the center console but no Wireless CarPlay – something Cadillac hints is coming soon.   
I think by now we'd all rather have a USB port than this, right?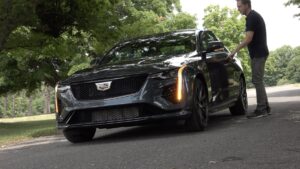 So that's the CT4-V in a 24 hour test-drive nutshell.  A fledgling Cadillac that gives you a taste of the V life before it spreads its Blackwings.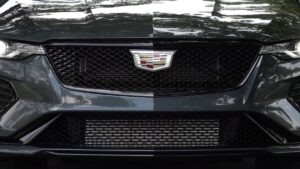 2020 Cadillac CT4 V Series Review By Car Critic Steve Hammes